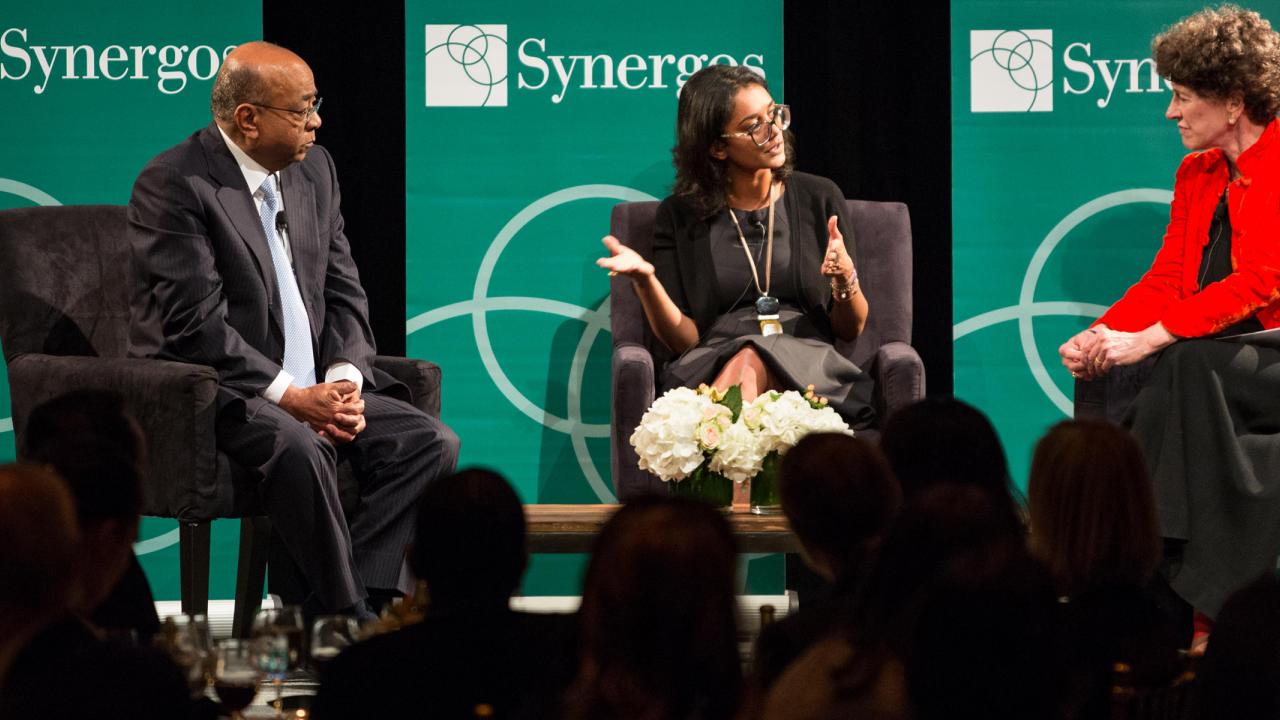 University for a Night 2017
Interconnected challenges, interconnected approaches
The most pressing global challenges are interconnected.
Creating a more sustainable and prosperous world requires systemic approaches to issues such as health, nutrition, education, agriculture, employment, the environment, governance, and peace.
University for a Night 2017 brought together leaders of business, government, international organizations, civil society, and philanthropy to share ideas and inspiration about how we can work together toward common goals, creating opportunities for people and communities to thrive.
We also honored three outstanding global leaders with the David Rockefeller Bridging Leadership Awards
► Mo Ibrahim, Founder and Chair of the Mo Ibrahim Foundation, and Hadeel Ibrahim, the organization's founding Executive Director, are working to improve governance and leadership in Africa in order to create lasting gains in the quality of life of its citizens. The Mo Ibrahim Foundation developed the Ibrahim Index of African Governance and awards the Ibrahim Prize for Achievement in African Leadership to former executive heads of state or government. Through the foundation's forum and fellowship programs, this father-daughter team is also advancing understanding and action on a range of interrelated topics. Hadeel Ibrahim is also Co-Chair of the Africa Center, a multidisciplinary institution in New York that promotes partnership, collaboration, dialogue, and understanding between African artists, business leaders, and civil society and their counterparts in the United States and beyond.
► Environmentalist and journalist Ma Jun is founder of the Institute of Public and Environmental Affairs (IPE) in China. IPE's information platforms integrate environmental data to meet green business, financial, and policymaking needs. Using cooperation between companies, government, NGOs, research organizations, and other stakeholders, IPE is leveraging the power of information to enable a wide range of enterprises to achieve environmental transformation.
Sponsors
Bloomberg Philanthropies • Charles Butt • Serge Dumont • Mo Ibrahim and Hadeel Ibrahim • Larry Lunt • Antonio Madero • Minderoo Foundation • The late David Rockefeller • The Rockefeller Foundation • Carlos and Gabriela Rodríguez-Pastor• Ivan Tse• Unilever • Monica Winsor and Josh Mailman • Anonymous
Table Topics & Distinguished Faculty
1
Responding to refugee crises
Curt Goering, Executive Director, Center for Victims of Torture
2
Collaboration for education
George Khalaf, Executive Director, Empatico
3
Trends and innovations reshaping philanthropy
Nicola Crosta, Executive Vice President, Epic Foundation
4
Impact Investing: Investing for social and financial returns
Joyce Haboucha, Director of Sustainability & Impact Investing and Managing Director, Rockefeller & Company
Wayne Silby, Chair, Syntao (Beijing)
5
What actions can philanthropists and social investors in China and the United States take to address climate change?
Ivan Tse, Founder, The Global Friends
6
Systemic approaches to major global challenges
Hosted by Mo Ibrahim and Hadeel Ibrahim
7
How business can create positive social and environmental impact
John Heller, Senior Director, Synergos Consulting Services
8
Collaboration for education
Carlos Rodríguez-Pastor, Co-Founder, Innova Schools
9
Systemic approaches to major global challenges
Don Mohanlal, President & CEO, Synergos
10
Food, agriculture, and culture: Sustainable approaches for thriving, healthy communities
Claus Meyer, Founder, Meyer Group
11
Food, agriculture, and culture: Sustainable approaches for thriving, healthy communities
Richard McCarthy, Executive Director, Slow Food USA
12
Family philanthropy: Challenges and successes
Melissa Berman, President & CEO, Rockefeller Philanthropy Advisors
13
Changing the world by changing the lives of women and girls
Christina Lowery, CEO, Girl Rising
Thoai Ngo, Director, Poverty, Gender & Youth, Population Council
Justin Reeves, Executive Director, Magic Bus USA
14
Unleashing the leadership capacity of young people
Michaela Walsh, Founding President, Women's World Banking and former Chair, Synergos
15
Stopping the cycle of fear: How can we maintain human progress in the face of fear and uncertainty?
Joseph Cahalan, former CEO, Concern Worldwide U.S.
16
Human rights and inclusive, sustainable development
Camille Massey, Founding Executive Director, Sorensen Center for International Peace and Justice
Kim Samuel, President, Samuel Family Foundation, and Professor of Practice, McGill University
17
Collaboration for public health
Ellen Agler, CEO, END Fund
18
Using media to inspire action and inform social change
Molly Bingham, President & CEO, ORBmedia
Michael Moss, Author
19
Using media to inspire action and inform social change
Bruni Burres, Partner, Mentor, & Media Expert, Greenhouse Documentary Program for Emerging Middle East and North African Filmmakers
20
Focus on Africa: Creating prosperous, sustainable, and inclusive societies
Adewale Ajadi, Country Director, Nigeria, Synergos
21
Promoting education, employment, and entrepreneurship in the Middle East and North Africa
Ron Bruder, Founder & Chair, Education for Employment Foundation
Hisham El Rouby, Regional Director, Arab World, Synergos
22
Personal reflection to create trust and social transformation
Robert Dunn, former CEO, Synergos
23
Supporting entrepreneurship and employment to overcome poverty
Martín Burt, Executive Director, Fundación Paraguaya
24      
How business can create positive social and environmental impact
Leah Bradford Francis, Director, Synergos Consulting Services
Rajiv Joshi, Managing Director, B Team