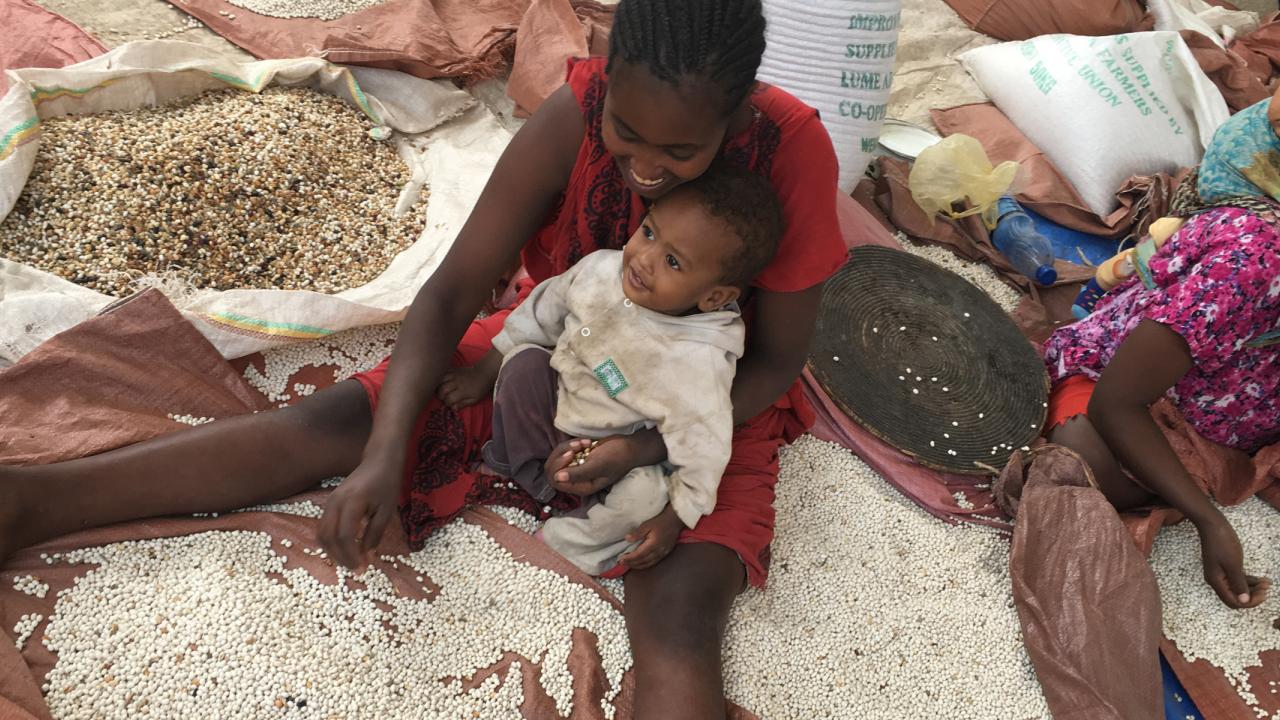 Agriculture is the foundation of Ethiopia's economy, accounting for over 40% of GDP and engaging more than 80% of its labor force.
The country's national Growth and Transformation Plans (GTP) has set ambitious targets for the agricultural sector to increase productivity, accelerate commercialization, and improve the livelihoods of Ethiopia's smallholder farmers. Achieving the GTP targets requires coordinated action and innovation among key stakeholders.
We've worked in Ethiopia since 2011 with the Ethiopian Agricultural Transformation Agency (ATA), the Ministry of Agriculture and Rural Development, Ministry of Livestock and Fisheries, Regional Bureaus of Agriculture and other partners at the national and regional levels, increasing individual and institutional capacity for collaboration, innovation, and service delivery. We help them strengthen their partnerships, collaboratively identify systemic bottlenecks, and jointly develop solutions that promote food security and improve the lives and livelihoods of small-scale farmers. We use "bridging leadership," which focuses on bridging different perspectives and opinions to create and sustain effective working relationships among key partners and stakeholders.
Synergos builds institutional capacity and alignment in Ethiopia's agricultural system.
Through ongoing engagements, including workshops and other activities, we help build alignment on joint strategies and goals within and between the ATA and MoA, as well as with their partners. Our capacity-building work extends to key regions including Amhara, Oromia, Tigray and the Southern Nations, Nationalities and Peoples' Region (SNNPR). We also provide senior staff secondments and expertise support to ATA.
We reinforce institutional capacity with a focus on individuals as leaders of change.
Transformation of the agricultural system requires leadership from individuals to drive desired improvements, both within their organizations and with counterparts in partner institutions. Synergos helps leaders at multiple levels of the system to shift mindsets for innovation and results-focused collaboration. By connecting them to their core values and passion for the sector, we enable them to be more open-minded and open-hearted, and able to inspire trust.
Synergos establishes mechanisms for coordinated action on priority crops.
Together with ATA, Synergos supports the Government of Ethiopia's Agricultural Commercialization Clusters initiative to effectively link smallholder farmers to markets and strengthen agricultural value chains. Based on geographic concentrations of producers, agribusinesses, and institutions engaged in the same agricultural sub-sector, the initiative catalyzes growth by harnessing efforts among an interconnected web of actors, from the federal to regional to local levels.
Such collaboration allows small-scale farmers and agribusinesses to better realize higher productivity, and more market-oriented and higher value-added production.  
This cluster approach is underway in regions including Amhara, Oromia, Tigray and SNNPR, with key crops including teff, maize, wheat, chickpea, barley, sesame and dairy products, among others.
Through a collaborative approach to agriculture, Synergos and its partners are helping improve the lives of all Ethiopians.