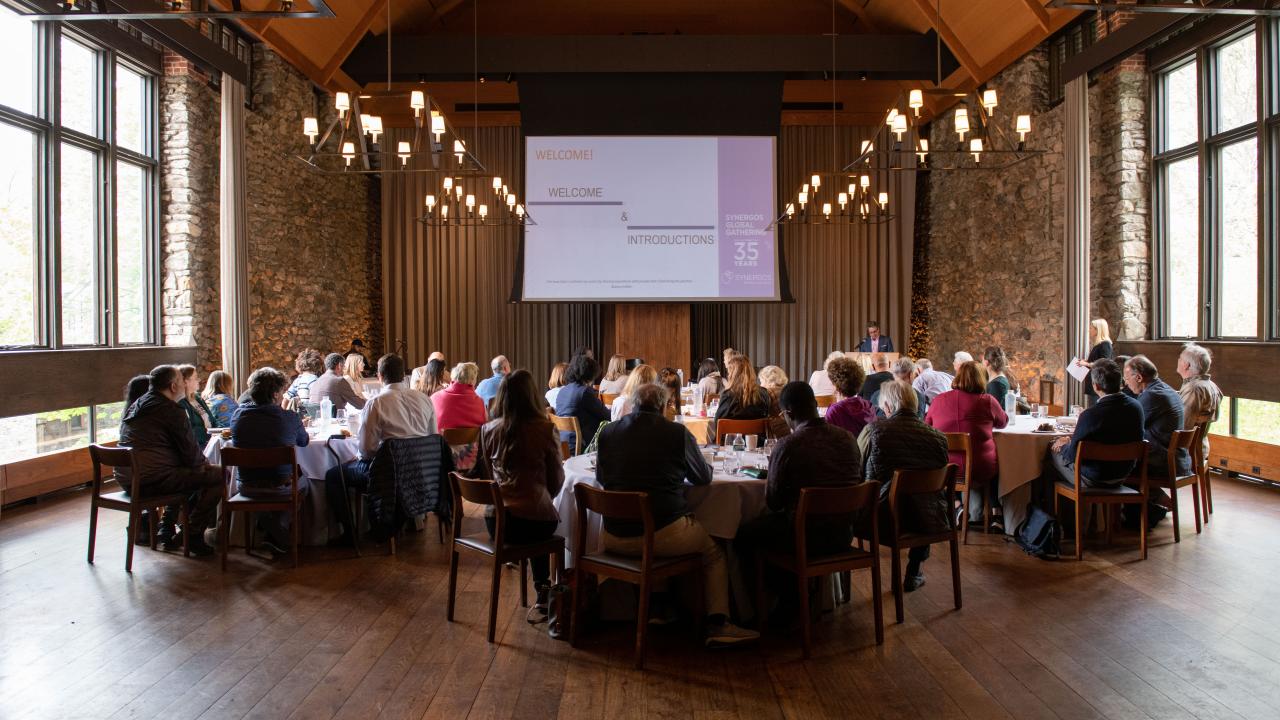 Join us in exploring how to build new forms of connection and solidarity
We want to hold space for you and all of us to be present to one another, share ideas and inspiration, and promote new collective action.
Participation in some of these events, both online and in-person, is by invitation only or limited to members of special Synergos networks (such as the Global Philanthropists Circle); contact your Synergos relationship manager or collaborate@synergos.org for more information.
JUNE 2023
Authentic Leadership: A Heart-Centered Immersion
Big Bear Retreat Center, Southern California, June 14-17
This is an invitation for philanthropic and social change leaders who are rising into power and influence and understand the importance of wielding both responsibly and with integrity. This immersion offers an opportunity to engage deeply with yourself - body, mind, and spirit - and to build authentic connections with other heart-centered leaders. Presence and curiosity are the anchors of our shared experience.
Natural Wisdom: A Retreat at Channel Rock
Cortes Island, British Colombia, Canada, June 25-29
Synergos invites you to slow down, be in community, and listen to your environment, as well as your body and heart. Led by Synergos Chair Peggy Dulany and Vice Chair Elliott Donnelley II, at our Natural Wisdom Retreat, you will explore how caring for oneself, and the earth, can bring about individual and global transformation.
Calling the Climate & Environment Leaders of Our Time – Part I
Climate & Environment Collaborative Community Meeting, Virtual Session, June 26
As we confront one of the most challenging crises of our times - the climate crisis – a new breed of leaders is needed to effectively handle the complexity and uncertainty of this global emergency. This new breed of leaders must be armed with skills and qualities required to bridge across difficult divides to bring people together. The first interactive workshop will focus on 'Listening for Connection' - a prerequisite for becoming 'bridging' leaders who can listen, empathise and bring others together to solve problems collaboratively.
For more information or to register: tkalessi@synergos.org
SEPTEMBER 2023
Synergos Montana Retreat
 J Bar L, Montana, September 10-17
The Montana Retreat allows participants to set aside their daily routine and environment, providing space in an undisturbed, natural setting to clarify and sharpen individual life purpose, increase awareness, and become more effective in social engagement work. Peggy's J Bar L Ranch is located in Big Sky country on the border with Idaho. We hope you will be able to join us at the ranch in September.
OCTOBER 2023
Reimagining Philanthropy: Uncovering Insights, Synergies & Collaborative Potential
Finca Bell-Lloc, Palamós, Spain, October 29 - November 1
Join us in the stunning, natural setting of Finca Bell-Lloc, a farmstead owned and run by the Engelhorn Family, to explore your philanthropic work and uncover the collaborative potential of our community.
Together, we will:
Harvest the insights and lessons learned from the work of leading experts and peers
Reflect on our personal and collective role in shaping a more sustainable future
Unearth emerging approaches and examples of transformative philanthropy
Share collective insights on promoting and scaling authentic partnerships to inspire collaborative action
For more information, please contact Bruce McCombie at bmccombie@synergos.org.
PREVIOUS EVENTS
May 2023
Synergos Global Gathering: Montana Retreat Reunion
May 11-12
Synergos Global Gathering: Spiritual Civilization Meeting
May 11
Synergos Global Gathering: GPC Annual Members Meeting
May 10
David Rockefeller Bridging Leadership Awards Gala
May 9
April 2023
Climate & Environment Community Meeting: Nature Positive Action
April 20
BEING LOVE: Session 1: About Love - Introduction to the Being Love Journey
April 6
March 2023
Shifting the Food System Community Meeting
March 28
Synergos Intergeneration Day at Stone Barns
March 19
GPC Dinner in Northern California: Bridging Leadership in a Divided World
March 16
GPC Dinner in Southern California: Bridging Leadership in a Divided World
March 14
Spiritual Civilization Community Meeting
March 14
Bridging Equity in Food Systems
March 7
February 2023
Climate & Environment Community Meeting
February 28
Cocktail Reception in Honor of the Global Philanthropists Circle
February 21
Becoming a Heart-Centered Leader
February 9-11
January 2023
Network Visit to India
January 30 - February 3
Food Systems Community Brainstorm Session
January 17
Collective Action for the Amazon Collaborative Community Meeting
January 17
Network Visit to Mexico
January 10-13
December 2022
Synergos LatAm Gathering
December 8-9
Global Dialogue Initiative Community Meeting
December 7
Spiritual Civilization Community Meeting
December 6
November 2022
Climate & Environment Community Meeting
November 3
October 2022
Global Dialogue Initiative Community Meeting
October 26
Synergos Europe Gathering
October 23-25
Food Systems Collaborative Community Meeting
October 18
Celebrating 35 Years of Impact
October 12
Spiritual Civilization Community Meeting
October 11
Shining the Light on End-of-Life Matters
Workshop 1: Reimagining the End-of-Life Experience
October 6
September 2022
On Belonging: A Conversation on Inclusion
September 27
Philanthropy in Times of Great Political Divides in LatAm
September 23
Global Dialogue Initiative Community Meeting
September 22
Montana Retreat at J Bar L Ranch
September 11-18
Synergos Spiritual Civilization Gathering
September 12
GPC Dinner Conversation on The Future of Philanthropy
September 13
August 2022
Lessons from the Amazon: Moving Beyond Conventional Philanthropy
August 23 • With Matt Portman & Danielle Rappaport, Amazon Investor Coalition
June 2022
Global Dialogue Initiative Community Meeting
June 29
Climate & Environment Community Meeting
June 27
Global Dialogue Initiative Community Meeting & Retreat
June 15
Spirituality & Science Retreat, Human Flourishing: A Journey
June 12-15 • With Krueger & Lee and Fetzer
GPC @ Wellbeing Summit - Bilbao
June 3