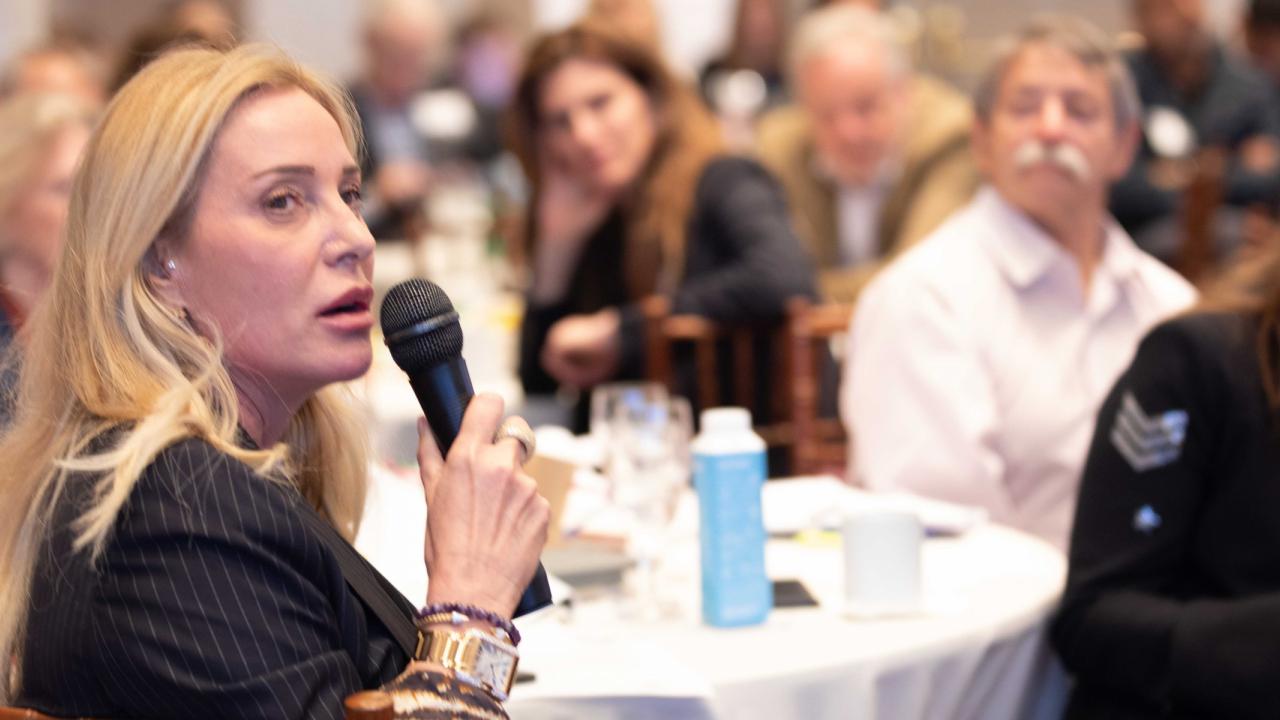 Join us in exploring how to build new forms of connection and solidarity
We want to hold space for you and all of us to be present to one another, share ideas and inspiration, and promote new collective action.
At this time, our convenings are held online. As the need for physical distancing decreases following the covid-19 crisis, continued online gatherings and learning from them will enrich our revived in-person programming.
Participation in some of these sessions is by invitation only or limited to members of special Synergos networks (such as the Global Philanthropists Circle); contact your Synergos relationship manager or collaborate@synergos.org for more information.
Synergos Digital Event Tracks:

CULTIVATE THE MIND
Explorations of the most pressing conversations of our time, with an orientation to lifelong learning and emerging solutions based on the principles of bridging leadership: systems thinking, inner work, and partnership.

 


CULTIVATE THE SOUL
"Hands-on" sessions offered in partnership with Synergos' Global Philanthropists Circle affinity group, Spiritual Civilization, to practice inner work and increase consciousness of the ideals that drive us. Live participation is limited.

 


CULTIVATE ACTION
Conversations built around specific initiatives, aimed toward building action to create lasting change and sharing learning from these experiences. Live participation is limited.
NOVEMBER 2021
Climate & Environment Collaborative Community Meeting
Virtual Session, November 30
A member led Climate Collaborative meeting and discussion at 6:00 am PST / 9:00 am EDT/ 2:00 pm BST/ 10:00 pm HKT. The year's last climate collaborative meeting will have members speak about their current work and focus in the field. It will also include closing remarks for the year and plans for the next.
DECEMBER 2021
GPC Europe Tour
The Conduit, London, December 1
Join us for the final event of our European Tour to reconnect with the GPC Community and share how your philanthropic passions have evolved over the past 1.5 years, in a safe and intimate setting. During each event, we'll also share some exciting updates on Synergos. We very much look forward to welcoming you!
Spirituality & Science Forum, Human Flourishing: A Journey
Virtual Session, December 2
In partnership with Krueger & Lee and Fetzer
Session 3: Connecting to Our Awareness
How do we become aware of the pain and suffering that we have stored in our mind and body? How do we bring it to the surface and eventually release it? As a response to Session 2 on Suffering, we will be exploring practical measures to become aware of how we process emotions and store pain and the gentle ways in which we can become liberated in order to move on. Participants must register for the full series.
Vaccinating the World – The Journey of mRNA & The Fight for Health Equity
Virtual Session, December 6
Imagine that the road to developing the Covid-19 vaccines began with a chance encounter that began planting the seeds to collective action. Join Dr. Drew Weismann has he recounts his journey to developing the vaccine, how this science is being furthered to combat other health crises around the world, his response to the politicizing of vaccines in today's society and the collective action needed to further health equity in the regions that need it most.
Bridging Leadership Next Generation Community: Cultivating the Bridging Leader in Me (An End of Year Celebration!)
São Paulo, December 10
BL Community and GPC Brazil members will be joined by a variety of special guests, all of whom have in common that they are distinguished leaders, albeit from different causes areas and different forms of social impact. We will provide a space for exchanges and peer consulting, where participants can raise the challenges they face in their roles as leaders for change, listening to and providing insights and provocations from peers and more experienced leaders. We will end the evening celebrating this gathering and the closing of 2021. (Meeting will be held in Portuguese.)
GPC Gathering New York
Hill & Bay Restaurant, New York City, December 16
GPC New York Members will gather together in celebration as we reflect on the past year and what's ahead. Holding this intention together, a holiday lunch will take place at GPC member Eddie Bergman's midtown Manhattan restaurant Hill and Bay.
PREVIOUS EVENTS

November 2021
GPC Europe Tour - France Gathering
November 25
Dialogue for Democracy
November 23
Bridging Leadership Next Generation Community: Bonding Activity
November 19
Food Systems Collaborative Community Meeting
November 16
Funders of Mindfulness and Spirituality Virtual Gathering
November 9-10 • With Nancy Bordeaux and Arawana Hayashi
Food Systems Collaborative Community Meeting
November 8
GPC Europe Tour - Holland Gathering
November 8
Spirituality & Science Forum, Human Flourishing: A Journey
November 3 • With Krueger & Lee and Fetzer

October 2021
GPC Brazil Member Gathering
October 26
GPC Community Gathering
October 13
David Rockefeller Bridging Leadership Award
October 12 • Honored Rev. Dr. William J. Barber II and Cherie Nursalim
Spirituality & Science Forum, Human Flourishing: A Journey
October 7 • With Krueger & Lee and Fetzer
Climate and Environmental Protection in China
October 6 • With Rockefeller Philanthropy Advisors, Rockefeller Foundation, Asia Society Policy Institute and Synergos
Bridging Leadership Next Generation Community: Addressing Inequality Through the Lens of Unconscious Biases and Inner Work (Part II)
October 1

September 2021
Bridging Leadership Next Generation Community: Addressing Inequality Through the Lens of Unconscious Biases and Inner Work (Part I)
September 30
Global Dialogue Initiative - September Meeting
September 23
Montana Retreat
September 12-19 • With Peggy Dulany

August 2021
Bridging Leadership Next Generation Community: Bonding Activity
August 26

June 2021
Synergos Encuentro LatAm
June 18 • Varias oradoras
Leer Resumen | Ver Video
Synergos Global Gathering
June 15-16 • Various Speakers
See Videos

May 2021
GPC Food Systems Collaborative Community Meeting
May 25 • With Dan Barber
Philanthropy in the COVID-19 Pandemic - Lessons Learned One Year On
May 6 • With Peggy Dulany

April 2021
Gender Equity: What Leading Changemakers Are Learning about Deep, System Level Change in Tackling Patriarchy & Gender Stereotypes in Year 2021
April 29 • With Riccarda Zezza, Regina Honu and Emily May
Dialogue in Action - Global Case Studies on How Dialogue is Happening at a Local Grassroots Level
April 27
Art for Purpose and Social Change
April 6 • With Evgeny Afineevsky and Lauren Embrey

March 2021
Funders of Mindfulness & Spirituality Community Meeting
March 25 • Review Highlights
Strengthening Resilience in Times of Adversity
March 2 • With Nancy Mannix 

February 2021
What If a Fire Never Became a Disaster?
E se um incêndio nunca se transformasse em desastre?
February 24 • Various Speakers
Video (English) & Resources | Video (Português) & Mais informações
A Conversation with Michael Pollan
February 3 

January 2021
Challenges & Joint Opportunities in the Distribution of a Global Covid-19 Vaccine
January 19 • With Henrietta H. Fore, Etleva Kadilli, Aboubacar Kampo and Peggy Dulany
The Wake-Down Workshop
January 15-17, 2021 • Zvi Ish-Shalom
Learn More
December 2020
Environmental Optimism: Philanthropic Approaches to Solving the Climate and Conservation Crises
December 15 • With Joanna Messing, Tom Rivett-Carnac and Jessica Sweidan

November 2020
Funders of Mindfulness and Spirituality Virtual Gathering
November 19-20

October 2020
David Rockefeller Bridging Leadership Award
October 27
Learn More
 
Synergos Global Gathering
October 27-29
Learn More

September 2020
Inner Work for Social Change Virtual Learning Series
September 2, 16, 30 & October 14 • Various Speakers
Learn More

August 2020
Rx Healing Circles: Aligning Truth & Intent for Transformation
August 13 • With Dr. Gail Christopher
Learn More
Making Death an Ally for Living Our Fullest Life: Sessions II & III
August 4 & 5 • With Shahabuddin David Less
Learn More

July 2020
COVID-19: The Human Rights Dimension
July 30
Learn more
Funding from a Place of Trust: Focus on Asia/Pacific Philanthropy
July 29
Learn more
The View from Home: Conversations about our common future
July 20, 21, 23 & 24
Learn more
Intentional Action for Racial Justice
July 16 • With Lauren Embrey, Amy Brakeman and Hali Lee
Learn more
Resilience and Wellbeing for Effective Social Change
July 15 • With Gretchen Steidle
Learn More
Financiando desde la confianza
July 14
Learn more
Truth, Racial Healing & Transformation
July 9 • With Dr. Gail Christopher
Learn more
Funding from a Place of Trust: Focus on Africa-MENA Philanthropy
July 7