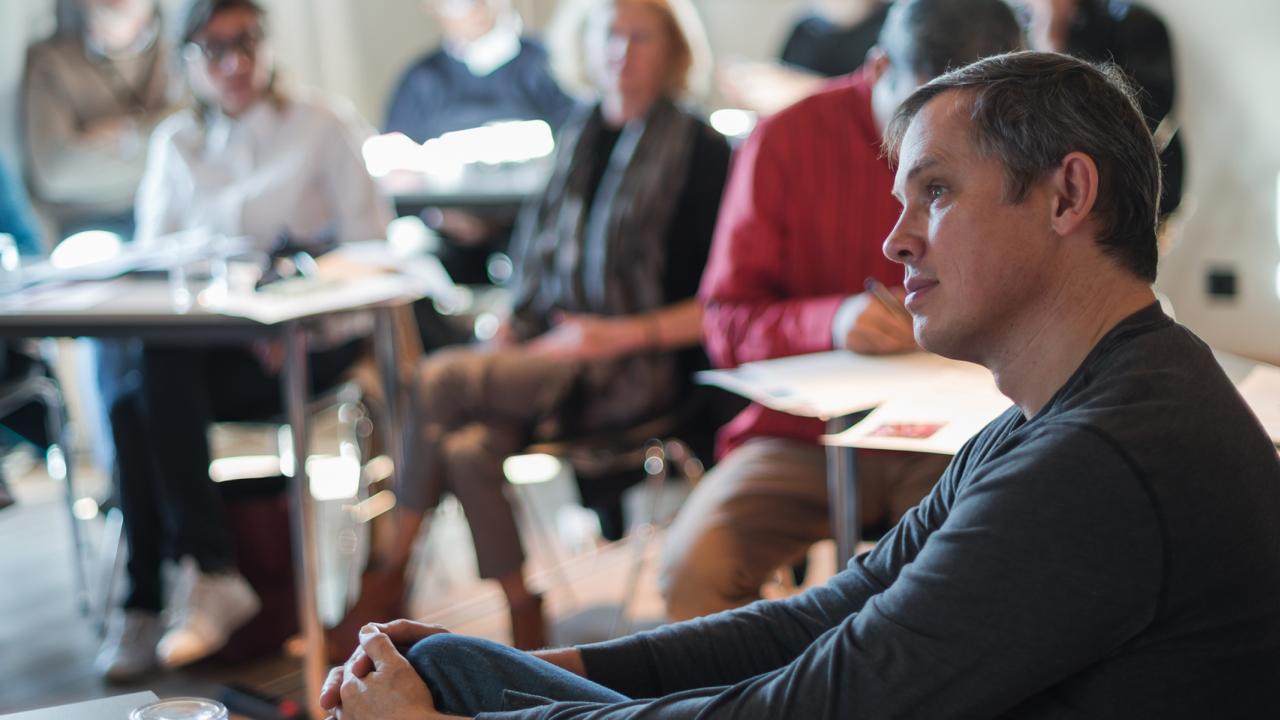 Events Calendar 2017-2018
Global Philanthropists Circle
JUNE 2018
4th Session of the Bridging Leadership Program in Brazil
Brazil, June 15-17, 2018
After experiencing a learning journey and three other retreats, Next Generations philanthropists come together for the final session of the Bridging Leadership Program, that shall have a special emphasis on the importance of multi-stake holder partnerships and collaborations, as well as systems thinking. Here, each participant will revisit their social practice and be able to plan their next steps as philanthropists, and social investors.
SEPTEMBER 2018
Montana Retreat at J Bar L Ranch
Montana, United States, September 9-16, 2018
The annual Montana Retreat allows participants to step outside of their daily routine and environment, providing space in an undisturbed, scenic natural setting to clarify and sharpen individual life purpose. This retreat is designed to enable participants to approach their lives and social engagement in the world with greater joy and clarity. Participants will gain a greater understanding of the world around them (both personal and societal), take a step back and retreat into silence in nature to reflect on what can and must be done in order to align with one's deepest sense of purpose. They will also share stories, enabling each to form a plan to carry forward what has been learned, through individual and collective visions, intentions, and commitments.
1st Session of the Bridging Leadership Program in Asia
TBD, September, 2018
Join us as we launch the inaugural Synergos Bridging Leadership for Social Impact program in Asia. Next generation leaders from across Asia are invited to join this four-part program designed to help you transcend the boundaries of perspectives, sectors and, most importantly, of the self and the world.
Jeffersonian Dinner: The Future of Partnership
San Francisco, September, 2018
This special dinner will bring together GPC members and Synergos friends for a candid conversation on the realities of partnership work, and what lessons we can apply in professional, philanthropic, and personal lives.
GPC Shifting the Food System Group: Brooklyn Tour
New York, United States, TBD, September, 2018
Join fellow members for a day of site visits to two innovative organizations using place-based food strategies to transform communities. We will start with a behind-the-scenes look at Claus Meyer's Brownsville Community Culinary Center & Neighborhood Eatery, enjoy lunch on-site, and finish the day on the rooftop farms of Brooklyn Grange.
OCTOBER 2018
GPC Members Meeting & Spiritual Civilization Gathering
Rome, Italy, October 14-16, 2018
Global philanthropists are invited to the fifth GPC Members Meeting & Spiritual Civilization Gathering in Europe. Participants will come together to exchange successful approaches and challenges to poverty alleviation, increase their knowledge and capacity to act effectively, find inspiration, and explore possibilities for collaboration.
Synergos Learning Journey to Rome
Rome, Italy, October 17-20, 2018
Join Peggy on a special learning journey to Rome. A limited number of participants will have the opportunity to connect with thought leaders in the areas of systemic poverty alleviation, circular economy, impact investing, art and music for social impact, sustainable food systems, we are invited to have exclusive access to some of the most spectacular palaces and private collections, hosted by some of Rome's leading philanthropists. If you have any questions about our Rome Learning Journey feel free to contact GPC member and Rome Learning Journey co-host, Daniel Schwartz.
GPC Next Generation Gathering
New York, United States, October, 2018
Gather with other members of the Next Generation group for an engaging discussion in New York. This event will be an informal gathering of the younger members of our network to talk about their philanthropic interests and exchange experiences about the role they play in their family's philanthropy.
Impact Investing Gathering
California, United States, October, 2018
Join fellow GPC Members and invited guests to discuss current challenges in impact investing such as designing impact investment portfolios, sourcing investments and measuring social impact.  This session will allow ample opportunity for members to share with and learn from one another to expand the social impact of their investments. 
NOVEMBER 2018
GPC Impact Investing Conference
London, United Kingdom, November 18-19, 2018
In tandem with a sister convening in New York, this conference will serve as this year's largest annual gathering of the GPC Impact Investing Affinity Group. Participants will engage with leading experts and peers on topics including portfolio design, impact monitoring and evaluation, the role of sustainability analysis, and innovative new applications for social impact bonds. Participants will also engage in an experiential session applying the Synergos Approach to impact investing. This event commences with a welcome dinner for keynote speakers and guests on Sunday, followed by a conference Monday ~9-4pm. Please stay tuned for further details.  
DECEMBER 2018
Synergos Learning Journey to Asia Part I
Manila, the Philippines, December 10-12, 2018
Join Peggy Dulany and David Rockefeller Bridging Leadership Award honoree and two-time Minister of Social Development Corazon Soliman to explore effective and inclusive approaches to addressing poverty in the Philippines.
Synergos Learning Journey to Asia Part II
Kunming, Yunnan province, China, December 13-16, 2018
Explore innovative approaches and successful public-private partnerships in the far southwest Chinese province of Yunnan with Peggy Dulany and fellow GPC members. Bordered by Vietnam, Myanmar and Laos, Kunming has prospered under the "Go West" Initiative and still remains China's most ethnically diverse province. We invite you to join us.
1st Session of the Bridging Leadership Program Brazil III
Brazil, December, 2018
The Bridging Leadership for Social Investment Program commences with a new cohort of young philanthropists and social investors, brought together for their first immersive weekend long retreat. They will learn what it means to be a bridging leader, share their philanthropic visions amongst peers and acquire valuable lessons on philanthropy and social investment.
MAY 2018
GPC Lunch on New Forms of Collaboration for Sustainable Global Development
New York, United States, May 7, 2018
In an era of globalization where our cultures, economies and information intertwines, the challenges we are encountering are increasingly complex. Issues such as climate change, human trafficking and refugee crises are no longer contained to countries or regions. This presents an incredible opportunity for us as philanthropists to consider new forms of collaboration for a common future to tackle the world's biggest challenges. This event includes a special presentation by GPC member Dr. Lu Dezhi on his thoughts on a collective sharing civilization, an interactive discussion with Peggy Dulany and Darren Walker from Ford Foundation, and insightful sharing by GPC member Mohamed Amersi.
GPC Latin America Day
New York, United States, May 7-8, 2018
Join us in taking a closer look at philanthropy and social issues through a regional perspective. This day is all about examining social initiatives in Latin America by understanding the context of its countries, engaging in lively conversation with experts through visiting Institutes and Foundations, as well as learning about the unique aspects and challenges of philanthropy in this part of the world. We will look at models for foundations, shown to us at on-site visits to EPIC and Rockefeller Foundation, in addition to discussing one of the most pressing issues in Latin America with Institute for Economics and Peace, Instituto Igarapé, and Open Society Foundations (to be confirmed): violence. 
David Rockefeller Bridging Leadership Award
New York, United States, May 8, 2018
Join Synergos for an evening of inspiration about how we can create positive change by deepening trust, strengthening collaboration, and releasing the energy and ideas of individuals, communities, and organizations around the world. At the event, formerly known as University for a Night, we will honor three outstanding global leaders: GPC member Carlos Rodríguez-Pastor, founder of Innova Schools, Corazon Soliman, two-time Minister of Social Development of the Philippines, and Ernesto Garilao, President of the Zuellig Family Foundation. GPC Membership provides each member family with two tickets to this event. To purchase additional tickets or sponsor the event, visit syngs.info/drbla.  
GPC Members Meeting
New York, United States, May 9, 2018
Connect and exchange ideas with fellow Circle Members from around the world for the largest annual convening of the network. Global philanthropists will come together to discuss successful approaches and challenges to poverty alleviation and to increase their knowledge and capacity to act effectively, find inspiration, and explore possibilities for collaboration.
GPC Members Special Screening of MATANGI / MAYA / M.I.A.
New York, United States, May 9, 2018
Cinereach and Synergos Institute's Global Philanthropists Circle and its Refugees Affinity Group are hosting a special members-only preview screening of the film MATANGI / MAYA / M.I.A. The film captures the unforgettable story of Sri Lankan refugee turned pop star M.I.A. and her struggle to form her identity as a refugee, artist, and political activist. This powerful documentary has made waves at the world premiere in Sundance and at its international premiere at the Berlin International Film Festival earlier this year.
GPC Spiritual Civilization Gathering
Tarrytown, New York, United States, May 10, 2018
This full-day meeting will convene all GPC members interested in diving deeper to explore Spiritual Civilization - what can be done to increase consciousness, or awareness, in society of the ideals that drive members of society to help each other and work towards the greater good. The ideals of love, compassion, purpose, altruism, ethics and creativity will be examined on a personal, philanthropic, and societal level through the exchange of stories and reflective practices.
GPC Next Generation Happy Hour
New York, United States, May 10, 2018
Let's ring in summer together! Please join us for sips & nibbles as we convene bar-side at GPC Next Generation Member Eddie Bergman's new gluten-free restaurant Tali.
GPC Montana Reunion
Tarrytown, New York, United States, May 10-11, 2018
This gathering is for those who took part in a past GPC Montana Retreat or Purpose Retreat. Participants will gather at Peggy and Barry´s Tarrytown home to further connect with each other and explore how to build on the experience to increase their effectiveness as human beings – in their work, relationships, and philanthropy.
GPC Webinar on Philanthropy's Role in Impact Investing, Featuring Root Capital
Webinar 9am-10am Eastern Time, May 23, 2018; 2pm-3pm Eastern Time, May 24, 2018
GPC members are invited to join Michael McCreless, Senior Director of Strategy and Impact at Root Capital, for an interactive webinar focusing on the unique role philanthropy can play in impact investing and the concepts of additionality and the "efficient impact frontier." Using a selection of Root Capital investments as cases, Michael will introduce a new approach for quantitatively integrating social and environmental impact alongside financial risk and return in investment decision-making. This webinar may be of particular interest to social investors curious about philanthropy's potential to maintain the moral compass in impact investing - keeping investors focused on the highest-impact opportunities, and by demanding better impact measurement and management practices of investors.
APRIL 2018
GPC Members and Friends Gathering in São Paulo with Peggy Dulany
São Paulo, Brazil, April 12, 2018
GPC members and friends come together with Peggy Dulany to engage in a lively conversation and rich interpersonal exchange about their experiences with philanthropy. Attendees will have a chance to share their stories, and to learn from one another alongside the Synergos Institute founder herself.
3rd Session of the Bridging Leadership Program Brazil
São Paulo, Brazil, April 13-15, 2018
This will be the third session of the Next Generation philanthropists in Brazil and features a retreat in nature, allowing participants to reflect on their individual purpose and commitments, as well as perfecting their inner work with Peggy's guidance.
GPC Members Lunch on Citizen Journalism
New York, United States, April 16, 12-2pm, 2018
Join Eva Haller and fellow GPC members for a timely lunch discussion on the power of "citizen journalism" in the global context, with a spotlight on marginalized communities in India. How can inclusive journalism lead to better-informed and more democratic decision-making? Jessica Mayberry, a veteran journalist and Founder and Executive Director of Video Volunteers, will share her work training rural Indian women in filmmaking and field questions.
Impact Investing Gathering
London, United Kingdom, April 18, 2018
This afternoon session will take place from 2pm to 6pm and will focus on Building a Positive Pipeline: Sourcing Deals for Impact Investment. With a mix of outside expertise and Circle member experience, this interactive session will provide ample opportunity to learn, share, and connect around the latest knowledge in the field.
GPC Members Dinner
London, United Kingdom, April 18, 2018
Gather with other members of the GPC for a members dinner in London following the impact investing gathering earlier this day. This event will be an informal gathering of the network to talk about their philanthropic interests and exchange experiences.
Sheep Shearing Fest for Next Generation Members and Families
Tarrytown, NY, United States, April 28, 2018
This has become an annual event at Stone Barns that families with young children or grandchildren especially enjoy. Peggy will convene fellow members in the Garden Lounge before the group heads out to explore the farm in its springtime glory. The day will include live music and seasonal fare from local vendors, conversations with farmers, education about pasture-raised sheep and other animals, and a dance around the Maypole. When shearing is done, we'll help to heard sheep out to pasture for the summer season.
US-China Philanthropy Forum
Silicon Valley, California, United States, April 30, 2018
Co-hosted by the Ai You Foundation, this second annual forum will bring together leading Chinese and global philanthropists and foundations for dialogue on the innovations, challenges, and opportunities in philanthropy and social investment today. The role of technology will also take a central role as we bring the event to Silicon Valley.
MARCH 2018
GPC Members Dinner in Southern California
Los Angeles, United States, March 8, 2018
Join fellow members for a discussion over dinner. This event will be an informal gathering of members of our network to talk about their philanthropic interests, exchange ideas and experiences and deepen relationships with each other.
GPC Shifting the Food System Group Retreat: From Gate to Plate
Paicines & Sausalito, California, United States, March 19-21 (Gate) & March 21-22 (Plate), 2018 
Join members and friends-in-the-field for a two-part retreat. Over the course of four days, we will take participants on a food systems journey from "gate to plate." Members may RSVP for one or both experiences. We kick off on Monday afternoon at Paicines Ranch, two hours south of San Francisco, for an immersive Learning Journey convening impact investors, philanthropists, and agriculture and food systems leaders. Sallie Calhoun, founder-owner of Paicines Ranch, will demonstrate the power of regenerative agriculture in grassland, cropland, and vineyard agroecosystems. Expert-led demonstrations, group discussions, unexpected activities – as well as delicious meals facilitated by Karen Karp and Ben Kerrick of KK&P—will illustrate the power that your work can have in building a more sustainable and resilient food and agriculture system. On Wednesday evening, we will convene at Cavallo Point Lodge overlooking San Francisco Bay in Sausalito, California. The program will start with dinner on the 21st and lead to a full day of programming on the 22nd, to include discussions led by local food system experts, such as the team at Food System 6; site visits to Bay Area food innovators; and peer learning and interactive group sessions.
Family Philanthropy Retreat
San Francisco, California, United States, March 22-24, 2018
Join your fellow members for this two-day retreat at the serene Cavallo Point Resort in San Francisco, CA. Through dialogue, member-led activities, and time in nature we will dive in to some to your top questions about family philanthropy: How do I shape and model values for our children? When and how can I start a conversation about impact investing with my family board? Is there a right and wrong way to balance legacy and history? These questions and more will lay the foundation as we share, learn, and identify strategies to take forward in our own work.
FEBRUARY 2018
Impact Report: Synergos Social Entrepreneurship in the Arab World
Webinar, 2pm-3pm Eastern Time, February 8, 2018
GPC members are invited to participate in an interactive webinar focusing on the Synergos Pioneers Program, which is supported in part by Circle members. Since 2008, Synergos has built the Arab world's largest network of social entrepreneurs. These leaders are agents of change combining innovation and business skills to meet pressing needs of their communities and countries. Hisham el-Rouby, Director of the Pioneers Program, will share lessons learned over the last ten years as he's worked alongside entrepreneurs to sustain and scale up innovations in a variety of sectors – including youth employment, economic development, education, health, energy and the environment, sanitation, arts and culture, and social inclusion.
Global Philanthropists Circle Visit to Istanbul
Istanbul, Turkey, February 15-16, 2018
Join Peggy Dulany and a group of GPC members for a learning visit to Istanbul to discuss the work of fellow Turkish philanthropists. Members will have a chance to learn about some innovative projects in the area of refugee issues and education. Among others, an innovative Teacher Empowerment Program (www.ogretmenagi.org) will be introduced, presenting the collaborative effort by some of the leading Turkish philanthropic families. Site visits will be followed by a GPC member's dinner.
Synergos Learning Journey to India
India, February 17-24, 2018
Over the past decade Synergos has seen firsthand how India's complexity requires innovative, inclusive approaches to address its significant development challenges. In February 2018 we invite you to join us as we explore the power of systems thinking, collaboration, and philanthropy in action. In addition to visiting Bangalore and Mumbai, the trip also includes a conservation-focused field immersion in Central India's Pench Tiger Reserve. Special thanks to GPC member Aditi Kothari and GPC partner Dasra for co-organizing this Learning Journey.
Dubai Philanthropy Event
Dubai, United Arab Emirates, February 25-26, 2018
Join Peggy Dulany and a special convening of regional philanthropists to discuss philanthropy in Dubai. Participants will share examples of strategic, effective philanthropy in the areas of education, youth employment, and other topics relevant to the region.
GPC Dinner and Dialogue with Peggy Dulany
Beijing, China, February 28, 2018
Join fellow GPC members and friends in Beijing for dinner and dialogue hosted by Peggy Dulany.