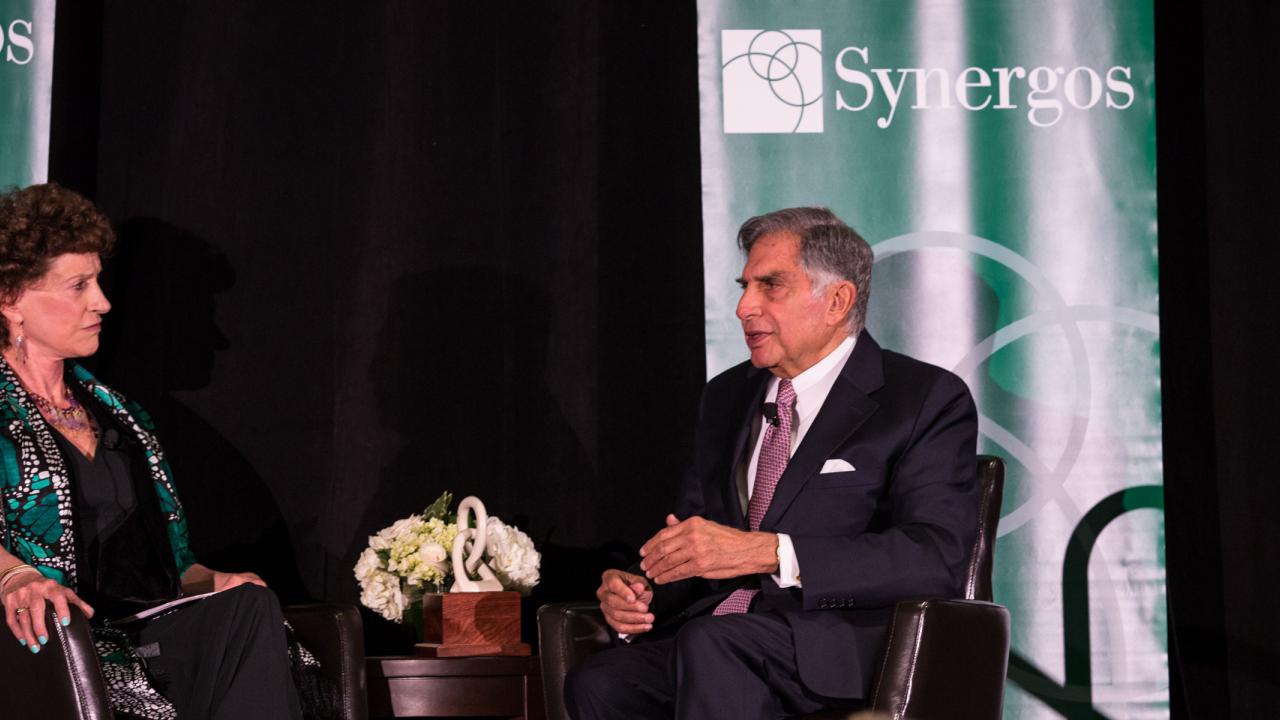 University for a Night 2015
University for a Night 2015 brought together more than 350 leaders to share ideas and inspiration about working together to create a more sustainable, just, and prosperous world.
We also used the occasion to honor two outstanding global citizens with the David Rockefeller Bridging Leadership Awards:
Angélique Kidjo, West African singer and songwriter, activist, UNICEF International Goodwill Ambassador, and founder of the Batonga Foundation
Ratan N. Tata, global business and philanthropic leader, Chair of the Sir Ratan Tata Trust and the Navajbai Ratan Tata Trust, and former Chairman of the Tata Group.
The evening concluded with dinner discussions led by our Distinguished Faculty exploring a wide range of innovative approaches to poverty, the environment, health, nutrition, and other critical global issues.
Synergos thanks our sponsors, Distinguished Faculty, honorees, and all participants for making the evening a success.
Sponsors
Changemakers
Carlos and Natalia Bulgheroni
David Rockefeller
Carlos and Gabriela Rodríguez-Pastor
The Samuel Family Foundation
Champions
Bloomberg Philanthropies
Peggy Dulany
Liesel Pritzker Simmons and Ian Simmons
The Rockefeller Foundation
Anonymous
Leaders
Charles Butt
Corinne Evens
Dorian Goldman and Marvin Israelow
Bertha González
Raza Jafar
Vincent and Anne Mai
NoVo Foundation
Shell
Monica Winsor and Joshua Mailman

Partners
Loreen Arbus
George and Abby O´Neill

Collaborators
Stanley, Marion, Paul, Sara, Eddie and Sharon Bergman
Marcos de Moraes
Colleen and Robert D. Haas
Mimi and Peter Haas Fund
Mayra Hernández González
Vijay and Marie Goradia Charitable Foundation
Mr. Nand Khemka and Princess Jeet Nabhi Khemka
Antonio Madero
Patrick Parring
Supporters
Eyal and Yael Aronoff • William H. Bohnett • Ray Chambers and the MCJ Amelior Foundation • Arnold Hiatt • J.P. Morgan Private Bank • Uday Khemka • Marnie S. Pillsbury Fund • Michael Rennie • Robert C. L. Timpson, Jr. • Sarah L. Timpson • Trivedi Family Foundation

Friends
Afrika Tikkun USA • Maite Arango • The B Team • Roberto Baquerizo • Janet Besso Becker • James M. Brasher III • Kim Brizzolara • Judith Bruce • Marcia and Herb Dunn • Robert Dunn • Sally Dyer • James Ferrari • Nilizandr Gilbert • Anna Ginn • The Heller Foundation • David Issroff • Deborah B. Landesman • John and Meryl Lavine • Laurel Lucey • Hawley McAuliffe • David Montero-Rosen • Xerxe Mullan • Cherie Nursalim • Özyein Family • Michael Rennie • Susan and David Rockefeller • Rockefeller & Co. • Shelley and Donald Rubin • Shared Interest • Adele Simmons • Dinyar Wadia • Mei Ye
Table Discussion Topics & Distinguished Faculty
University for a Night concluded with dinner discussions that bring participants together with our Distinguished Faculty - experts from around the world - for an exchange of ideas on specific topics.
1. Global volunteering for social change
Pamela Hawley, Founder and CEO, UniversalGiving
Jerry Hirsch, Chairman, The Lodestar Foundation
2. Peace, security, and governance: Engaging citizens and markets
Clare Lockhart, Co-Founder, Institute for State Effectiveness
3. The intersection of science and faith
Jim Pitofsky, Managing Director, Strategic Alliances, John Templeton Foundation
4. Achieving reconciliation in complex environments: Reciprocity and recognition
Victor Chan, Founder, Dalai Lama Center for Peace and Education
Ken Roth, President, Human Rights Watch
5. New perspectives from ancient wisdom: Indigenous knowledge shaping sustainable solutions through social connectedness
Kluane Adamek, Jane Glassco Northern Fellow, Walter and Duncan Gordon Foundation
Ovide Mercredi, University of Manitoba and Misipawistik Cree Nation
6. Overcoming isolation and achieving dignity: Respect and reciprocity
HRH The Crown Prince Haakon of Norway; Founder, Dignity Day
Kim Samuel, Samuel Family Foundation
7. Measuring, evaluating, and experiencing social impact
Nicola Crosta, Executive Vice President, Epic Foundation
8. Focus on Africa: Creating prosperous, sustainable, and inclusive societies
Désirée Younge, CEO, Cotton Tree Philanthropy Advisors, Inc.
9. Focus on Africa: Creating prosperous, sustainable, and inclusive societies
Dr. Nozipo Maraire, Co-Founder, Ecosurgica Healthcare
10. Partnerships for education
Kgotso Schoeman, CEO, Kagiso Capital
11. Meeting the UN Sustainable Development Goals
Angel Hsu, Director, Environmental Performance Measurement, Yale Center for Environmental Law and Policy
Rajiv Joshi, Managing Director, The B Team
12. Partnerships for education
Marie Goradia, Vijay and Marie Goradia Charitable Foundation
Vijay Goradia, Vijay and Marie Goradia Charitable Foundation
13. Collaboration to overcome poverty
Peggy Dulany, Founder and Chair, Synergos
14. Collaboration to overcome poverty
Robert H. Dunn, President and CEO, Synergos
15. Integrated approaches to overcoming poverty
Albina du Boisrouvray, Founder and President Emerita, FXB
16. Creating healthy, nutritious, and sustainable food systems
Richard Deckelbaum, Director, Institute of Human Nutrition, Columbia University
Jill Isenbarger, Executive Director, Stone Barns Center for Food and Agriculture
17. Innovating for environmental stewardship
Dan Esty, Director, Yale Center for Environmental Law and Policy
18. Cuba in transition
Denise Tollinche, Manager, Global Philanthropists Circle, Synergos
19. Transformative partnerships and systems thinking
Surita Sandosham, Vice President, Programs, Synergos
20. The role of business in global development
John Heller, Senior Director, Synergos
Keith Tuffley, Managing Partner, The B Team
21. Growing a new generation of leaders
Henry De Sio, Ashoka
Eddy Gicheru Oketch, Founder and Trustee, Peace for Africa & Economic Development
22. Focus on Latin America: Creating prosperous, sustainable, and inclusive societies
Mónica Tapia, Director, Synergos Mexico
23. Focus on Latin America: Creating prosperous, sustainable, and inclusive societies
Sonia Balcazar, Synergos Consulting Services
24. Personal reflection, social transformation, and peace
Chade-Meng Tan, Jolly Good Fellow, Google
25. Supporting emerging philanthropy in Asia
Jennifer Davis, Senior Officer, The Philanthropy Workshop
26. Storytelling and mass media for social change
Molly Bingham, President and CEO, ORB Media
Torey Malatia, US Communication Innovator, Ashoka
27. Storytelling and mass media for social change
Mallika Dutt, Founder, President and CEO, Breakthrough
28. Investing in women and girls
Judith Bruce, Senior Associate and Policy Analyst, Population Council
29. Information technology for social change
Tanya Karanasios, Deputy Program Director, Witness
30. Philanthropic response to disasters
Mark Arnoldy, CEO, Possible Health
31. Impact Investing: Investing for social and financial returns
Joyce Haboucha, Managing Director, Director of Sustainability & Impact Investments, Rockefeller Financial
Ben Schmerler, Director of Investor Relations, Root Capital
32. New directions in family philanthropy
Tracy Mack Parker, Executive Vice President, The Philanthropy Workshop
33. Bridging leadership: Bringing together unlikely partners
Katherine Potaski, Director, Development, Synergos
For More Information
Contact Meghan Kendall at mkendall@synergos.org or +1-646-963-2109.