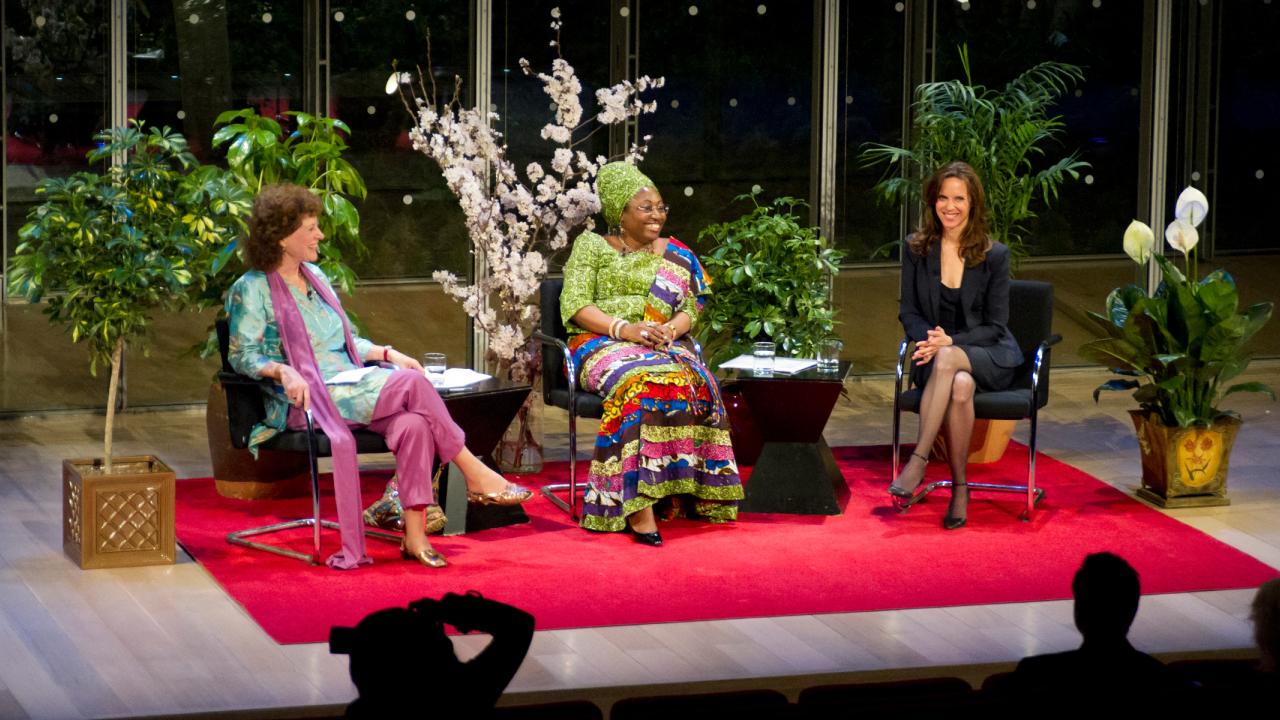 University for a Night 2011
Leaders from around the world came together on April 5 in New York City for this unique evening of sharing ideas and experience about how to work together to overcome poverty. This year our plenary discussion focused on the theme:
Changing the world by changing the lives of women and girls.
We also honored Bisi Adeleye-Fayemi of the African Women's Development Fund and Jennifer and Peter Buffett of the NoVo Foundation with the David Rockefeller Bridging Leadership Award for their accomplishments helping empower women and girls as leaders in their own communities.
The evening concluded with dinner discussions exploring a wide range of innovative approaches to poverty, malnutrition, education, health, environment, conflict, and other critical global issues.
Table Discussion Topics and Distinguished Faculty
Small groups gather over dinner with plenary speakers and other members of our Distinguished Faculty – experts from around the world.
1. Promoting inclusion to create a more just and prosperous society
Rosangela Berman-Bieler, Senior Adviser on Children with Disabilities, UNICEF
2. Philanthropy, social investment and broad-based growth in Latin America
Fernanda Bornhausen Sá, Founder & President, Instituto Voluntarios em Ação
Marcos Kisil, President, Institute for the Development of Social Investment
3. Building a stronger civil society in Africa
John Ulanga, Executive Director, Foundation for Civil Society
4Spreading the benefits of economic growth in Africa
Neville Gabriel, Founding Executive Director, South Africa Trust
Afsaneh Tabrizi, Chief Operating Officer, Shisaka Development Management Services
6. Democracy and philanthropy in the Middle East
Dina H. Sherif, Associate Director, John D. Gerhart Center for Philanthropy and Civic Engagement, American University in Cairo
7. Shifting paradigms in education
Agustina Cavanagh, Executive Director, Fundación Cimientos
8. Protecting the rights of children
Emmah Gweshe, Director, Child Rights and Development Organisation
Janet Mbene, Director, SIA Limited
9. Providing health services to children in need
Tomaida Banda, Executive Director, Child Protection Society
Sally Harrison, Co-Founder, CURE International
Scott Harrison, Co-Founder, CURE International
10. Getting kids started right - Early childhood education
Ayla Göksel, CEO, Mother Child Education Foundation
Gary Knell, CEO, Sesame Workshop
11. Supporting women's entrepreneurship
Olive Luena, CEO, Tanzania Gatsby Trust
Sadiqa Salahuddin, Executive Director, Indus Resource Centre
Sarah L. Timpson, Chair, Technical Advisory Committee, Equator Initiative
12. Gender equality in business as a path to more prosperous and sustainable societies
Nicole Schwab, Co-Founder, Gender Equality Project
Carol Schwartz, Women Moving Millions
13. Women's health and social justice
Amalia Fischer Pfaeffl, Founder, Angela Borba Fund for Women
Adrienne Germain, President, International Women's Health Coalition
14. Human rights and sustainable development
Monika Kalra Varma, Director, Robert F. Kennedy Memorial Center for Human Rights
15. Education as a path to more equitable, stable societies
Maryam Bibi, Founder & CEO, Khwendo Kor
Catalina Cock Duque, Executive Director, Mi Sangre
16. Job training as a path to more equitable, stable societies
Luiz Alfaya, CRIAR
Deema Bibi, CEO, INJAZ
Ron Bruder, Founder, Education for Employment Foundation
17. Changing the world by changing the lives of women and girls
Sharmila Karki, Chief Executive, Jagaran Nepal
Mashuda Khatun, Executive Director, Nari Uddug Kendra
18. How business and philanthropists can improve education
M'hammed Abbad Andaloussi, President, Al Jisr
19. Changing the world by changing the lives of women and girls
Peggy Dulany, Founder & Chair, Synergos
20. Partnerships to improve public health
Noreen Clark, Director, Center for Managing Chronic Disease, University of Michigan
Wangsheng Li, President, ZeShan Foundation
21. Philanthropy and social investment to improve the lives of women and of children
Staff of Mannheim, LLC
22. Changing the world by changing the lives of women and girls
Jennifer Buffett, Co-Chair, NoVo Foundation
Olabisi Adeleye-Fayemi, Co-Founder, African Women's Development Fund
23Social technologies and social change in the Middle East
Hisham El Rouby, Founder & CEO, Youth and Development Consultancy Institute
Ingrid Srinath, Secretary-General, CIVICUS
24. Deepening democracy through citizen participation
Lake Sagaris, Co-Founder & President, Ciudad Viva
Rajesh Tandon, Chief Executive, Society for Participatory Research in Asia
25. Protecting the environment and promoting social justice
Tensie Whelan, President, Rainforest Alliance
David Winder, CEO, WaterAid America
26. Local partnerships for sustainable cities
Geoff Cape, Executive Director, Evergreen Brick Works
Adele S. Simmons, Vice Chair, Chicago Metropolis 2020
27. New directions in family philanthropy
28. Innovations in socially and environmentally responsible investing
Jed Emerson, Blended Value
Tim Radjy, CEO, AlphaMundi Group
We thank all participants, sponsors and supporters, honored guests for helping make the event a success.
Supporters
Champions
Carlos and Natalia Bulgheroni
David Rockefeller
Kim Samuel Johnson
The Rockefeller Foundation
Partners
Bloomberg
Charles Butt
Peggy Dulany
Dorian Goldman and Marvin Israelow
Katja Goldman and Michael Sonnenfeldt
Vincent and Anne Mai
Shell
Collaborators
William Bohnett
Raymond Chambers and the MCJ Amelior Foundation
JPMorgan Chase
Mannheim, LLC
Strive Masiyiwa
Monica Winsor and Josh Mailman
Abby and George O'Neill
Open Society Institute
Supporters
Omar Amanat
Edward and Sharon Bergman
Stanley and Marion Bergman
David Bohnett Foundation
Corinne Evens
Hüsnü and Ayşen Özyeğin
Michael and Brigitte Rennie
Carlos and Gabriela Rodríguez-Pastor
Robert Timpson and Peregrine Whittlesey
Venturos Inc
John C. Whitehead