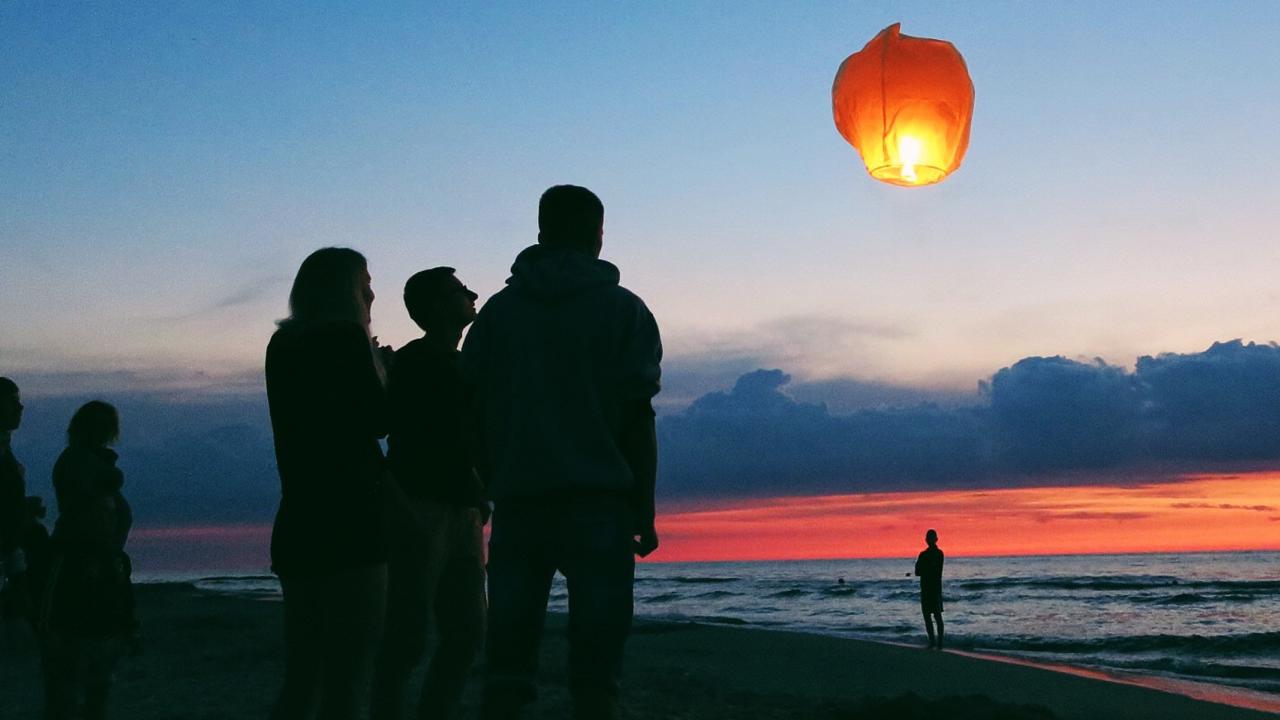 Bridging Leadership Open Workshop 2019
Tuesday, May 7 • Manny Cantor Center, New York City

Bridging leadership is the ability to build trust and tap the fullest contributions of diverse stakeholders, helping them come together across divides and work as partners.
Bridging leadership aims to create and sustain effective working relationships among these stakeholders, whose collective input is needed to make progress on a given social challenge.
Summary
On May 7th 2019, leaders across the Synergos network convened in New York for a workshop focused on the Synergos Bridging Leadership approach. By 'bridging' various perspectives often found across the breadth of different stakeholders, a common agenda can begin to be developed and shared to find solutions to social and economic problems.
The goal of the workshop was centered around maximizing stakeholders' abilities to learn, share, reflect, and build. The first objective was for them to learn about bridging leadership and practice some of the skills, including trust-building. Afterwards, participants were asked to share practical examples of how it has been applied to social issues and reflect on its application in a context-specific manner in their own projects to exchange ideas and feedback with each other.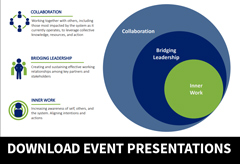 Resources
Why bridging leadership? How do you become a better bridging leader?
A facilitated conversation with Peggy Dulany, Synergos Co-Founder and Chair, and Mark Gerzon, President of Mediators Foundation
The conversation began with an introduction of the new Synergos approach to bridging leadership. Peggy and Mark remarked that bridging leadership is a beacon of light, positivity, and trust building. Mark described the mechanisms of trust building by explaining that "vulnerability showcases authenticity. People trust those who are authentic. As this spreads throughout the group, the group begins to feel a sense of belonging."
Peggy and Mark then expanded on the four-part approach of bridging leadership, which encompasses collaboration, bridging leadership, inner work, and systems thinking. Peggy described bridging leadership as the "re-weave of society [that] must happen throughout every strand." She expanded by saying that "the opportunity to be a bridging leader is available every day, in every action."
A key topic of conversation was the idea of 'serving with love,' spoken about extensively by Peggy, Mark, and Henri van Eeghen, Synergos' CEO. The components of serving with love include presence, humility, compassion, gratitude, and connectedness, to religion, the earth, and spirit.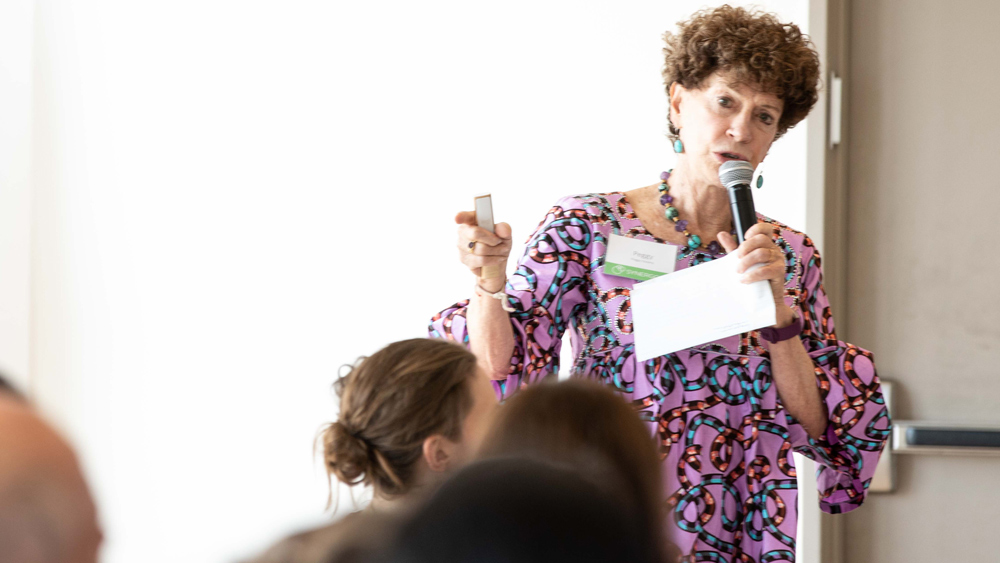 "Bridging leadership, is not just developing ourselves but looking for others that are interested in operating in a similar way. One of the most important aspects of bridging leadership is listening." – Peggy Dulany, Synergos Co-Founder and Chair
The initial phase of inner work is understanding the importance of addressing trauma and other debilitating feelings that can create obstacles to becoming an effective leader. The conversation addressed what it means to be a bridging leader by acknowledging that a good leader must go through conflict. These internal impediments can be addressed in a 'safe container,' an environment in which a leader can feel comfortable sharing their feelings. An example of how bridging leadership takes place is sitting in a group conversation and being talked with as opposed to being talked at.
Henri asked Peggy if there are areas in which bridging leadership does not work. She responded with an anecdote about her experiences in South Africa from 1984 and onwards. She explained that due to the political oppression and violence, it was hard to create effective partnerships and have an open dialogue. "Extreme settings as such are very difficult to create environments of open dialogue, we need to find large places that are viable for these opportunities."
Mark elaborated on the application of inner work by pointing out that "Inner work is more than personal. [It] is the engine of social change." He referred to Unite America and You Unify as examples of Bridging Leadership and their ability to "break down the polarization of traditional political space" on college campuses through dialogue between students. Mark concluded with the important message that "whatever issue you care about, poverty, climate change [...] Bridging leadership will create a better result and better policy than any other solution."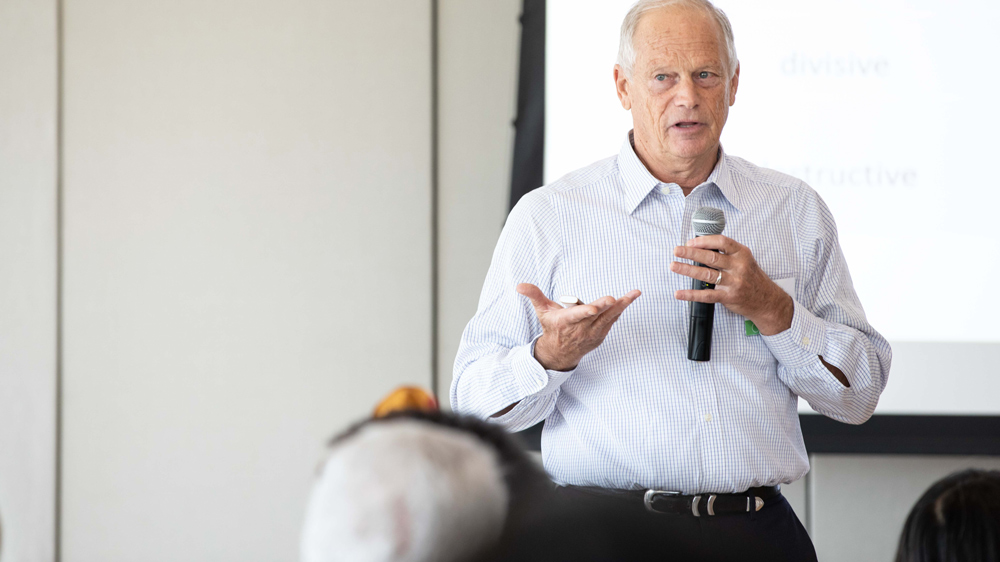 "A bridging leader should ask, 'Who's in the room?' One way I make situations safer is by identifying any us vs. them dynamics, and then I attempt to bring the group together through commonality" – Mark Gerzon, President of Mediators Foundation
Group Discussion
Jerry Hirsch of the Lodestar Foundation remarked that "within the area of bridging divides, there is a distinction between being a philanthropist and a social activist." He then specified that "within that area, there is an opportunity to collaborate amongst each other; those in the foundation business have great [opportunities] to support those in the activist community."
Jeannie Blaustein asked Mark for his thoughts on "deliberately attacking the truth." Mark replied that we should focus on the substantial amount of "Bridging leadership work that can be done with the 80-85% of people who are willing to work together and engage," while we should "not worry about the 15-20% that won't change their minds." He further noted that "it is important to bring together the clear majority of people who share the message of Bridging leadership."
One participant commented on their own reflections as an Indian in the United States. "The melting pot dynamic of America creates a great opportunity, although difficult, to bridge these relationships and create powerful partnerships."
Bridging Leadership on a Micro Level
A stakeholder asked Mark and Peggy how to create a safe container with those who have conflict and in some scenarios are the perpetrators as well as the victims. Mark responded by commenting on the "enormous amount of defensiveness within circles of people in high power" but noted that "when you get them in retreat centers, you can create these safe containers, thus it is important to carefully build these containers."
Peggy added that "it is easy to make bridges among like-minded groups, but elements of inequity or division within these groups pose many difficulties. An important role for organizations is to create a space and opportunity for those[...] who have not had a voice. This is the first step of safe dialogue."
Bridging Leadership on a Macro Level
Wayne Silby posed the question of how countries with trauma can build bridging relationships and listed China and the U.S. as examples. Peggy answered that young, emerging, and successful business people at different levels of Chinese society are already bridging these relationships to help alleviate this trauma.
Listening and Peer Advising Exercise


Case Study: Bridging Leadership in Ethiopia
Abera Tola, Regional Director, Synergos & Synergos Senior Fellow
Abera opened his remarks by sharing how Synergos started working in Ethiopia. Synergos was hired by the Bill & Melinda Gates Foundation to determine how young people can create change; together, they sought to find improvements in systems, cooperation, technologies, and human resources, hiring employees from all over the world to tackle these issues. The Ethiopian government gave the green light for young people to begin moving into rural areas to stimulate change. However, this effort had adverse effects and generated violence and disdain.
Synergos entered the fray to introduce concepts such as individuality, leadership training, and other terms that were not in the vocabulary of the foundation at the time. As a result, they formed a more effective team. "Bridging leadership is trust," Abera expressed. "Ask, what is the character and competency of the individual? Character is about integrity; can you talk the talk? Competency is the capability and skill[s] of those individuals, as well as the results delivered."
Abera also highlighted the importance of suspending ego, being nonjudgmental, validating others, and giving recognition. "There are not large differences between myself and another fellow. The only difference may be that one person has absorbed more knowledge than the other, but that does not make one of us better than the other."
Group Discussion
Josh Mailman inquired about the outcome of Synergos' work in Ethiopia, and how bridging occurred. In response, Abera stressed the importance of cooperation and dialogue between parties in order to foster partnership and effective change.
Adding to this, Henri commented that through bridging leadership, he sensed "a change in mindset" in Ethiopia, which was demonstrated through "their leadership skills, their interpersonal engagement, and personal transformation."
"As a community we can easily invest in ourselves by focusing on specific needs and solutions towards pinpointed regions in need to create a network that amounts to larger impact" – Abera Tola

Case Study: Bridging Leadership in Bangladesh
Swati Chaudhary, Director, Synergos
In the second session, Swati shared an example of our Advisory team using the qualities of bridging leadership to advance collective action in financial inclusion in Bangladesh. "Bangladesh is experiencing incredible growth; it is poised to be a middle income country by 2030," Swati explained. "Garment sector has been a major engine for growth in Bangladesh." She described that "It is a big employer of low income labor, with a critical mass of women and migrants. They are generally paid their salary in cash. So working in this sector can serve a sizeable and vulnerable segment of the population." Swati noted. "However, the financial inclusion system is complex. In order to shift this system, we need its stakeholders, many of whom are competitors, to collaborate."
Our Advisory team took a systems view of the situation and explored the possibility of collective action by garment companies. "When taking a systems view, it's important to consider that people within the system are making rational choices." Swati asserted. "Doing it well requires the bridging leadership quality of listening with empathy (rather than judgment). It helps us see that we might've made the same decisions, and only then can we begin to tackle any complex system." In its work, the Advisory team priorities the voices of the vulnerable and brings them to the ears of those who should be listening.
Synergos has been successful in facilitating collective action in Bangladesh by a group of garment companies. In Jan 2019, these companies released a joint pledge to digitize wages for the workers in the factories where they source. They are corralling others to join them in an industry-wide movement to bring financial services to garment factory workers. "It's not every day we see competitors collaborating; that's the power of bridging leadership."
"The four companies came forward with a pledge towards financial inclusion, now these buyers are talking to other buyers (clothing brands/supplier), potentially creating a new movement supporting financial inclusion, that is the power of bridging leadership" – Swati Chaudhary

Closing Remarks
Henri van Eeghen, Synergos CEO & GPC Member
The inaugural Bridging Leadership Open Workshop ended with a large group conversation focused on summarizing the key takeaways and concluded with closing remarks from Synergos CEO Henri van Eeghen. He emphasized that much of what was learned applies to us as individuals; if we can learn to better ourselves, it directly impacts our ability to better our organizations, teams, and initiatives.
Henri noted that "there is a significant need for a call to action. Let's encourage each other to demand for that action," emphasizing the crucial role of Bridging Leadership in day-to-day interactions to make a more significant social impact. Peggy expanded on the role of empowerment, commenting that "as leadership changes and organizations grow, it is important to empower and strengthen those who have not previously had the opportunity, to have that discussion towards change."
Lastly, an attendee concluded by noting the unmitigated importance of understanding and listening in regards to other people by saying:
"It takes a firm concentration to understand both sides, as well as knowing yourself, to have [a] foundation in your thoughts and be rational [...] it is not about the 'us and them.'"