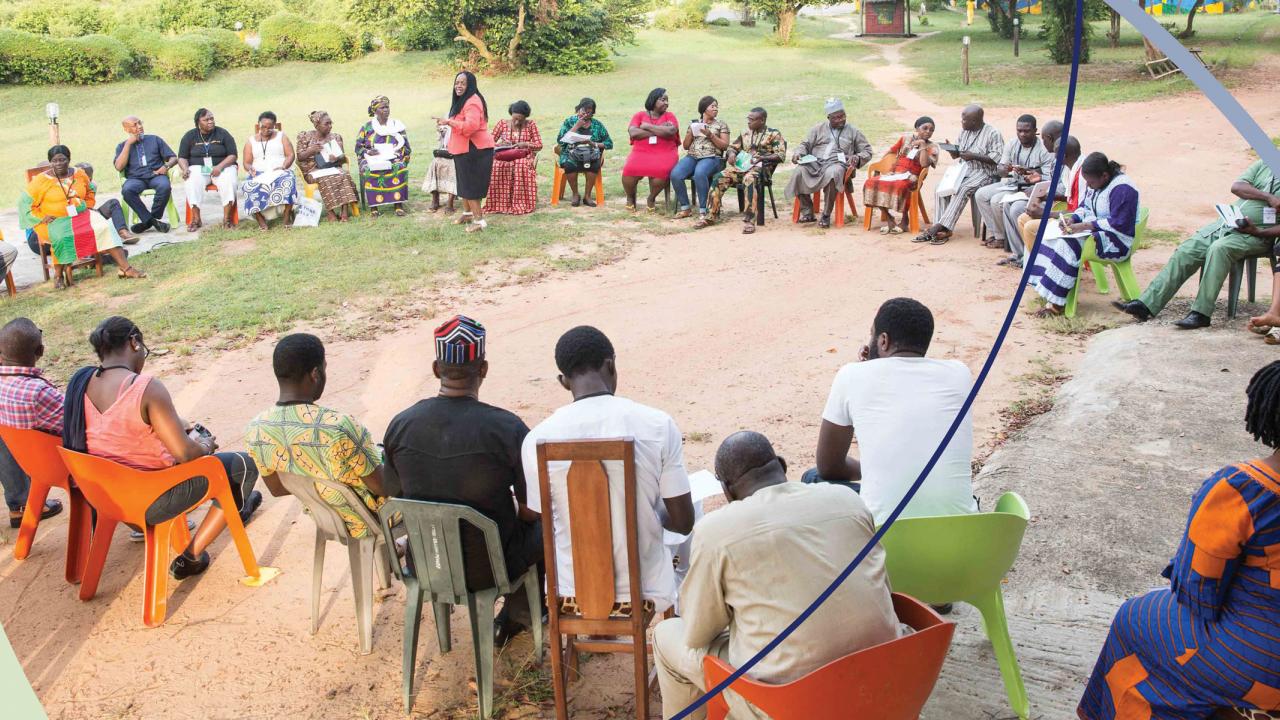 Civil society's role in sustainable development cannot be overstated.
Yet as many development practitioners have observed, the strength, health, and sustainability of civil society organizations can vary immensely, especially in low- and middle-income countries. At the same time, an organization's long-term effectiveness is closely tied to its health and capacity.
As global funders accept these truths, more of them are taking on capacity building as an indisputable part of their responsibility to the organizations they support.
To achieve lasting impact, funders need to build long-term capacity.
But for funders who accept this premise, learning how to meaningfully support diverse grantees across varied regions, languages, cultures, organizational sizes and structures, and other dimensions proves a complicated undertaking.
This report, Capacity Building Across Borders: A Strategy for Funders and Partners, seeks to shed light on the needs and opportunities for capacity building in the global development nonprofit space, as well as share emerging best practices and strategies to meet them.
By highlighting key learnings, gaps, and opportunities, we present funders and partners with the most salient considerations, while infusing the conversation around this still nascent field with new insights from leading practitioners.
The report was commissioned by the Citi Foundation. Synergos conducted a landscape assessment of capacity building in the international nonprofit sector. A deep dive into existing research and studies informed a general assessment of the state of the field, coupled with interviews with over 50 NGO professionals, capacity-building providers, funders, network organizations, and other stakeholders from 23 countries.
General Trends and Key Findings
Several trends were identified through the research and interviews.
Funders are increasingly focusing on capacity building, yet for many it is still an evolving field. The very definition of capacity building can vary widely, depending on which funder or organization you talk to, or which part of the world you find yourself in. For the purposes of this project, we refer to capacity building broadly as the process and set of activities that help build the organizational health of an organization.
Defined as such, our research revealed the following general trends and "hard truths" about capacity building in this moment:
Funders are paying more attention to capacity building and seeing it as a necessary part of their role in supporting grantees. More funders are taking notice of their grantees' capacity gaps and asking how they can help fill them.
A growing body of research points to several successful models for capacity building, especially from the United States. However, capacity-building models do not travel well, and best practices in one country do not usually translate successfully to others.
Funders increasingly recognize the importance of long-term, flexible funding to grantees' organizational health. But many funders are still hesitant to move from recognition to action.
Successful capacity building implies much more than how funding is structured or the availability of expert resources. It is predicated on building a trusting relationship between the funder and grantee.
Stakeholders in the capacity-building space are moving toward increased collaboration and coordination. However, this movement is happening at uneven rates across countries and regions. A global platform for funders to learn from each other could help funders significantly improve their capacity-building efforts.
Capacity building requires trust and a rebalance of inherent power dynamics between funders and grantees. Both funders and grantees need to engage in open dialogue to align on the objectives and goals of capacity-building efforts at the start. Creating a shared vision and theory of change are key to a trusting relationship.
There was a common thread running through much of the experience, learnings, and insights collected: the importance of advance preparation and learning, and the shifts in perspective and behavior required to meaningfully engage in capacity building. Against the backdrop of the global trends and realities outlined above, we chose to focus on three key themes.
Theme 1: Internal work
Both funders and grantees must start by looking inward
Funders must make an internal commitment to depart from the traditional donor-grantee dynamic and engage with grantees on an equal playing field, with humility and an openness to listen and fully involve grantees in the process. This involves:
Reforming organizational structure, priorities, budget, and culture to embed capacity building fully into the work.
Recognizing the role of program officers to the successful delivery of capacity-building resources, and the ongoing conversation with grantees about how to use those resources.
Working together with grantees to find the appropriate way to package capacity building to meet their needs.
Theme 2: External work
Understanding the ecosystem in which grantees operate
The societal ecosystems that organizations work within can vary widely across countries. Funders should take time to get to know the factors that shape the ecosystem and listen to their grantees' insights about them. This includes:
Considering the size, maturity, and sophistication of the civil society setting, as well as the cultural context.
Becoming familiar with relevant government regulations and policies.
Getting to know local intermediaries as potential allies or vehicles for capacity building.
Looking at what other funders are doing in similar contexts.
Theme 3: Relational work
The "stage zero" of capacity building that creates true collaboration with grantees
Investing in an open, trusting relationship between funder and grantee that supports honest feedback lays the necessary foundation for fruitful capacity building. This includes:
Building trust and establishing open communication, which are prerequisites for grantmaking.
Rebalancing the funder-grantee power dynamic.
Aligning goals and priorities between the funder and grantee.
Co-designing capacity-building plans with grantees.
Opportunities
Funders can benefit immensely by sharing more of their capacity-building learnings and experiences, as well as by collaborating to build a strong civil society in the regions and countries where they operate. Funders and other stakeholders with mutual interests have an opportunity to create online and in-person spaces where they can discuss how to:
Incorporate capacity building in their strategies, programs, and organizational structure.
Strengthen local, national, and regional capacity building that can serve multiple organizations and be a resource for the donor community.
Collaborate on a platform for capacity building at the local, national, and regional levels.
Collaborate on supporting grantees at different stages of growth – not just at start-up.
Develop in-country human capital and infrastructure to strengthen local capacity building, especially in places where local intermediaries do not exist.