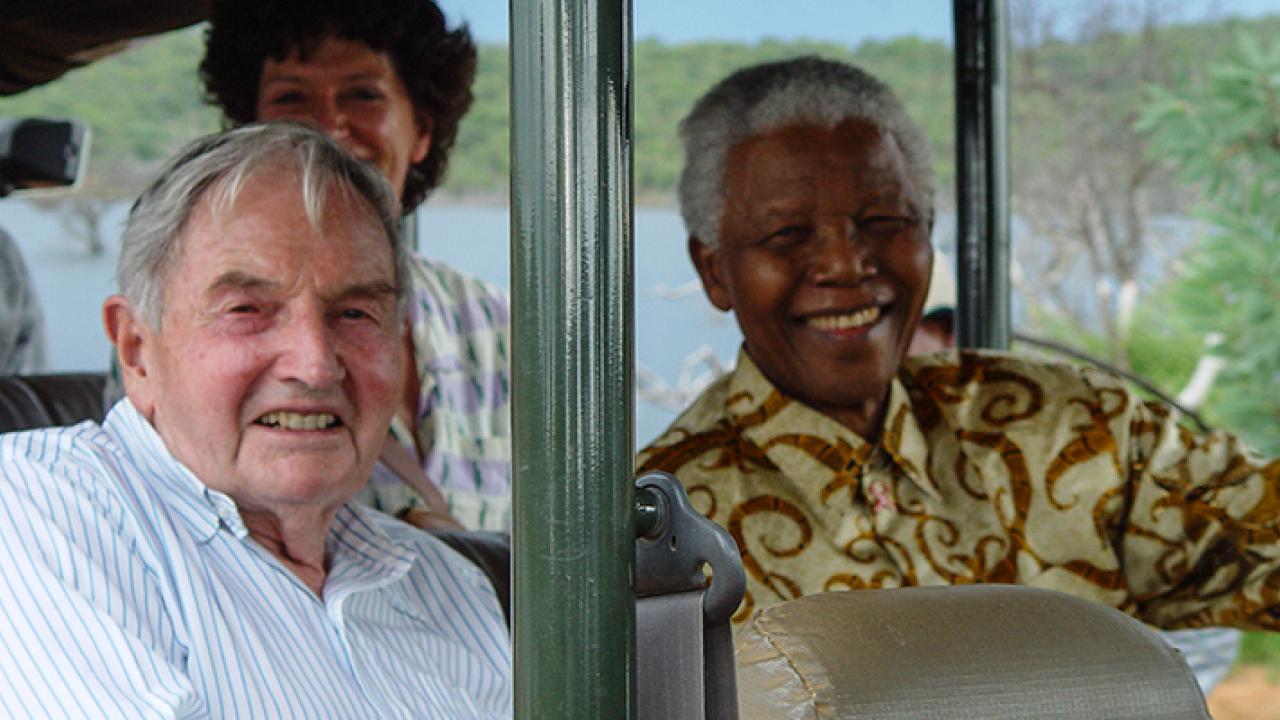 David Rockefeller was one of the most distinguished statesmen of our time, with contributions and leadership in business, philanthropy, civic life, international relations, and support for the arts touching the lives of people around the world.
He did this all with humility, grace, insight, and a deep-seated belief in our collective obligation to create a better world.
David was an inspiration and model for his ability to bring people together to solve complex problems. His many achievements as a civic leader in the United States include fostering public-private partnerships for economic development and the arts in New York City and helping expand educational opportunities among African-Americans. Internationally he played a vital role in improving political, economic, and cultural relations by bringing "unlikely partners" together to find common ground.
These bridging efforts included quiet statesmanship as well as helping establish important global institutions such as the Americas Society and Council of the Americas, the Council on Foreign Relations, and the Japan Society.
He brought this broad, collaborative approach to business and corporate philanthropy as well, including through his work at Chase Manhattan Bank and its successor institutions and at Rockefeller & Co.
In 2003 we honored him for his many accomplishments with the Synergos Bridging Leadership Award. The award now carries his name.
At Synergos, he co-founded the Global Philanthropists Circle with his daughter, our Chair Peggy Dulany, in 2001. The Circle is a network of leading philanthropic families from across the world committed, like him, to using their time, influence, and resources to fight global poverty and social injustice. David was an active participant in Circle trips and events, sharing his wisdom and ability to connect with a wide range of people – from community activists to heads of state and global corporations – putting them all at ease and helping find common understanding and aspirations.
Throughout our 30 years David was an irreplaceable advocate of our work and approach, opening doors that were vital to our efforts to overcome poverty and promote social justice around the world.
David brought wisdom, compassion, integrity, and intellect to so many complex and challenging situations. For this, he was respected and known around the world.
Synergos has lost a close friend and a source of great inspiration.
He is greatly missed.