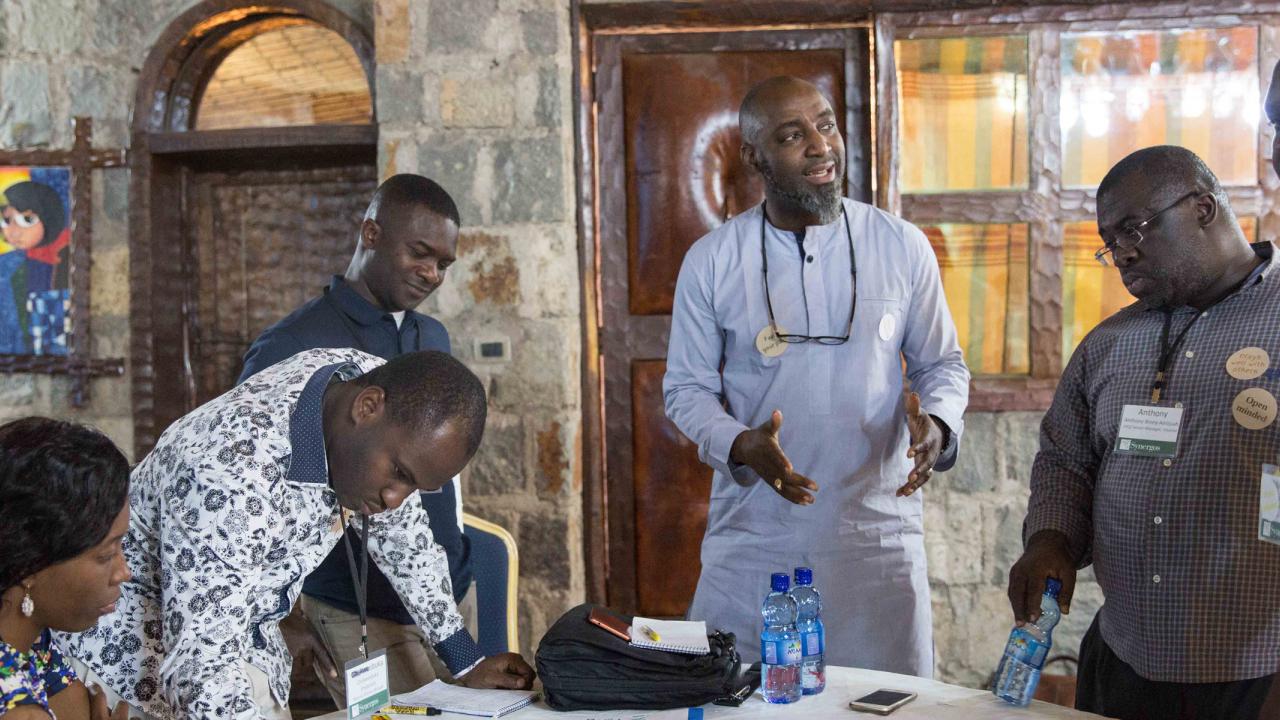 Country Director for Synergos Nigeria, Adewale Ajadi, is at the forefront of Synergos' work cultivating bridging leadership and trust to raise agricultural production, reduce gender inequality and malnutrition, and drive innovation in the country's rich agricultural sector. Working in a region with as much population diversity as it has agricultural production potential, Adewale recognizes the untapped economic and social power that can be unleashed when Nigeria's many agricultural players can treat their diversity as an asset--not a liability; when they can come together to listen more intently to one another, build trust, and collaborate. The State Partnership for Agriculture (SPA) program, which Adewale leads with Nigeria's Federal Ministry of Agriculture and Rural Development (FMARD) and the governments of Benue, Kogi and Kaduna states, is guided by Synergos to facilitate this kind of transformational leadership.
On the sidelines of a Diversity Dialogue and the Nigerian Women in Agribusiness Stakeholders' Dialogue, hosted by Synergos and the FMARD between November 14 and 16 in Abuja, Adewale took time to speak to Premium Times' Ololade Bamidele on Synergos' unique methodology and the difference it is making in its interventions in Nigerian agriculture.
First, we are one of the most diverse countries in the world. Secondly, diversity is like that thing – if you don't use it, you're going to lose it; if you don't use it, it becomes a problem. So, really it's learning the discipline of using it, with values and principles. And the final point is that whether it is Boko Haram, or you look at the farmer and herdsmen conflicts, or you could go the Niger Delta, and you will see the issue of diversity, where we as a country have not really developed the capacity to do that.  All the things we have that seem to talk about diversity are not sophisticated enough – federal character is not sophisticated enough; ethnicity is not sophisticated enough. The truth of it is that it is a wedge issue as used by politician and social commentators.

So it's an area where the disciplines of Synergos: bridging leadership – which is creating leadership across different areas, collaboration and personal reflection can bring things together. And perhaps most importantly, there is recognition that If Nigeria can be effective with diversity – and I suspect Nigeria is the only country in the world that is this diverse and doesn't have a dominant hegemonic ethnic group. So if Nigerians can bring diversity – and by this I also mean gender equality, also between the rich and poor; if we can learn the language, the habits, the disciplines of collaborating effectively, the whole will be better than the sum of its parts. A Nigeria that is greater than the sum of its part is a world-beater; you are talking about a country that is not even using its diversity effectively but is number one in yam, and cassava production.