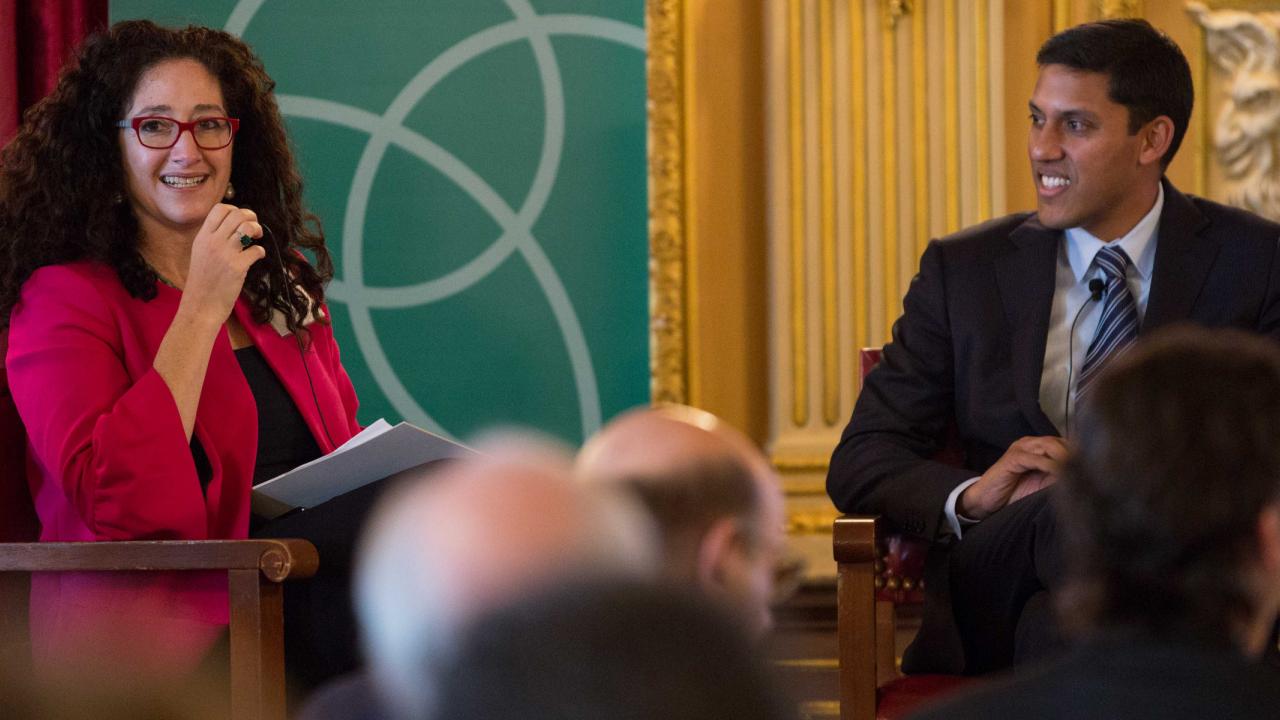 Thursday, May 11, 9am-5pm
The Metropolitan Club, New York City
Every year, members and partners of the Global Philanthropists Circle (GPC) convene in New York City to discuss lessons learned in philanthropy and urgent global issues. This year, on May 11, over 100 leaders came together for the 2017 annual meeting. GPC members shared highlights of their work in philanthropy; several shared deeply personal and powerful stories. Leaders and established experts affiliated with Synergos also gave talks on issues ranging from impact investing, to storytelling, shifting the food system, and the refugee crisis.
Takeaways
Social change through philanthropy is hard work; it requires experience, time, effort, and institutional focus. And it requires real respect for expertise.
We need to be entrepreneurial in reshaping institutions, programs, and policies to achieve the results we care about. Sometimes this involves taking a risk, taking a leap of faith, or challenging conventional wisdom.
Philanthropy has been at its best when it attacks the root causes of problems and focuses on delivering real, human, concrete results and outcomes - things you can touch and feel.
When philanthropy is a family undertaking, bringing generations together to identify core shared values can shape vision and mission statements that keep family members both inspired - and grounded - as a foundation or fund evolves.
We are all born equal and when we pass on, we cannot take material wealth with us. It is what we do in the years in between that matter. We need to look after one another.
Resources
Transcripts and Videos of Main Sessions
The Rockefeller Foundation's Next Chapter
Dr. Rajiv J. Shah, President of the Rockefeller Foundation, in conversation with Dafna Tapiero, GPC Member and Manager, International Finance Corporation
Themes:
Meaningful philanthropic work requires full-scale and thorough collaboration between philanthropists, entrepreneurs, technicians, NGOs, and governmental agencies. Without collaboration, even incremental impact can be rapidly diminished by other forces.
Philanthropy not only needs to deliver tangible results but also needs to inspire its recipients.
Understanding and appreciating the power of politics is crucial to any philanthropic work. The support of the government can make or break an organization's impact.
Quotes:
"The field of philanthropy has been at its best when it attacks the root causes of problems and focuses on delivering real, human results and outcomes: things you can touch and feel; children surviving, and thriving, and going to school and having opportunity; families that have more nutrition and less hunger every year because investments in agriculture have improved their productivity and incomes. Kids in New York City getting fellowships, and internships, and getting to go from tough communities into promising careers by climbing that ladder of opportunity that we can sometimes extend right here in our own community."
"Today we live in a society where for the first time since World War II, children in an American household are more likely to do worse economically than their parents. When my family came here a generation earlier, that was inconceivable. [If you came] to America, if you worked hard, you were guaranteed the opportunity to do better. That's the perception of what the American Dream's all about. I know this is a Global Philanthropists Circle, and we are as an institution animated by the opportunity to fight poverty and alleviate suffering abroad, but we're also giving a lot of thought to how can we tie this together domestically. Because right here at home, kids are going hungry at a rate that is shocking in one of the richest countries in human history. So I think the opportunity to serve is maybe more connected than it ever has been and we can use our shared efforts to bring people together."
---
What I Learned From My Grandfather
Michael Quattrone, GPC Member and Founder, Hearthfire and Chair of the David Rockefeller Fund
Quotes:
"Toward the end of his life, Grandpa was in an almost constant state of gratitude. It was really astonishing to behold the open state of learning and appreciation. It's a state where no negative competitive destructive thoughts can even coexist. To me that's really what Grandpa embodies."
"Together we strive to leverage all our resources, including the advocacy and donor education undertaken by our staff [at the David Rockefeller Fund]. Last year we divested from fossil fuels and asked our investment committee to learn about impact investment opportunities that we might add to our portfolio, which is already subject to environmental, social, and governance screens. And we adopted our mission statement, which states that we invest in catalytic ideas, people, efforts, and institutions working strategically toward ecological regeneration, justice system reform, and art for social impact."
---
Values in the Context of Family: Working as A Family to Build Better Governance in Africa
Mo Ibrahim, GPC Member and Co-Founder of the Ibrahim Prize for Achievement in African Leadership, in conversation with Zainab Salbi, GPC Member and Humanitarian, Media Host, Author, and Founder of Women for Women International and the Nida'a Show
Themes:
The negative misperception of Africa can obscure a tremendous business opportunity for entrepreneurs. It leads to a negative cycle: no investment in the continent, and hence no capital, no job creation, and no economic development.
The critical goal is not simply to pass on but to actively engage your family, and especially your children, in your philanthropic legacy and make them feel they are a part of it. Simple steps include letting them participate rather than exclude them during business meetings.
Quotes:
"The best way to [fight corruption] is not for a board sitting somewhere in Europe or in US to make all these wonderful statements. The board is [there] to support your people on the ground."
"When you understand that we as businesspeople are part and parcel of the corruption process only then we'll be able to start to deal with it. There's no point to talk about this minister or this guy being corrupt. Let's talk about ourselves if we are really serious and we can do it as businesspeople. That's why I go around business schools. I sit on the board of London Business School, I speak at other business schools, and I say, 'Look, guys. You need to change the way we train our future businesspeople. We have to be ethical in the way we do the business because the world is going really belly up around us.'"
"When you make your workers shareholders, it changes the whole chemistry, the whole atmosphere in the business. I don't need to worry who comes at 9:00 or 8:00, who leaves at five. Nobody leaves. It is their company. It is fun; this is my best advice really. If you want to have fun and make a lot of money, give shares to your workers. It changes the whole thing."
---
Insight Talk: Reducing Trauma of Syrian Refugee Children in Turkey
Esra Özsüer, GPC Member; Co-Founder, Maya Vakfi
Quote:
"It is my observation from my relationship with the Syrian refugees that many are losing hope. Their resilience is weakening. Self-esteem is being destroyed, and most importantly, almost all of them have lost their faith in humanity. Friends, as philanthropists it should be our main aim to restore their faith because whatever we've been doing so far - I promise you we can do more."
---
Insight Talk: Lessons in Business and Family Philanthropy
Stanley Bergman, GPC Member; Chairman and CEO, Henry Schein
Quote:
"Our family believes that philanthropy is not only about writing out the check but as active engagement. And at Henry Schein, we're a company of 21,000 people, and we've been able to build our business and create shareholder value around the notion of social responsibility and engagement in society."
---
Insight Talk: Philanthropy, Journalism and Democracy
Jerry Hirsch, GPC Member; Founder, Lodestar Foundation
Quote:
"If you think about it, it doesn't matter what area of philanthropy you focus on, whether it's on climate change, or curing a disease, or education. Without the free flow of ideas, without the ability to disperse public facts and ideas related to the work you're doing, all philanthropic endeavors would be thwarted, and would be much more difficult…it does not matter what area you're working in. Consider supporting the area of the free press in addition to what you're doing because it's really, really fundamental to those areas."
---
For Questions
Please contact Marieke Spence at mspence@synergos.org.