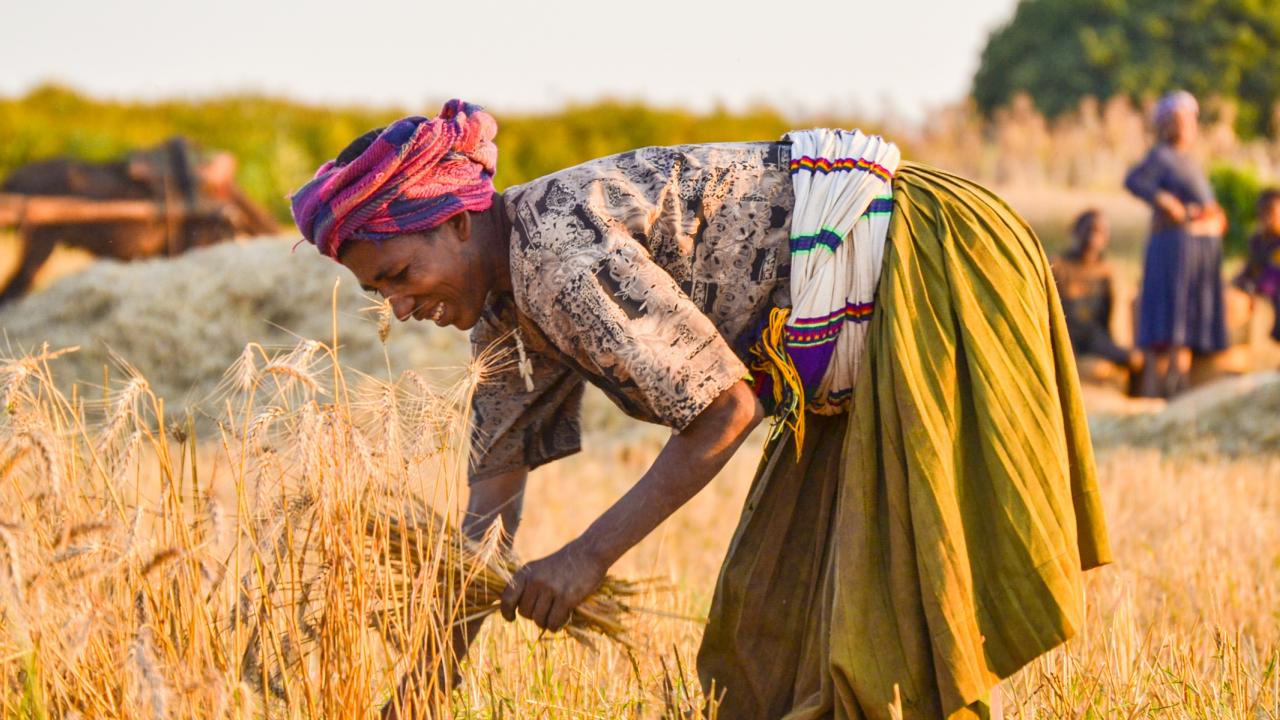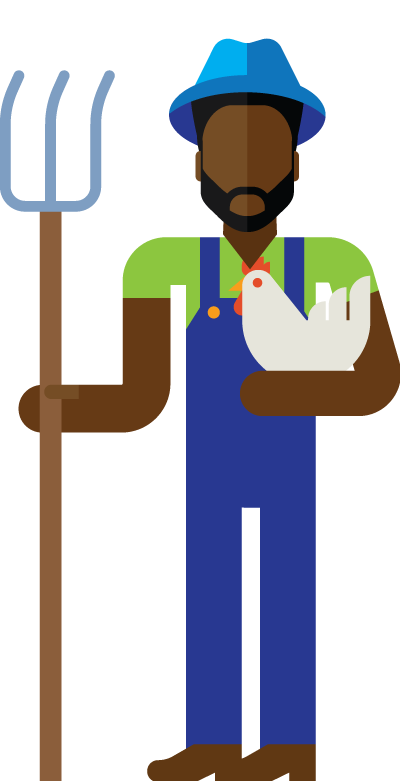 A growing market for locally-sourced beer
4.5 million smallholder farmers grow barley in Ethiopia, with one of the lowest yield rates in the world. Malting barley is a key ingredient in beer production. Bottled beer consumption (which uses barley rather than sorghum) is growing dramatically across the sub-Saharan Africa region. Established breweries in Ethiopia are producing more than ever before, while new breweries continue to pop up.
Ethiopian government policy has shifted in recent years to support import substitution, raising pressure on these companies to use locally-sourced raw materials. Meta Abo Breweries, for example, announced in 2014 that it would source 100 percent of its cereal raw materials in country by the end of 2017.
Low supply, emerging demand
There are five major breweries in Ethiopia, which currently source about 40 percent of their malt barley from in-country farmers. As more breweries open, and incomes improve among Ethiopia's 80 million-strong population, contract farming has grown increasingly critical to meeting the ballooning demand.
Ethiopia's Industry Minister, Dr. Mebratu Meles, agrees that farmers face a widening supply-demand disconnect: "In the coming few years, existing breweries will need about 80,000 to 100,000 tons of malt annually, whereas, the local supply is by far less than half of this demand."
Convening diverse voices to chart a path toward production
52 percent of all Ethiopian barley is grown in Oromia state: an important reason why, after consultation with key players, Synergos chose to start there. Together with partners, Synergos facilitated a cluster alignment workshop (one of fourteen) that brought together the key players in each stage of Oromia's malt barley value chain, including researchers, technical experts, traders, farmers, financers and investors, and manufacturers.
Through the workshops, Synergos and partners led these clusters to build the trust, will, understanding, and skills to collaborate effectively. Some of the members who had participated in previous Synergos alignment workshops helped lead the workshops.
One senior official stated that the alignment workshops and trainings have been critical in enabling them to learn how to "deal with people, manage people, and be more efficient", and that the training "improved our work – the way people deal with the service – we are servant leaders." Another official signaled a marked shift, adding, "once we were together, once we understood the roles and the duties…now we support each other. We wasted a lot of time arguing with each other, but after knowing each other's roles, we changed our attitudes. We focus on the work rather than arguing."
A more trusting, integrated supply chain that's getting results
Through the value chain alliance, the stakeholders re-imagined a more integrated, trusting supply chain where they can confidently rely on and communicate with each other at each stage. Synergos helped link large buyers (like the brewing companies) with co-operative unions representing more than 31,000 farmers. Farmers and buyers entered into more formal contracts than ever before, bringing greater certainty to pivotal questions, like "Who will purchase the farmers' malt barley?" and "How much will they purchase?".
The new-found clarity has not only made it easier for farmers to plan, but also for co-operatives and key government agencies to provide tailored support, for banks to offer greater financing services, and for manufacturers to understand exactly how much locally-grown barley they can expect to incorporate into their supply chains each season.
Strengthened trust across the supply chain has enabled breweries to set progressively higher goals for the percentage of malt barley they can purchase in-country, and given them a firmer grasp of how they can help farmers meet those goals. They're now collaborating more closely with farmers, providing trainings on new fertilizing and planting techniques, as well as higher quality seed.
But perhaps the most telling result of all is the bottom line: that farmers' malt barley yields – and quality – are on the rise.
Co-operative unions provided 44,270 tons of malt barley in 2015—nearly meeting the 48,900-ton target set, and saving breweries $19 million that would have otherwise been spent importing malt barley.
The new collaboration is exciting farmers as much as buyers. Abebe Diriba, who heads the Agriculture Transformation Agency in Oromia State, says farmers are seeing the benefits of the contract agreements, and increasingly eager to join: "The fact that the number of the few hundreds of farmers who started working with Mata brewery of Diageo a few years ago has today reached 6,113 is a testimony that smallholder farmers in our region are becoming more interested in contract farming."
A personal impact: one farmer's story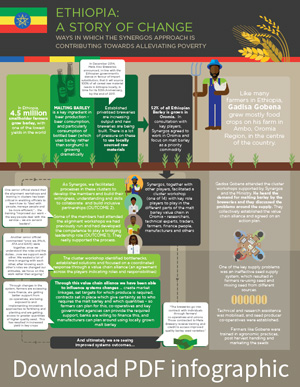 Like many farmers in Ethiopia, Gadisa Gobena grew mostly food crops on his farm in Ambo, Oromia Region. Gobena attended the cluster workshops supported by Synergos and the Ministry, where he learned about the breweries' rising demand for malt barley, as well as the supply-side challenges they faced. He and other farmers collectively established the value chain alliance and formed an action plan, identifying one of the key supply problems: an ine­ffective seed supply system, which resulted in farmers re-using old seed and mixing seed from di­fferent sources.
Technical and research assistance was mobilized, and seed producer co-operatives were established. Gobena and other farmers in the alliance received training in agronomic practices, post-harvest handling, and how to market seeds. Gobena now sells his high-quality malting barley seeds to other farmers who have been contracted to grow and supply malting barley for the breweries. Today, Gobena produces more than 7,000 tons of high quality seeds for various crops, which he sells to other farmers across the region.