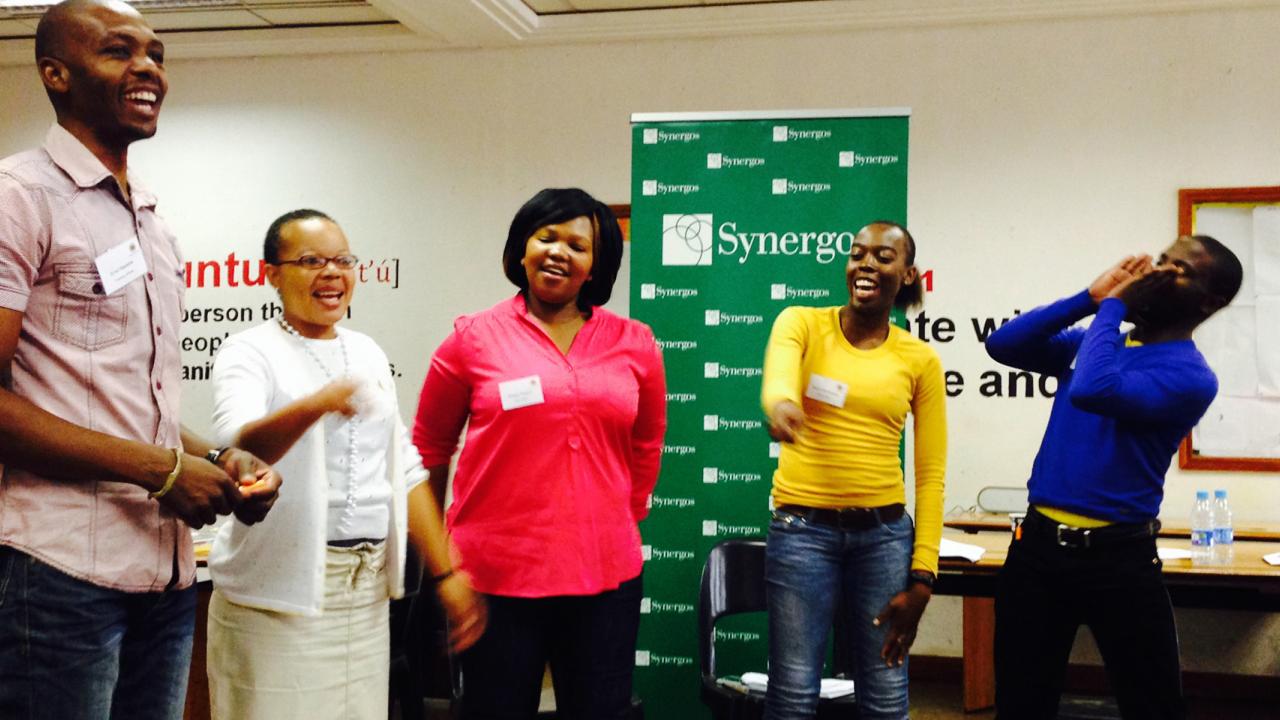 City Year South Africa places young volunteers (Service Leaders) in primary schools, where they act as tutors, mentors and role models to children in grades 4-7 while developing their own leadership capacity. Synergos has provided training on social isolation and social connectedness to City Year volunteers, enabling them to recognize signs of isolation in children and work to overcome it.
Smash "Smash" Shoyisa comes from a township called White City Jabavu Soweto. She started community work soon after high school in 2004, working with high school learners on behaviour to stop the spread of AIDS and other diseases while reducing pregnancies. She joined City Year South Africa in 2006 as a volunteer, serving in Soweto. She came back for a second year as a Senior Service Leader, and then rejoined the organisation a few years later in 2011 as a Site Leader, leading City Year activities at a school.
Here Smash talks about the importance of helping children overcome isolation:
I was just someone that was helping until Synergos came in and then they raise awareness about social isolation and connectedness. And that's when we realized that every time we walk in the school, the kids will come running to us and giving us a hug. And we didn't understand that part because they work with teachers as well. But they don't, they hardly do that with the teachers. But after we did the workshops we did with Synergos that's when we realized that the kids are connecting with us, and they don't have anyone else to talk to, and it, we make it easy for them to come to us and speak to us.

If the child suffers isolation the consequences are they don't perform well at school. They disconnect from the community. They disconnect from their own peers. They become bullies. They become angry. They're always...not happy. They always find ways on hurting the next person because they are hurting themselves.

It takes a village to raise a child. I don't have to have a child for me to mentor another child. I'm 30 years old and I don't have a child. But in this, in essence I actually have more than hundred of children because I mentor and I inspire the, the young ones that are coming up. And I think the important thing that we need to understand that it takes a village to raise a child is that we give the friend experience to the kids. We give… how do I put this? We actually inspire the kids in different ways. So if the mother back at home is unable to inspire a child to read I could probably come as an outsider or as a mentor and inspire the child to read or to, to try and kick a ball, or to try and play chess.
Synergos' Social Connectedness Program in Southern Africa aims to address social isolation in the context of poverty. It was established in partnership with and with support from the Samuel Family Foundation. It is part of an emerging movement for social connectedness begun by Kim Samuel and led by the Samuel Centre for Social Connectedness, bringing together a growing, committed community of practice and networks of individuals and organizations around the world.
More Information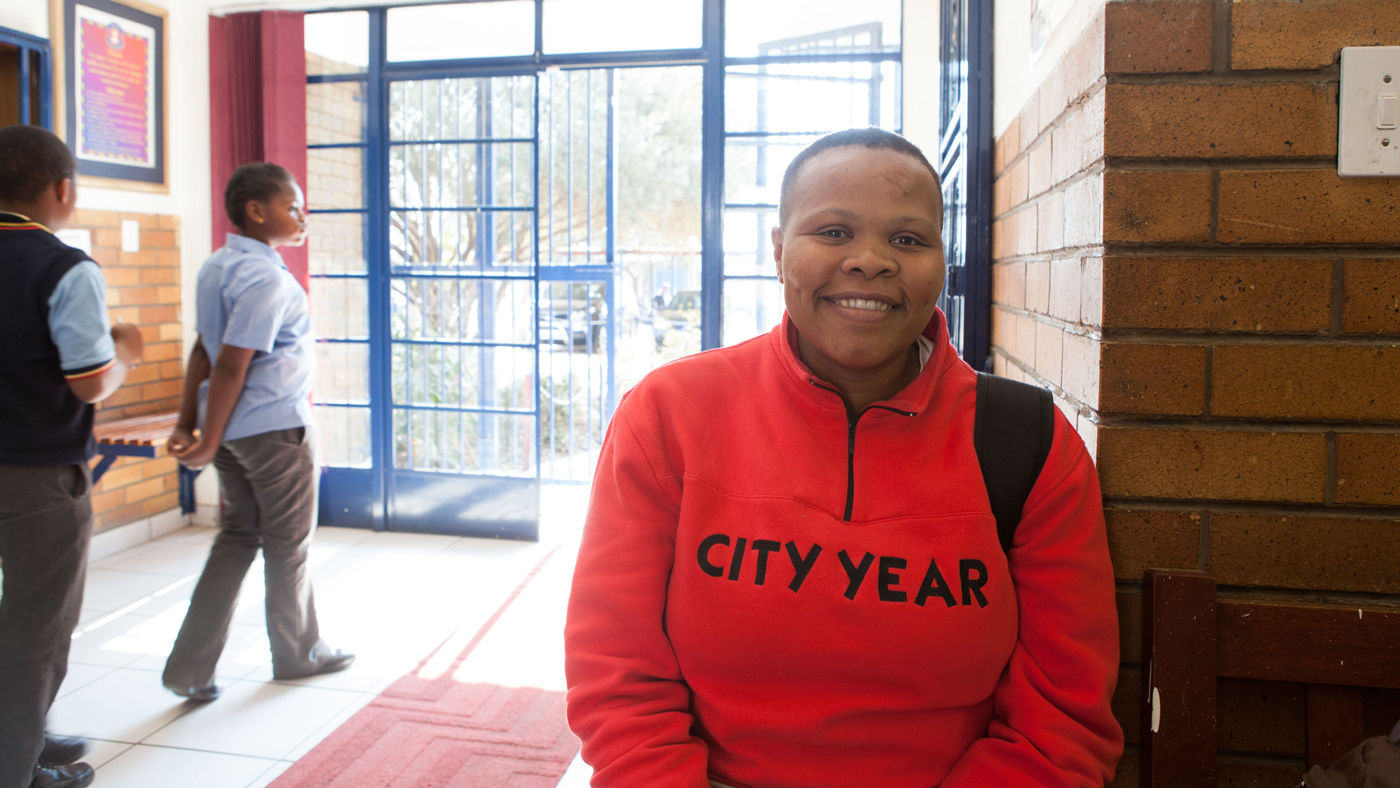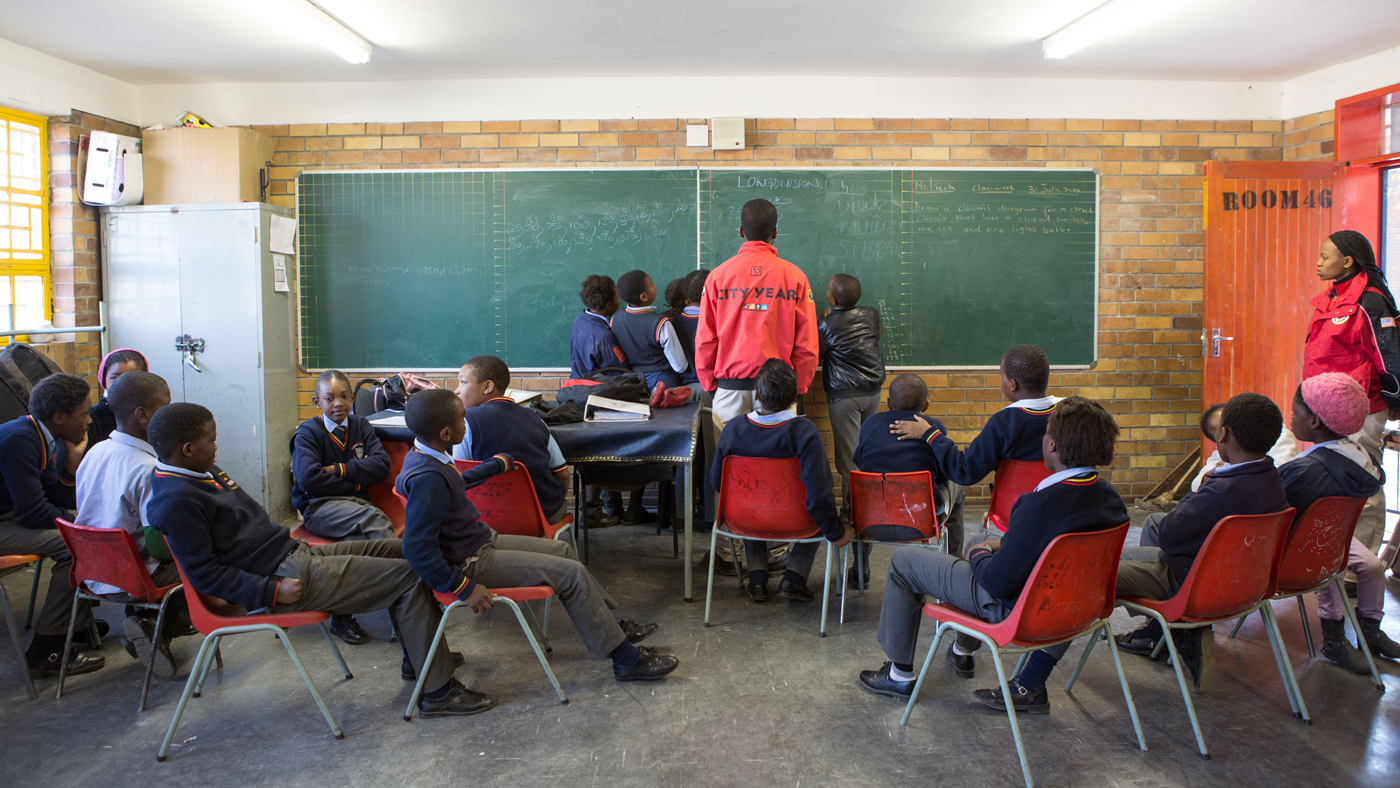 Above left: Simangele "Smash" Shoyisa; above right: Class with City Year volunteers.
Top: Synergos social connectedness training for youth leaders with Smash Shoyisa on right.