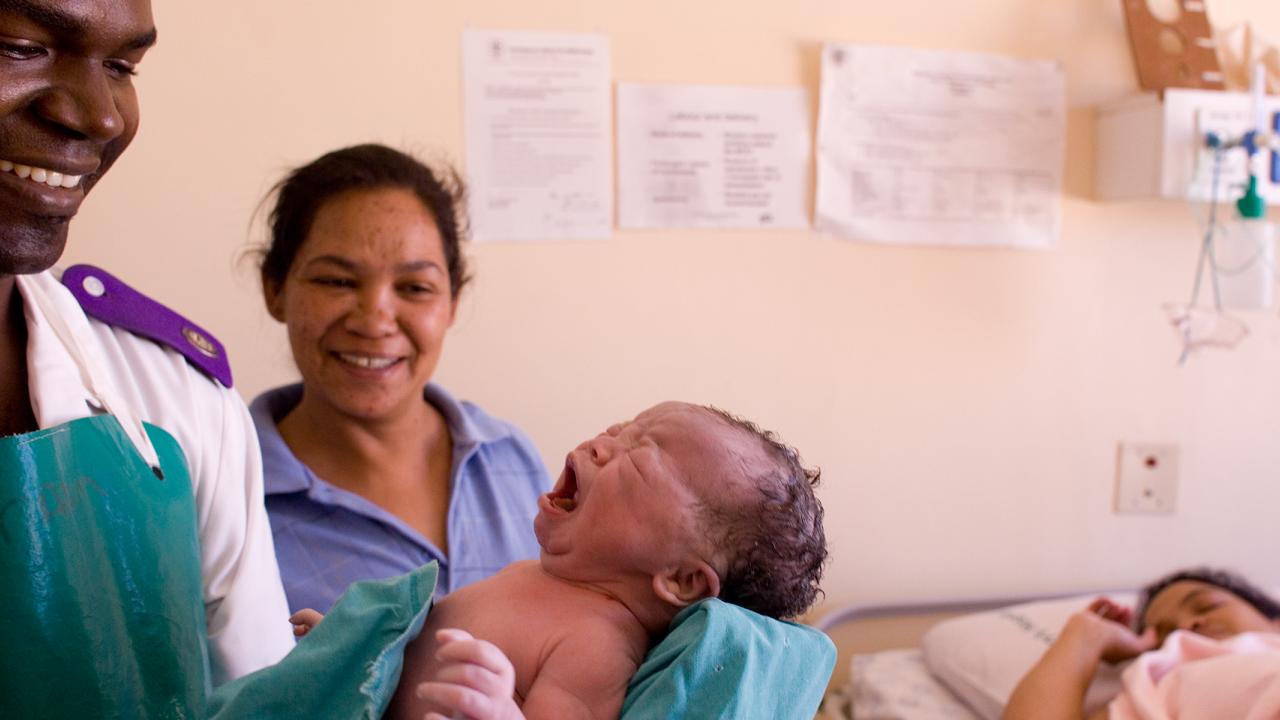 When maternal mortality almost doubled in fourteen years, health leaders in Namibia decided to make maternal health a priority—and set up a pilot in Khomas region. — Kerry Cullinan reports
A sleek new minibus pulls up outside Okuryangava Clinic in Katutura, and the driver jumps out and asks the sister in charge where the patients are who need transport to the hospital.
A week prior to this, patients referred to hospital would have to wait for hours for an ambulance, that often didn't arrive at all as it was attending to other cases.
But a little research found that few patients needed emergency treatment, so getting an ambulance for them was a waste of scarce resources. Instead, the Ministry of Health and Social Services (MOHSS) has made a minibus available in Windhoek to transport clinic patients to the city's two hospitals.
This is one of the immediate improvement initiatives introduced by a multi-stakeholder team set up to address maternal health in Khomas, the region that includes Windhoek.
The Maternal Health Initiative Team is an offshoot of the African Public Health Leadership and Systems Innovation Initiative, which has brought health system leaders together over the past year in an effort to improve the Namibia's health services.
"Maternal health captured the interest of Cabinet because of its poor performance in the light of the country's commitment to the Millennium Development Goals, one of which is to cut maternal mortality by 75% by 2015."
– Len le Roux, Head of Synergos Namibia
The project is funded by the Bill & Melinda Gates Foundation and it is aimed at developing  a  model for improving public health leadership and system performance that can be replicated in other similar settings.
The project is underpinned by three principles: local leadership development, social innovation, and improved system performance.
The initiative applies a business-consulting approach called the Innovation Lab. Through the Innovation Lab, multi-stakeholder teams are guided through an intensive leadership development and problem-based learning experience. The aim is to tackle a complex social and system problem through a  multi-stakeholder and innovation response.
When deciding on a priority health problem to tackle as a pilot, it wasn't hard for Namibian health leaders to choose maternal health. Between 2000 and 2006, maternal mortality jumped to 449 deaths per 100,000 births, an increase of 178 deaths.
"Maternal health captured the interest of Cabinet because of its poor performance in the light of the country's commitment to the Millennium Development Goals, one of which is to cut maternal mortality by 75% by 2015," says Len le Roux, who heads Synergos Namibia, one of the organizations facilitating the leadership initiative.
"We decided to pilot an intervention to improve maternal health at an operational level, by bringing together all players—the nurses, the doctors, the pharmacists—to clarify problems and what we could be doing to address these," says Deputy Permanent Health Secretary Dr Norbert Forster.
The Maternal Health Team settled on Khomas region as it has a relatively large population yet the lowest rate of women seeking medical attention in their first trimester of pregnancy—less than 7%—and outcomes that are similar to other regions. Yet the earlier pregnant women seek help, the easier it is to identify and manage high-risk pregnancies and complications.
The 20 participants in the team are from a range of backgrounds: nurses, doctors, private healthcare, NGOs, and nurse training institutions. Three Innovation Teams have been established aimed at developing an integrated response to improving maternal-health outcomes: frontline skills and capabilities, operations, and community mobilisation.
The main aim of the frontline skills and capabilities team is to improve the quality of care given by healthworkers by addressing their skills, mindsets, and behaviors.
A 2005 survey of midwives revealed some severe skills gaps. Only about a third could properly monitor women in labor, while a mere 12% could correctly recognize all the signs and complications of post-partum hemorrhage, and less than 20% could manage this properly.
Nurses also complain that nothing had been done to upgrade their skills since they had graduated, many 20 years ago.
"Within weeks of seeing the data and understanding the effect on clinical outcomes, the skills and capabilities team began to mobilise leadership at Katutura Hospital and implement in-service training in the labour ward," says Dr Ronald Whelan from McKinsey & Company, another partner supporting the team.
The team has also met with the nursing council and senior management at the two nurse-training institutions in Windhoek to discuss continuous professional development and in-service training. The team is currently working with Professor Dave Woods from the University of Cape Town to implement a perinatal education program for midwives in Namibia.
MediClinic, a private healthcare company, has also supported the team by sharing its training approach. The team is currently working with staff at the MediClinic to design a continuous professional develop program for the public sector.
The operations team is looking at the supply side of maternal health, with the aim of improving the performance of the local primary health centers so that antenatal care can happen at this level instead of at hospitals.
Dr Sabine Schulz, an operations and supply chain expert from McKinsey, is supporting the operations team and they are looking at improving operating performance across key facilities, such as logistics, planning, and coordination, and enhancing patient experience, including reducing waiting times.
After conducting detailed research, the team found that more than 80% of patient transport to either Windhoek Central or Katatura Hospitals was not for emergencies. This proved to be a significant drain on already scarce ambulance capacity and was easily rectified by implementing a dedicated patient transport minibus. Sister Barbara Harakuta, a nurse based at Okuryangava Clinic, is also part of the operations team.
"The minibus is a relief for us. Transport is a big problem for our patients. On average, there are only three ambulances operating in the Khomas region, that also covers some rural areas. There are no doctors here, and we can't prescribe a lot of the medicines so the patients have to go to the hospital to see the doctors," says Harakuta.
Harakuta's clinic is crammed with patients, shuffling along on benches as the line snakes toward the consulting rooms. Up to 300 patients a day pass through the clinic, that last saw a doctor two and a half years ago.
The operations team's next target is antenatal clinic waiting times, which range from five to seven hours in Khomas. Whelan says "while primary healthcare facilities are obviously stretched, there is still a lot of latent capacity that can be unlocked in the system," particularly in the afternoons.
Dr Thokozile Lewanika, also a McKinsey consultant, is assisting the third team—community mobilization, that is looking at patient demand. Its main aims are to raise community awareness about the need for early maternal care and to improve local access to care.
"Our main concern was the low uptake of antenatal care among women in their first trimester of pregnancy. About 60% of maternal deaths in Namibia are due to infectious diseases like HIV/AIDS and malaria, which could be picked up and effectively managed if detected early in the pregnancy," says Lewanika.
"Two big things drive late accessing of care. The first is lack of knowledge. You will find that a woman might be having her fifth child, but she still doesn't understand the antenatal tests that are done to check for problems," she says.
"The second is limited access. The majority of women say the taxi fare to the hospital is a barrier. The return fee is about N$15 on average, which is a lot when you have to choose between a meal and the fare."
Other barriers mentioned by pregnant women are the negative attitudes of healthworkers, especially toward teen mothers. Some women also fear HIV and think that the HIV test is compulsory.
"Our primary message is that pregnant women must access ante-natal care earlier. To do this, we have started a weekly interactive radio show where we will have a medical panel and people can call in," says Lewanika.
The first show was aired in mid-August on RuKavango Radio, which has a large listenership. Further shows are planned for Oshiwambo, OtjiHerero, and Damara/Nama radio.
"Radio will reach a wide audience but miss the one-on-one approach. So we are developing ANC foot soldiers. Volunteers from four NGOs that are part of the team are being trained to spread the message of the importance of early care at community gatherings and door to door campaigns," she adds.
In addition, to make access easier for women living in Katutura, the family-planning clinic being run by the Namibian Planned Parenthood Association (NAPPA) is going to introduce antenatal follow-up care.
"This will decongest the two hospitals, where all the antenatal care visits and births currently take place."
Finally, there are also incentive programs being explored: women who seek ANC in their first trimester will be offered a free sonar and sonar picture of their unborn babies. The team is experimenting with the hypothesis that printed sonar pictures will be a strong incentive for expectant mothers to seek ante-natal care.
Sister Gerda Eichas is the maternity supervisor at Windhoek Central, where around 250 babies are born a month.
"Our main challenges are lack of equipment and lack of staff. We have 33 registered nurses to run four maternity wards, day and night," says Eichas.
Eichas is part of the community mobilization team, which she describes as being "fast with projects." While she is enjoying being part of the group, Eichas is a little apprehensive of her team being too successful in getting women to access care early as this will mean more work for her and her staff "and I don't know how we are going to cope."
But Lewanika's response is firm: "It's a natural reaction to fear more work. But we want to try to distribute this load naturally through the different facilities, hence the pilot. The workload may be heavier, but we cannot withhold life saving messages."
The Maternal Health Initiative Team will run as a pilot until July 2010, when it is hoped that it's improvement initiatives and innovations will be scaled to other regions
NOTE:
WHO definition of maternal mortality: "The death of a woman while pregnant or within 42 days of termination of pregnancy, irrespective of the duration and site of the pregnancy, from any cause related to or aggravated by the pregnancy or its management but not from accidental or incidental causes."
How it works
While research has been done into the minds of athletes before they perform competitively, little is known about the inner dimension of leaders. Otto Scharmer, MIT University lecturer, calls this a "blind spot." His open-ended Theory U is a five-point U-shaped journey that aims to illuminate the blind spots, thus helping leaders to "sense and seize" opportunities to "achieve profound innovation and change."
The Namibian Health Leadership initiative follows a five-point process developed by Scharmer, and implemented by his Presencing Institute, namely:
Initiating: an initial phase of building common ground and identifying common problems
Sensing: immersive learning to deepen awareness of constraints and opportunities in a health system. Learning may involve journeys to affected communities, local health clinics and national health planning offices.  Learning activities are integrated with training and coaching to build managerial capacity and shift mindsets and attitudes
Reflecting: opportunities for the team to reflect upon and integrate all they have learned, to gain perspective, explore new possibilities, and to commit to new actions individually and collectively
Prototyping and Piloting: designing and rapidly testing innovation concepts. Promising concepts are developed as prototypes and are subsequently tested at scale as field pilot projects, which participants themselves implement.  Pilots are rigorously evaluated and those proven effective are adapted for mainstream institutionalization. The Maternal Health Group is an example of a pilot being explored by the leadership team.
Evolving: a concluding phase that focuses on reviewing, scaling up, sustaining, and advancing the practical results.
More information
Contact
Kasee Ithana
Director, Namibia
152 Robert Mugabe Avenue
Windhoek
Namibia
Tel: +264-61-386950
Fax: +264-61-221492
eithana@synergos.org