Background
Khwendo Kor, meaning "Sisters' Home," was founded by Maryam in 1993, focusing on the development of women, children, and strong families in the remote areas of the Northwest Frontier Province (NWFP) and the Federally Administered Tribal Areas of Pakistan (FATA). She was nominated for the Nobel Peace Prize for her efforts and the great work she does on women empowerment in Pakistan. In 2001, she received the Human Rights Award from the International Labor Organization; and in 2000, she was recognized by the UN with the Recognition of Services award. The government of Pakistan honored her in 2003 with a Fatima Jinah Medal in 2003 for outstanding women in the social sector, and in 2001 with the Star of Excellence National Civil Award.
Alongside her work with Khwendo Kor, Ms. Bibi serves on several boards, including Pakistan's Society for the Protection of the Rights of the Child and Elementary Education Foundation. She also contributes to the work of the Social Welfare Department of the Government of the North West Frontier Province; the Women's Study Centre at the University of Peshawar; the NWFP Women's Writers' Forum; and the Asian South Pacific Bureau of Adult Education based in India.
Maryam Bibi is also one of 156 current and alumni Synergos Senior Fellows. Senior Fellows develop knowledge, skills and institutional capacity to engage viably and substantively in multi-stakeholder partnerships that address the systemic causes of poverty and promote sustainable social change. Fellows sharpen their leadership skills, share knowledge of models and strategies and draw upon the experience of their peers to learn new competencies to take back to their organizations.Senior Fellows also provide strategic and technical advice to one another and, on occasion, to third party civil society organizations through peer consulting sessions, exchanges and field assignments in their area of expertise. These exchanges and assignments not only grow the capacity of others, but also expand the Fellow's own networks and skills.
Maryam applied to the Synergos Senior Fellow program with the expectations of experiencing peer learning from leaders in the private and public sector, finding technical support for her organization, and gaining exposure to potential funding opportunities. As a Fellow, she has attended Senior Fellows global, regional, and country events, and participated in peer consulting or learning exchanges with other Fellows. Maryam has also been connected to people, ideas, and other resources through Synergos' global networks.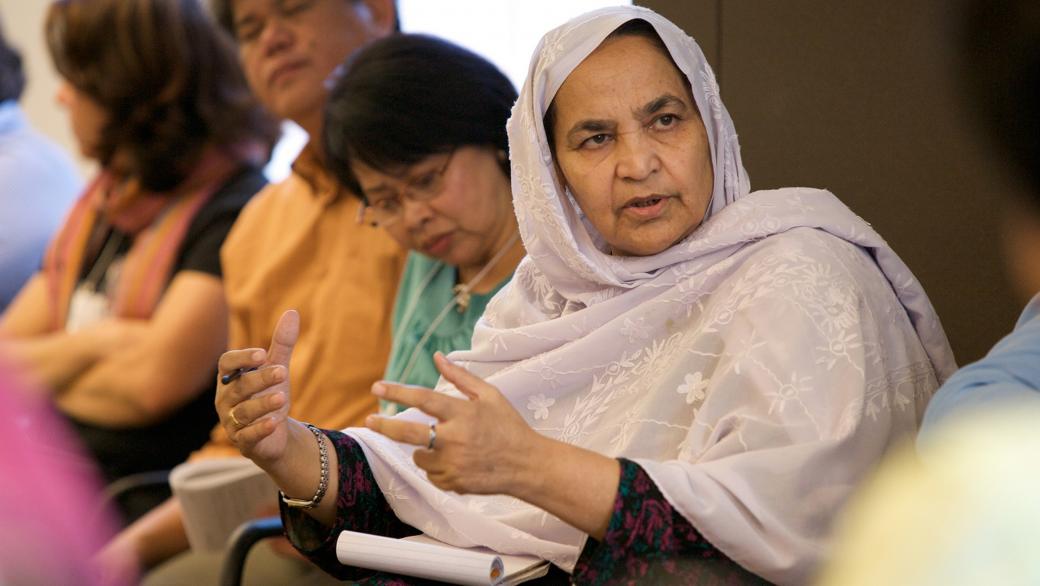 Systems Change
Maryam raised the question of how to streamline the communications in her organization. The Fellows provided concrete suggestions:
Vertical improvements
Ensure that important information will be sent to people after each executive meeting, instead of assuming what had been decided would go automatically to those who did not get direct information from Khwendo Kor officer

Formalize the decision-making system to ensure the efficiency and effectiveness of Khwendo Kor's committee
Horizontal Improvements
Ensure attendance at each meeting and the sufficient distribution of information

Pass on the message of 'communicating with more responsibility' to her staff—the person responsible for Khwendo Kor newsletters makes efforts to go to the remote regions and get a holistic view of the stories, rather than obtaining information from the immediate surroundings
The Result
Before joining the Senior Fellows Mayram had a difficulty moving beyond the superficial level of the situation and was not skilled at treating her staff with patience. She also experienced frequent frustration when the staff were not listening to her or when they were anxious about a problem. Therefore, Maryam experienced low efficiency due to communication problems within her organization. But after she joining the Fellowship, she transformed. Maryam is now able to conquer frustration with more patience and compassion, and empathize with her staff's personal problems. She dug deeper into the reasons behind the staff's anxiety, learning more about their personal needs and putting herself into their shoes. Consequently, equal relationships were established and staff was provided with much needed support.
In addition, Synergos played a bridging role between Khwendo Kor and organizations that provide potential funding opportunities, including both nonprofit and governmental organizations, such as USAID and the Clinton Global Initiative.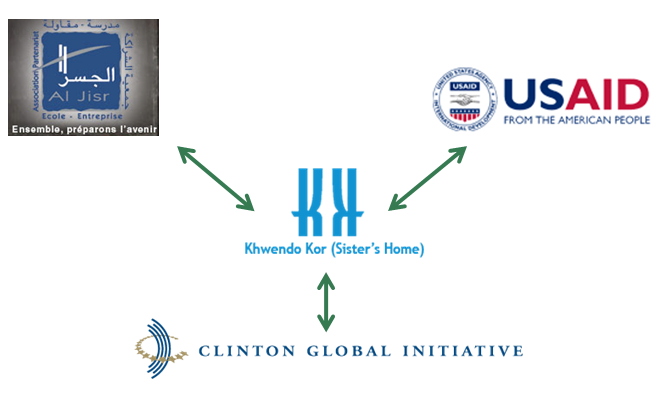 The Senior Fellows Program also connected Maryam with other Muslim leaders. A partnership was built between Mayram and another Senior Fellow, Mohammed Abbad Andaloussi, the president of Al Jisr, to create a responsible citizen sector in Morocco. With regards to the private sector, Maryam realized that "it's not that nonprofits couldn't work alone, but partnerships are more important and powerful." She is now entering into a joint partnership on mobile technology with a private firm, for technical support.