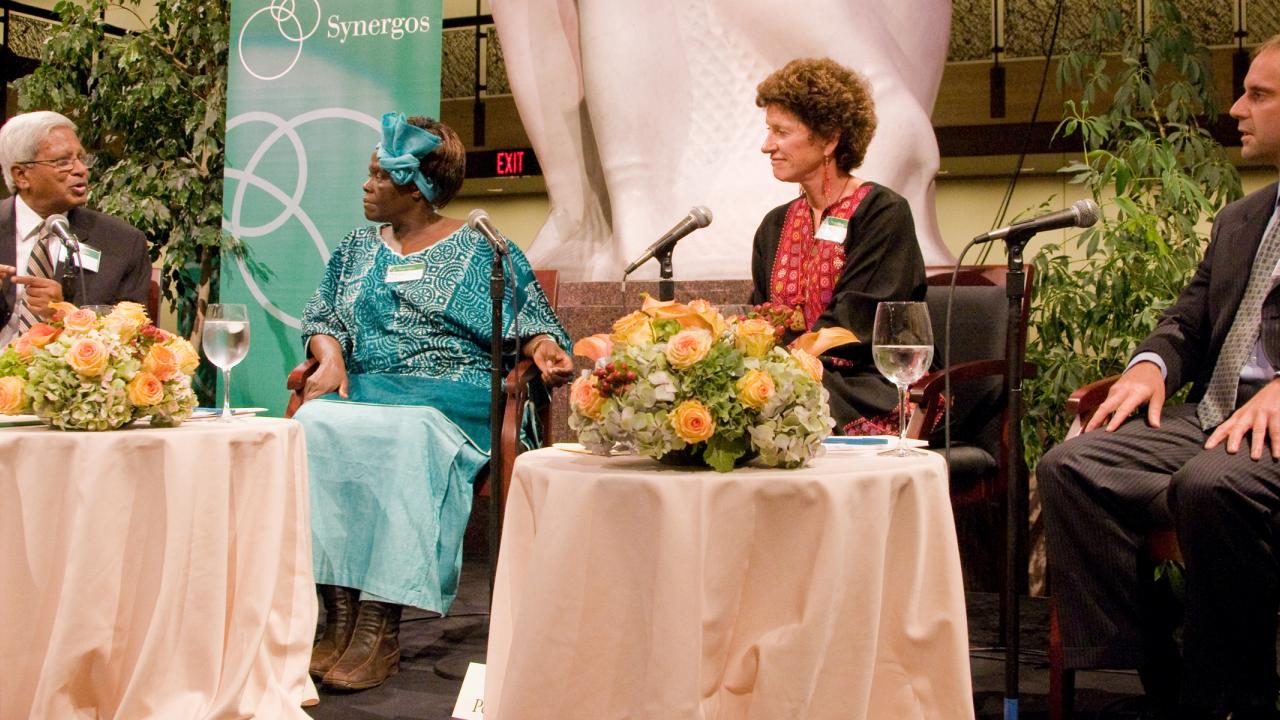 University for a Night 2008 Plenary Discussion
Key Speakers: >Wangari Maathai, Nobel Peace Laureate and Founder of the Green Belt Movement; Jeff Skoll, Founding President of eBay, Founder and Chairman of the Skoll Foundation and Participant Media; Fazle Hasan Abed, Founder and Chair, BRAC; and Her Majesty Queen Rania Al Abdullah of Jordan
Moderators: Robert H. Dunn, President and CEO, The Synergos Institute; and Peggy Dulany, Founder and Chair, The Synergos Institute
Other Speakers: Cheryl Vince-Whitman, Senior Vice President, Education Development Center; Jin Zidell, Founder, Blue Planet Run; Donald Rubin, Co-Chair, Shelley & Donald Rubin Foundation and the Rubin Museum of Art; and Donna Katzin, Executive Director, Shared Interest
Welcome and Introduction
ROBERT H. DUNN: Members of the Synergos family and friends welcome to Lincoln Center and University for a Night.
We've brought together an extraordinary panel of leaders to speak with you this evening. They're here on the stage and I'll be introducing them to you shortly. We know from past experience, however, that what really makes these events unique is all of you who are members of this audience. You're out in the world every day sharing your gifts and helping to create a more just, peaceful and equitable global society.
Because we have a lot to share and learn from one another most of our time together this evening has been reserved for conversations that many of you have helped to create and all of you will be a part of. At University for a Night, everyone is a member of the faculty and everyone is a student.
By your presence here you're also providing financial assistance that will nurture the work of Synergos -- I want to express my most heartfelt thanks to you on behalf of our board and staff. Because of your generosity and the hard work and planning of our staff I'm pleased to be able to tell you that the event this evening has exceeded its fundraising goal.
[APPLAUSE]
Thank you. I want to offer a few words of special appreciation for our major supporters tonight. Our founding sponsor JPMorgan and particularly the PrivateBank -- we are honored that its U.S. CEO Catherine Keating is here with us. Marcos de Moraes and Brazil's Instituto Rukha. Their work inspires us and we are proud to be their partners. Carlos Bulgheroni and the Energy Developments and Investments Corporation -- friends and long-time supporters of this event.
I want to mention as well Shell International and Pepsi, David Bohnett, Kim Samuel Johnson, Michael Sonnenfeldt and Katja Goldman, Dorian Goldman and Marvin Israelow, the Mai Family Foundation and the Skoll Foundation. And just one other person I'd like to cite. Throughout the entire history of Synergos there's been no one more kind in providing his wisdom and support than David Rockefeller. If Synergos were a symphony orchestra playing here tonight at Lincoln Center, David would be our first violin so we're very pleased that he's with us.
[APPLAUSE]
Actually, the harmony Synergos tries to bring to our troubled world does not rely on the instruments of traditional musicians. Rather upon the music of the heart. We are bridgers, connecting and supporting leaders and organizations in almost every part of the world to help ensure that all members of our human family can meet their basic needs, enjoy their fundamental rights and have a fair chance to achieve their full potential. All of the proceeds from tonight's dinner are being directed to our Campaign for the Future to broaden and deepen our work during the coming years. I'm pleased to report that we have now raised $15 million of the $20 million needed to do this. Should anyone here this evening wish to help us close the remaining gap please let me know. David Rockefeller has agreed to sing for us after dinner. Peggy will do an interpretive dance and I will play the piano.
Ordinarily when music is presented by performers more skillful than David, Peggy and myself it is not only entertaining, but it plays a much more profound role in our lives. It can calm and elevate our spirits. It can encourage us to connect with our emotions. It can transport us to the memories of our past and help us access the imaginations that shape our future. Music resonates with the essence of who we are.
I wanted to introduce this plenary session in a way that captured the spirit of Synergos so I have chosen music rather than words to do so. The recorded piece I want to present to you is just four minutes long. It's a contemporary work by a British composer who describes his music as from and for the heart. So I would like to invite you to sit back and be still, close your eyes, touch your hand to your heart, allow joyfulness to flow and feel the deep gratitude for all you do to make the world a better place. Music please.
[MUSIC PLAYS]
Thank you. I would like to now turn the program over to our founder and chair and the heart of Synergos Peggy Dulany. Joining her on the stage is Wangari Maathai, Nobel Peace Prize winner and founder of the Green Belt Movement in Kenya, a social activist of great distinction. Fazle Abed, the founder and leader of BRAC, one of the largest NGOs in the world -- Fazle is one of the greatest humanitarians in the world. And Jeff Skoll, the first president of eBay, the founder and chair of the Skoll Foundation and of Participant Media, whose films have included the Oscar Award-winning An Inconvenient Truth. With that I turn it over to Peggy.
[APPLAUSE]
Plenary Discussion
PEGGY DULANY: Thank you Bob. How's the microphone system working? Good? My first act is going to be to tear up the questions that were proposed only as suggestions. But for me anyway the music put me in quite a different space. So I think we ought to start from there -- from that heart space. What I'd like to do is start with each of the three of you with the same question which is; what was the deepest yearning inside you that led you to what it is you're committing your lives to? Abed, since you're the farthest to my right, please begin.
FAZLE HASAN ABED: In November 1970, 12th of November 1970 there was a cyclone in Bangladesh where 300,000 people died. I used to work for Shell Oil Company as a senior executive. I went to the offshore islands of Bangladesh, saw the death and destruction of the cyclone and that changed me completely. I thought the kind of life I was leading didn't have any meaning. I had to do something for people who suffered from devastations of that kind. Immediately after that there was this war of liberation in Bangladesh and that again was another traumatic experience. After that I think my life completely changed. I thought the kind of life I was leading had no meaning.
In late 1971 I sold my house in London, took the money, went back to Bangladesh and started working for the poor people. So that's how I came to start BRAC and work with the poor people. That's how I started.
DULANY: In a minute I'm going to come back and ask more about BRAC, but let's stay on this theme and ask my sister Wangari to answer the same question.
WANGARI MAATHAI: It's wonderful to be here and thank you very much all of you for making it possible for us to be back in the "university." For me the journey was different. I get asked that question many times, but I really don't remember any one time that I sat down and decided this is what I will do. It's more like a journey and it has come to be my life journey. I find myself walking along this journey and along the journey I meet people. They inspire me. They encourage me and sometimes they make me leave what I was doing and I start something else, but mostly because it seems like the appropriate thing at that time.
This journey started very early in my childhood when I was growing up, like many children in Africa, and my life was changed by the coming of the British to East Africa and deciding they wanted to settle in Kenya and starting a lifestyle that uprooted our people and created a situation where I would eventually end up growing up away from my father.
I was with my mother when my oldest brother asked my mother why I don't go to school like my two older brother. My mother, bless her heart, she said that she didn't really see any reason. She could have said she needed me at home, but she sent me to school. She said you can take her with you. There is no reason why she doesn't go to school. And so I went to school at a time when many girls in Africa were not going to school and that started this journey. Quite often it has been the teachers, it has been the friends, it has been the partners I have met along the way that have helped me take the next step.
Even when I started the Green Belt Movement I had gone as a university person to a forum organized by the National Council of Women of Kenya. We had come together -- educated women, country women -- and we were preparing to go to Mexico in 1975 when the first women's decade was declared.
I never went to Mexico, but I was very much involved in the preparations at home. It was during that time that I interacted very closely, for the first time since I left the countryside and went to school, I interacted very closely with the women and these were women who were living in the same areas that I had grown up as a child and it was them who made me understand that something very drastic was happening in the countryside, that the environment was changing. Then I got this idea that we could plant trees with the women. The rest is history.
In fact, when the music was playing, that beautiful music, I must say for me I was visiting all the people that I have interacted with, some of them already gone to the next place like my teachers and it was very beautiful music. That was my reaction to the music. It just made me fly away and join even those who have already gone.
DULANY: That's so nice. In a meeting that we had today that not all of you were present for, before Wangari had a chance to talk we had a panel on girls and the girls' effect. Why it's important to pay attention to girls. If there were ever a good example of that this is it. Can you imagine that if every brother and every mother gave the same response what the world would be like?
Jeff, I'm curious in your own evolution which has been multi-faceted what was the heart string that drew you along your course?
JEFF SKOLL: Sure. First off, thank you Peggy for having me here. It's a lovely event and it's been wonderful to meet a number of the Synergos members. It's just a terrific group that you've assembled. And thank you as well for ripping up the questions. That's just great.
I guess for me my journey really started like Wangari's when I was a kid. I grew up in Montreal and my family used to go camping in upstate New York. There really wasn't much to do there except read books or get beaten up by my sister. So I chose to read a lot of books.
[LAUGHTER]
By the time I was 13 or 14 it had really dawned on me that there were a number of trends in the world that were pretty scary; overpopulation, terrible new weapons, new wars, new diseases. It occurred to me that by the time I was older or by the time I had kids that the world might not be as pleasant a place to live. So I resolved to make a difference in those big issues in the world.
At the same time when I was about 14 or 15 my dad came home one day and announced that he had cancer and it was pretty bad. Knock on wood -- he's still alive today, but for a young teenager that sent a really powerful message that if there's something important that you have to do you really need to start thinking about doing it. That led me on a really interesting journey. I thought that I would make my difference in the world by being a writer. It turned out that wasn't the best way to make a living and so I went down a more entrepreneurial path so I could get to the point where I could afford to write stories that would make an impact on people.
I went to Stanford, did my MBA. I'd had a couple of companies prior to the MBA and along came eBay. All of a sudden what a great opportunity both for a company, but also for me to then jump back and start figuring out how to make a difference personally in these big issues in the world.
I started first by creating the Skoll Foundation in 1999. Our vision is to live in a sustainable world of peace and prosperity and our mission is to invest and connect and celebrate social entrepreneurs. That has given me and Sally Osberg, who runs the Foundation, and all of our team so much power, so much gratification over the years to work with these social entrepreneurs as partners.
Along the way I also rediscovered that I didn't have to write stories, but I could actually hire writers. I created a media company called Participant Media and we've released 17 films so far all of which deal with socially important issues. These are films like Charlie Wilson's War, The Kite Runner, Goodnight and Good Luck, Syriana, and An Inconvenient Truth.
So it was really the roots that I had as a kid that I've been really passionate about ever since.
DULANY: I'm going to follow that up with again questions to the whole panel. But since you're on a roll Jeff, I'm going to start with you which has to do with strategy. In this case I want to talk about the social entrepreneurs. But since I just emailed Jeff about a week or two ago because on a plane I got to see The Visitor which was one of the films that you didn't mention, fantastic, about the issues and the complexities of immigration in this country. He's really doing what he says he's doing.
But what I wanted to ask you, because I'm obviously passionate about networks as well, Synergos has two different networks and you're developing this network of social entrepreneurs all over the world, why did you pick that as a strategy and what do you think you can achieve with it?
SKOLL: Well when I first started the Skoll Foundation nine years ago I'm not sure I really had a strategy. Earlier today, I was talking with somebody about this panel and the theme of partnerships and I said, "Hmm, I don't really know what I'm going to say about partnerships. I think I'm going to wing it." This other person said, "Oh that's okay, that's what people do with partnerships."
[LAUGHTER]
But I think in terms of starting foundations I had started and run the eBay Foundation when eBay went public, so I had a little bit of experience from that. I wanted to start my own foundation gradually. I wanted to learn by doing. So I would make grants here or I would meet people there and I would figure what was working, what wasn't working and would double down on the things that would work. Having had the benefit of being really young at the time it gave the opportunity to build a systematic strategy around what we felt was a market need; namely social entrepreneurship.
At the time -- in 1999, 2000, 2001 -- the term "social entrepreneurship" was cropping up it was certainly on the rise, but it wasn't in the common vocabulary. It occurred to us that there was a certain kind of need that the social entrepreneurs would require as a partner that would be more beneficial for them than traditional philanthropy. They needed long-term funding. They needed a strategic partner. They needed someone who would be with them in the long term. As any entrepreneur knows when you hit an inflection point you may change your direction and traditional philanthropy doesn't like that that much. But social entrepreneurs by nature will have to change their course when they see a different opportunity or a different goalpost.
So we began to think of the world of social entrepreneurship as an ecosystem. How could we build a comprehensive ecosystem in which social entrepreneurs could thrive? We thought of it in terms of the academic rubric. Could we help work with the school or multiples schools that could oversee the study and the evolution of social entrepreneurship as a field and give some form to that burgeoning space.
So we did that with Oxford University where we created the Skoll Center for Social Entrepreneurship. We also have partnerships with Santa Clara University, with our global business incubator and Duke University and some others. Then you began to find field partners who can actually help you develop the field as well. None better than Ashoka, who became our early partner in identifying social entrepreneurs and helping to build out our networks. Beyond that came new partners like the Carter Center who deal with social issues in a different way than we do, but complementary to how our social entrepreneurs work.
Gradually we began to work with more and more organizations and more and more field partners. The field of social entrepreneurship began to emerge and it really kind of came back to your comment, Peggy, that is all about the network.
DULANY: So I'm developing in the process of hearing this an emerging hypothesis that I'll admit, before I go on, may be completely disproven. And that is that people who have a strong commitment to do something start with a sense of what's missing. That you evolved into a sense of here was a niche that wasn't being filled and gradually you mapped out what that niche was. So that may be completely wrong Wangari, but what I wanted to ask you is as you began to develop the Greenbelt Movement clearly you saw that there was something missing in Kenya and eventually more broadly. Can you tell us first of all if that's even true, but secondly what your strategy was and how it evolved over time? Obviously that would probably take several days to tell the whole thing, but if you could just tell a sort of summary of that it would be great.
MAATHAI: Yes, there was something missing. I think that when I suggested let us plant the trees it is because I listened to the problems and the way I think is, and eventually it became a strategy that I use even when I hold seminars, is that when I hear a problem I try to think where that problem comes from. If I can clearly identify where the problem comes from then I look for the solution. There is always a solution to every problem.
DULANY: That's great to hear, by the way.
MAATHAI: Yeah, it's true. But sometimes we get bottled up and we can't figure out which is the best. So for me, I listened to the women. They said they needed clean drinking water. They needed food. They needed firewood and they needed income. I guess it was my background. My background is biological sciences so I felt immediately that they were touching the soil and I immediately without thinking said why not plant trees? They said they didn't know how to plant trees because in our part of the world you don't plant trees if you haven't been to school to be taught how to plant a tree. I thought "Well to plant a tree you dig a hole -- you don't need to be taught how to dig a hole." But to understand that you have to look for seeds and where to get those seeds, so maybe you need help from a forester.
So I said, "Okay we can consult a forester so that's not a problem." So we went to the forester and we said "We want to plant 15 million trees." At that time I hadn't thought there were about 15 million people in Kenya in the mid-1970s. I thought it would be a very good idea to have a campaign by saying one tree per Kenyan. You need a campaign. You need a slogan. You need to excite people. You need people to be with you, to move with you. So I said "One tree per Kenyan."
The forester said, "Yeah, you can have all the trees you need," so that problem was solved. And then we started picking trees from him or from the foresters and before too long the foresters complained women are picking too many trees. But I said "I told you we wanted to plant 15 million trees." He said, "I didn't think you were serious."
[LAUGHTER]
So I had a problem. Then I thought that really trying to solve that problem gave the breakthrough that almost became a revolution. I thought "Well, if the foresters cannot produce enough trees for the women maybe the women should produce their own trees." The women don't know how to produce the tree seedlings, but the foresters can teach them. So I asked the foresters, "Can you teach the women how to look for seeds and put them in the ground and transplant them and put them containers and nurture them?" They said yes. But when they came it was too complicated because they were doing it scientifically. There was a method they had learned in schools. For example, that you dig like a big triangle and you dig about a foot deep and you put gravel, big stones to the bottom and they become smaller and smaller until at the top you put sod and then finally the soil.
DULANY: This is important that you pay attention to because in case some of you are going to go out and decide to mobilize planting 15 million trees.
MAATHAI: But when I looked at that I knew women would never be able to do that. It's too complex. And where we were planting trees there is no gravel. You have to go look for gravel. You have to buy gravel. You have to buy sod. And he brought forest soil. Beautiful, almost dark black forest soil. We didn't have forest soil. We didn't have gravel. We didn't have sod and we didn't have money. So that was a problem.
So I told the women "Forget all that, just look for seeds." From my biology class when you have a tree and it is in flower sooner or later it will produce seeds. If you pick those seeds when they are dry you put them in the soil they will germinate if they are good. If they are not they will not germinate. But I also had learned that sometimes seeds have to be eaten by animals, sometimes by birds so that they germinate. So I told them, "Use your heads and look for these seeds wherever you can find them."
To cut a long story short, we solved that problem and the women became what we have come to call "foresters without diplomas" because they planted the trees that grew exactly like what the foresters who had diplomas had planted. So we said they are foresters without diplomas. There was no written blueprint on how to create, first of all create a movement. We were not creating movement. I was trying to create a project that would coincide with the meeting in Mexico.
Eventually it got a life of its own. But it was mainly because it answered to the needs of the communities. It answered to the felt needs of the people -- what's felt is very important- so that they very quickly started asking "What can I do? I want to participate. What can I do?" The challenge was for us to respond.
So we thought since we people seemed interested why not encourage them to form groups. And by the way, the people were women. It is the women who were interested. The men were not quite interested at the time. But we didn't worry about that. We had enough women. So we thought instead of dealing with individual women why not bring them into groups so that you have a multiplier effect -- the more women the more trees that can be planted. And so before we knew it we had literally hundreds of groups of women planting trees, teaching each other, planting the trees on their land and, when they had surpluses, encouraging their neighbors to plant.
The reason they were able to do this is because women had said they needed an income so we said "Okay, for every tree that survives the women will be compensated." And a lot of the money that many of you have given us goes to those women for every tree that survives. So this became an incentive, a very powerful incentive because if you plant many you make much money. If you make them survive for everyone you get compensated. The challenge for us was how do you make sure that the tree will survive and you don't compensate for a tree that died?
DULANY: Can I stop you there?
MAATHAI: Yes.
DULANY: Is this a good pausing place?
MAATHAI: Yes.
DULANY: Okay, great because I want to also get to Fazle. But before I do that I just wanted to say that what I'm sensing through your amazing story is a strategy that unfolded as it grew like the trees and that the thread or the branch or the root that grew its way through that was paying attention to what people needed and it grew out of that.
MAATHAI: That's right.
DULANY: I have a feeling that may resonate with you Fazle, but I want to hear it in your own words and how that evolved for you coming from Shell Oil to suddenly deciding you were going to work with the poor.
ABED: Right. Well the task was tremendous in the sense that there are a huge number of poor people in Bangladesh. Almost 70% of our people are poor. So one started with organizing the poor, particularly the women in the villages, and one hoped that one created a pilot project, show good results and hopefully somebody else will replicate it all over the country.
But we realized very quickly that it was not going to work. So if one had to find a good answer to poverty alleviation or an answer to how to really get people extricated out of poverty one had to really try and expand it throughout the country. So basically we took up a program. Initially we worked with poverty, but then we also looked at child mortality, infant mortality, high birth rates in the country. Bangladesh was the most densely populated country in the world; 75 million people in 144,000 square kilometers. It was most densely populated. So unless we cut down fertility rate and cutting down fertility rate also meant that you had to cut down the mortality rate of children. So we took up in 1979 -- the International Year of the Child -- to try and cut down infant and child mortality from 250 per thousand to 105 mortality rate. So we went to every household in rural Bangladesh, 13 million households to teach mothers how to make oral rehydration fluid at home to give to children when they have diarrhea so that they don't die.
It took us 10 years to go to every household in Bangladesh and teach one to one every mother how to make oral rehydration fluid; salt, sugar and water and how to administer it. Then in the last four years of the 1980s we also immunized all the children in Bangladesh. It went up from 2% immunization rate to 82% immunization rate.
So that's the kind of national work that BRAC did. That gave us the confidence that if you could go to every household in Bangladesh we could cover the entire country with all our anti-poverty program.
So we went into microfinance, agriculture, fisheries, livestock improving the livelihood of people and trying to basically get people out of poverty as fast as possible. We expanded fast. And the same thing we are trying to do in Africa now. We are in five countries in Africa. We are in Afghanistan. We are in Sri Lanka and Pakistan and we are expanding our programs very quickly, as quickly as possible because we think that we don't really have time to cover people in poverty.
So we are trying to raise money, trying to get people out of poverty as fast as possible. In Bangladesh, for example, we have the largest microfinance program with nearly eight million members with 7.4 million borrowers. This year we're going to lend $1.2 billion in microfinance to poor people. We've also set up a bank in Bangladesh to look after the small and medium enterprise lending. Our bank is going to lend about $600 million to small entrepreneurs. So we are trying to create jobs for people. We are trying to attack poverty at the grassroots level. We are looking at agriculture where we could improve productivity. We're looking at livestock. We're trying to improve the breeds of cows. We are trying to improve poultry. So all kinds of areas that we find poor people can have access to income earning potential we are trying to help in that.
It's also health education. We are also trying to educate children. There are 19 million children in the age group of five and 10 and the government takes into school only about 15 million and there are still four million children who are not going to school so we are trying to pick them up and give them a five year primary education. We have nearly 1.5 million children in our schools and I wish we had more money. Then we could take more of these children to our schools. So that's what we are trying to do as fast as possible.
DULANY: Thank you so much. I really appreciate that. I assume Jeff you wouldn't be in disagreement if we said these are two incredible examples of social entrepreneurship.
SKOLL: [LAUGHS] I think certainly a Nobel Prize is warranted and the numbers are just astounding when you think of the tens of millions of people that are being affected and the global work of course of Wangari. Indeed if you were to put a face on a social entrepreneur these are them.
DULANY: I want to make sure that we have time for you also to ask questions. But I wanted to say we didn't exactly focus on the question of partnership and yet I bet if you were thinking about it embedded in what they said were examples of starting with the grassroots and then as the need arose bringing in, whether it was the forester, the teacher or the banker or whover, so that in a sense it's an almost organic sense of beginning with the problem and with the people experiencing the problem and then building around it.
So with that are there any questions? Bob is going to help field this part of the discussion.
Questions and Answer with Audience
DUNN: What I'd like to do is just take a few questions all together and then give the panelists a chance to answer them as best they can. It would be great if you would just say your name and where you're from and if you would try to craft a question that was prize winning for its conciseness. So if you'll raise a hand please. Hold on one second, Cheryl, because there's a mic headed your way.
CHERYL VINCE-WHITMAN: Thank you. Excellent panel. Thank you so much everyone. I was taken by your point about creating ecosystems for social entrepreneurs. So my question is what qualities in the environment of that social ecosystem have you found to be supportive of social entrepreneurs?
DUNN: Great. And a couple of additional questions for the panel. Hold on for a mic, Jin, which is on its way.
JIN ZIDELL: A question specifically directed towards Jeff, but anybody else who would like to respond to it. Jeff, I've heard different definitions of social entrepreneurs and I would like to hear what yours is. Does it have to produce profit?
DUNN: And here in the center, Donald. Hold on for a mic.
DONALD RUBIN: I'm Donald Rubin from the Rubin Museum of Art and The Shelley & Donald Rubin Foundation and a long-time member of Synergos. Are you putting all these case studies and how-to's on a webpage so they can go on Wikepedia and go around the world and do sort of a manual on how to do different kinds of projects that all you folks up there are doing and all of you here are also doing similar projects?
DUNN: Great and maybe just one more if it's quick in the back.
DONNA KATZIN: Thank you very much. My name is Donna Katzin and I work with Shared Interest. I want to congratulate this magnificent panel and also Synergos for the work that you do year after year. The question is how do you see the role of international partnerships in using and bringing out the best of social entrepreneurs to mobilize local human and other resources?
DUNN: Great. Let's stop there. If we have time I'll solicit additional questions and turn it back over to the panelists.
DULANY: Jeff, do you want to start?
SKOLL: I think I'll start with perhaps the definition of social entrepreneurship. We actually have the author of the definition, Sally Osberg here in the room so I hope I don't mess it up too badly. But effectively a social entrepreneur is a person who sees as problem in society and leverages their skills and abilities in an entrepreneurial way to solve that problem. Moreover unlike a social enterprise or a social worker a social entrepreneur seeks to change the system, seeks to change the equilibrium.
Maybe I can answer that a little better with an example by saying that if somebody is homeless and you give a homeless person a bed that's social work. If somebody is in a homeless shelter and you build a number of social centers that's social activism. So you have a network of housing centers. But if you come up with a way to change the system so that there are no longer people who are homeless, that people are empowered and work their way out of these centers, that's social entrepreneurship because you've changed the equilibrium all together. I think the other part of that question was does that mean making money or not making money. To our mind it's the end goal that's important. How is the social issue changed? Within social entrepreneurship there's certainly a place for financially viable enterprise.
DULANY: Did either of you have comments on those questions? Wangari please.
MAATHAI: I would like to comment on the partnerships.
I think partnerships are extremely important and I think there was a reason why when they were thinking about the Millennium Development Goals, Millennium Goal Number Eight is partnerships because it's actually very difficult to do this kind of work without getting other people to partner with you. You can't do it alone. If you are going to plant trees you need some more people. Many of you have been partners in this effort. I know when I first started I realized very early you need money. You need tools. You need to move. You need messengers and you need transport and all of these things need backup support.
So partnership is extremely important and I guess that's where many philanthropists feel that they can help. But they can partner with somebody who is trying to do something, perhaps something they strongly believe in, but because they cannot go and do it they want to facilitate. I know for sure I wouldn't be here without the millions of people who have been willing to support the work that we have been carrying out in Kenya.
Part of the challenge that I now have is how can I now teach our people that we have been able to do what we have been able to do because other people felt compassion and wanted to assist us and how can they in turn help even if it is local? It's a very big challenge and I'm working on it right now.
DULANY: Thank you. Abed?
ABED: Well, I have always thought that in order to have a real impact on poverty you need different kinds of partners. You need partnerships with government, partnership with donors, partnership with the private sector and partnership with communities. In order to have a real impact you need to have different kinds of partners.
For example, the example that I gave about oral rehydration therapy that we were trying to promote in rural Bangladesh our partners were a research center which discovered or developed the oral rehydration salts which rehydrates the body of a child when it has diarrhea and stops the child from dying. So the partnership was with the research center.
We have a university where we are partnering with Columbia and Harvard teaching public health in our university. So there are different types of partnerships and I think partnerships are so important in development that you have different groups of partners working together, but ultimately you also have partnership with the people with whom you work. So I think it's a very important aspect of development that you need to have multiple partnerships of different kinds.
DULANY: And I should just say in answer to Donald's question that the oral rehydration case was one of the first case studies that Synergos did and it's on our website. Jeff, do you want to just say have you been developing case studies based on your social entrepreneurs?
SKOLL: Yes, we certainly have some that have been done in conjunction with the Oxford's Saïd School of Business and Harvard and Duke and some of the other schools. So there certainly is a wealth of material that's out there.
DULANY: Thank you.
DUNN: Anyone want to comment on what some of the characteristics are of the ecosystem that supports social entrepreneurs? Any of you care to speak to that?
SKOLL: I'll throw out a few things. I think for social entrepreneurs to be effective what we find is that they are people who don't take a traditional path necessarily. They may see the end goal of what they're trying to accomplish, but they may not get to it in exactly a direct way or they may find that something changes along the way. So, for example, somebody who was going to build a 40,000 foot charter school in a tough part of town suddenly realizes that's not terribly viable anymore because the economy turned, but by God those kids still need the work that charter school was going to do. And so that social entrepreneur instead of doing the big building will find maybe an abandoned warehouse or other buildings that are available and provide the same service in a way that helps the kids and empowers the community. In a more traditional approach a social entrepreneur would have been told by their funder you can't do that. You said you were going to buy a building and we funded a building and that's it.
I think social entrepreneurs also really benefit the most from having a partner that works with them, that is with them for the long haul, that is clear in the objectives that are set with the social entrepreneur at the start, but is willing to be flexible if those objectives have to change and really doesn't demand a lot of kind of the dumb work from the social entrepreneur -- the stuff that kind of bogs the process down -- but really acts as a partner with the social entrepreneur to make things happen.
DUNN: Great. So I hope that you will join me in expressing appreciation for this wonderful panel.
[APPLAUSE]
DUNN: I would like to invite our guests to be seated in the front row if you'd like to do that at this time and invite Peggy to come to the podium for the presentation of the David Rockefeller Bridging Leadership Awards.
Presentation of David Rockefeller Bridging Leadership Awards
DULANY: Thank you Bob. As some of you know, since 2003 Synergos has used this gathering to recognize outstanding individuals who've made a difference by bringing people together across traditional boundaries, something we call bridging leadership.
The first recipient of this award I'm very proud to say -- and have to admit I had something to do with it -- was my father.
[APPLAUSE]
Dad, you inspired a lot of this. I know you know this, but I want to thank you so much for your guidance and your leadership and your inspiration in everything that is bridging which is really what Synergos stands for. Who you are and the work that you've done has served as an inspiration for me, but also for Synergos in the work that we are developing in the world.
Our first honoree this evening is an extraordinary public figure and an extraordinary woman, Her Majesty Queen Rania Al Abdullah of Jordan.
Her Majesty has worked tirelessly to advance the education of children and youth believing, as do I, that a strong education is instrumental in addressing inequities, promoting well being and fostering understanding among people. Recognizing the importance of high quality teaching Her Majesty launched the Innovative Teachers Network to connect a global community of educators who are harnessing technology to teach a whole new generation.
Her award for excellence in education is helping set national standards for teaching quality and forging connections abroad a teacher training program is now being developed between Jordanian institutions and international institutions including Columbia University. The vision behind her educational work is not only to sharpen minds, but also to create robust economic opportunities for youth. Through INJAZ Al-Arab she has enlisted volunteers from the business sectors to teach Middle Eastern youth how to equip themselves for the workforce. The Al Aman Fund for the Future of Orphans extends this training to orphans. Her Jordanian Education Initiative has engaged the public and private sectors to build a more powerful educational system in Jordan with a plan to replicate it elsewhere in the Middle East and beyond.
In addition to her educational work Her Majesty has made great strides in promoting rights and opportunities for women and the family unit. In this work her role as a bridging leader continues. As chair of the amazing Jordan River Foundation, Her Majesty is using microenterprise as a way to bridge the private sector and local communities encouraging businesses to make small investments in women run initiatives. You may hear a theme emerging tonight.
In late 2007, I was able to visit some of the work being done by the Jordan River Foundation along with a delegation from Synergos' Global Philanthropists Circle. We were so inspired by several projects in Aman that were empowering women to build their own business savvy and the wisdom and dedication of the members of her staff, like Mohammad Khawaja, Maysa Jalbout, Valentina Qussisiya and Basil Kilany. From food delivery to crafts, the programs are teaching women skills in entrepreneurship and it was clear that they were taking ownership to improve their own lives.
As most of you know Her Majesty is a highly visible figure around the world and uses that greater visibility to create tolerance and acceptance of differences. Her work is and will continue to be a paragon of progress for the Middle East and the world.
Your Majesty, we applaud your efforts and stand with you in the vision of the world that you are creating, a place of greater well being for all of you.
At this time I would like to invite my father and the namesake of this award to join me in presenting the award to Her Majesty.
[APPLAUSE]
DULANY: The question is, does someone have the award? Oh, here it is. Great.
Your Majesty, on behalf of my father and myself and Synergos this is a book which is filled with letters from people who are here or people who know you and wanted to honor you thanking you for your service to the world.
HER MAJESTY QUEEN RANIA AL ABDULLAH: Thank you all very much. If any of you out there like to swim imagine Michael Phelps cheering you on and you'll know how I feel to have David and Peggy recognize me tonight.
The Rockefellers are champions at bringing people together for the common good. David and Peggy -- yours is a team that we're all very proud to be a part of.
And it's a special privilege to share the stage with Fazle Hasan Abed. If the social justice community had superheroes Dr. Abed would be at the top of the list. Not because he's able to leap tall buildings in a single bound, although that would be cool, but because every day he is helping those around him discover the superheroes within themselves.
The spirit of bridging leadership we celebrate tonight reminded me of a poem in which an old man on a highway at night has to cross a dangerous stream. He makes it safely, but then builds a bridge even though he won't be crossing back. So another pilgrim asks the old man why he is wasting his time and strength and the builder lifted his old grey head, "Good friend, in the path I have come" he said, "there followed after me today a youth whose feet must pass this way. This chasm that has been naught to me to that fair-haired youth may a pitfall be. He too must cross in the twilight's dim. Good friend, I am building this bridge for him."
I think all of us here aspire to be bridge builders in our own way; as parents, as professionals and in the causes we care about the most. For me it's helping build bridges for children through UNICEF, through the Global Alliance for Vaccines and Immunisations, GAVI, and in my work in support of education around the world because crossing the bridge of education means more than moving forward in life. Each year school changes children. It gives them chances and choices. Yet 72 million girls and boys have never set foot in a classroom. Many are too poor to get an education and are condemned to remain poor without one.
So getting more children enrolled in school remains an urgent priority. But just as importantly we must ensure every school is a place kids can actually learn.
Just imagine if you went to work every day in a building with broken windows and cracked walls where you had to compete for chairs and desks because there simply weren't enough to go around. I don't think any of us would be very productive in such an environment and yet that's what millions of children worldwide are dealing with every day.
That's why in Jordan we've launched Madrasati which in Arabic means my school, a program that shares with Synergos the spirit of partnership for positive change. Through Madrasati, Jordanian business leaders, civic groups, teachers and families are joining together to make a difference for 500 of our neediest public schools. Corporate executives are supporting schools and serving as sponsors and mentors. Private schools are twinning with public schools to share advice and resources. University students are volunteering as tutors and teacher's aids. Communities are rolling up their sleeves to repair and repaint classroom walls. Through Madrasati Jordan is building bridges not only within our society, but bridges that will lead us from where we are now to the future we all want to see.
Over the next five years as tens of thousands of children are touched by this innovative program we hope the experience will spark civic action in other arenas as well. Because in Jordan we know our destiny is in our hands and we are stronger when we join our hands together. Thank you for this kind hand of friendship that you've extended to me tonight. Thank you all very much.
[APPLAUSE]
DULANY: Thank you Your Majesty. Our second honoree this year you've already met in the plenary session, Dr. Fazle Hasan Abed who -- as he's already told you a little bit about, but he was very modest -- has built one of the world's largest NGOs, which is helping over 100 million people in Bangladesh and around the globe improve their lives. If you think about the question of going to scale, this is an impressive example.
As he mentioned BRAC was founded on the principles of inclusion and partnership and has empowered women as the bedrock of community development, improved health and education and has helped, as he talked about, reduce infant and child mortality. In fact, the life expectancy in Bangladesh has increased by 13 years in part because of the work that he and BRAC have done.
BRAC was one of the first organizations to embrace microfinance on a large scale and today it aids more than six million Bangladeshis and has issued more than $4 billion in loans to small businesses ranging from fish hatcheries to farms, from textile producers and printing facilities. BRAC helps people establish financial credit and fosters business relationships among its beneficiaries so they can grow their enterprises.
Throughout its lifetime BRAC has worked to bridge divides and engage all sectors in its work, as Dr. Abed mentioned in his remarks, partnering with local organizations and governments to fuel progress. I have to mention that BRACs and Fazle's example as bridgers played an important role in the direction Synergos has taken in our work. In the case study that I mentioned earlier we were looking for examples of what could work and this inspiring thing of building the immunization rate to 82% was one of the key studies that really made us feel that maybe this was in fact going to be possible.
So Dr. Abed's work is a testament to what can happen when a collaborative and participatory approach is applied to poverty. Now expanding beyond Bangladesh BRAC operates in the Middle East, South Asia and Africa. It is my deep honor to be able to recognize you and honor your work in this way. At this time I would like to again invite my father to join me at the podium in presenting this award to you Dr. Abed.
[APPLAUSE]
ABED: Thank you. BRAC and Bangladesh have benefited tremendously from the Rockefeller family's institutions, particularly the Rockefeller Foundation through its charitable giving over the years. The Foundation's work in support of IRRI, the International Rice Research Institute which produced large varieties of hybrid rice and agricultural technologies which revolutionized Bangladesh's agriculture a result of which over the years what has happened is that despite doubling the population of Bangladesh, Bangladesh no longer is a chronically food-deficient country. It is now a self-sufficient country.
I recall a woman named Rabia who is one of our microfinance clients and when she got her first $100 loan from us the children that she sent out to work in other people's homes she brought them back and then started cultivating her little plot with hybrid rice. She in time became one of the best farmers in Bangladesh and in her community and I thought she was one of those real icons in improving Bangladesh's agriculture.
Bangladesh has done well from Rockefeller legacy in terms of improving the food availability in Bangladesh despite our high population growth. When we set up the James P. Grant School of Public Health at BRAC University there again the Rockefeller Foundation provided the initial planning grant. The school now partners with several top institutions around the world to provide world class instructions and carry out important research in the area of public health. An Ethiopian graduate of BRAC School of Public Health who topped the list last year is now working in our program in Uganda as head of our research department.
Two years ago, when we set up BRAC USA to mobilize funds so that we could quickly scale up our efforts in Africa, it as Peggy and The Synergos Institute who helped us out by giving us our first office space in New York City. BRAC USA is partnering with major philanthropic institutions including the Gates, NoVo and Nike Foundations to provide much needed resources to our anti-poverty program in Africa.
Let me end by expressing my deepest gratitude to Peggy and the Synergos Institute for bestowing on me this great honor tonight. Thank you.
[APPLAUSE]
DUNN: Thank you all for being such a wonderful and attentive audience. Having sought to nourish you in various ways during the course of the evening I'm pleased to tell you that dinner is now ready to be served and so if you will stand and head to the rear of this hall hopefully you have a table assignment. We've tried to structure the tables so they would provide an opportunity for ongoing learning and inspiration and networking. We're very pleased to have you with us. Please enjoy your dinner.
Thank you.