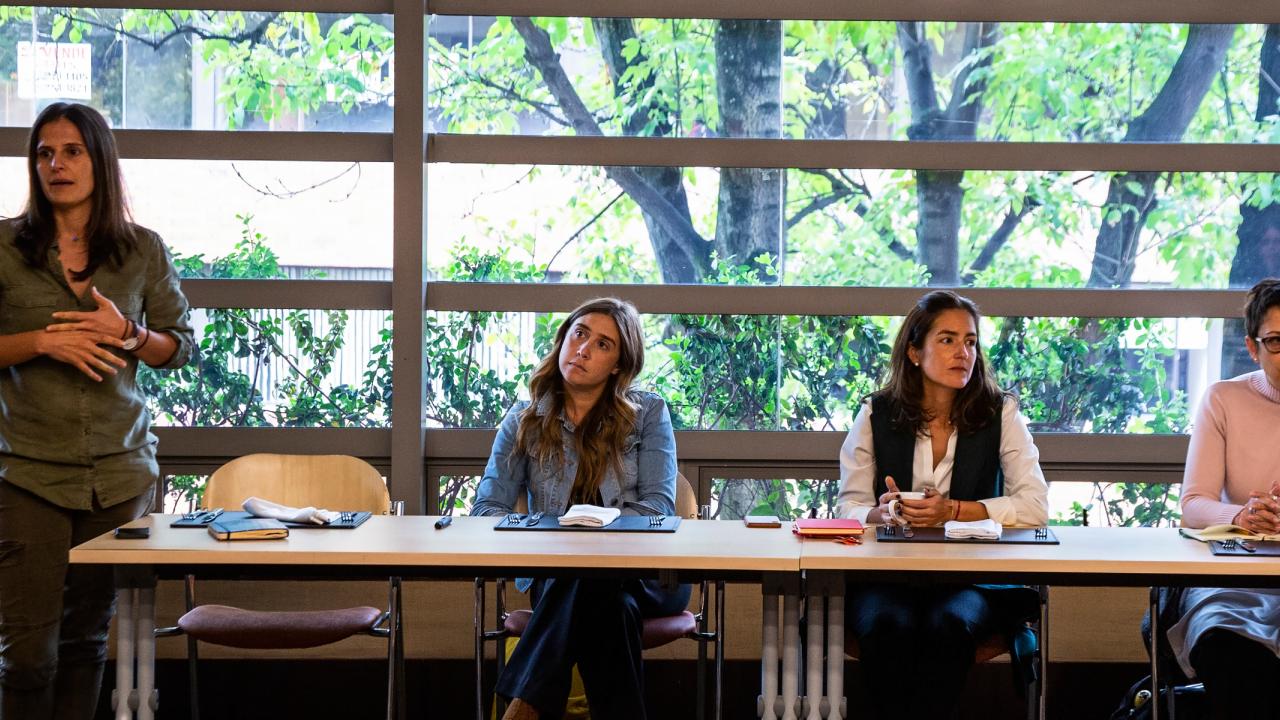 During our more than thirty-year history, Synergos has contributed notably to Brazilian civil society – developing programs for educators and activists; strengthening communities and civil society organizations; and growing multi-stakeholder partnerships. Today, operating with a base in the city of São Paulo, we promote philanthropy in Brazil and across Latin America through programs, regional networks, support for individuals and families, collective action, and advisory services. And with bridging leadership reflected in all aspects of our services, Synergos Brazil has become a thought leader in Latin America.
Alongside the breadth of our offering, our team in Brazil has grown to a staff of five specialists in philanthropy. Widely recognized for their expertise, acumen, and vision, they regularly develop and participate in workshops, events, and webinars for foundations, philanthropists, and their intermediaries.
Growing outreach through bridging leadership
In 2016, the Synergos Brazil team expanded its focus on advancing philanthropy and the personal development of philanthropists. With the launch of the Bridging Leadership for Social Investment Program, they have piloted curriculum developed specifically for the next generation of philanthropists.
Offered over the course of four sessions, the Bridging Leadership for Social Investment Program guides participants to explore a different reality through a bridging leadership lens – and broadens opportunities for peer exchange among participants, alumni and other philanthropists alike. To date, the course boasts thirty alumni, a number of whom have gone on either to join Synergos Global Philanthropists Circle or integrated bridging leadership into their family programs and foundations to amplify the impact of their efforts.
"The Program showed me very clearly how to act, that there is a methodology, but mainly, that there is a wonderful network out there. It was as if I lifted a veil from my face and I thought, "wow, all of this exists!" -Third cohort alumni Tatiana Loureiro
In early December 2019, the fourth program cohort, to be finished in August 2020, assembled. Although the novel coronavirus pandemic has inhibited in-person gatherings since March, Synergos' new agile structure readily enabled the Brazilian team to effectively adapt to online formats. Recognizing the need for philanthropists to bridge divides through their initiatives, Synergos sees the COVID-19 crisis as paradoxically presenting participants a unique opportunity to reflect upon the responsibilities of next generation philanthropy and the role of bridging leaders in the last two sessions.
Cultivating meaningful bonds and strengthening philanthropy across Latin America
In June 2019, Synergos Brazil hosted the inaugural Latin America Philanthropists Circle Gathering. Thirty-eight leading philanthropists from Brazil, Colombia and Mexico, amongst other Latin American countries, convened in São Paulo. Specialists identified the ecosystem of philanthropy and impact investment in the region through a bridging leadership lens of inner work, skills development, and collaboration. And sector experts presented geopolitical, social, environmental and economic perspectives on Latin America – identifying common ground alongside points of difference across the region.
Following the Latin America Philanthropists Gathering, sixteen participants traveled to the countryside of São Paulo, for a retreat. Nature set the stage for this more intimate journey, which flowed from peer exchange and consulting to reflection and inner work. During the excursion, the group uncovered shared values and interests and formed bonds that culminated in the genesis of Synergos' first collective action group, notably progressing our impact with philanthropists in the region.
Taking collective action
With mutual concern and desire for intervention in the Amazon Rainforest, five philanthropists united to explore ways to create meaningful impact. With Synergos leading the process, the group has achieved three noteworthy milestones since June 2019:
Creation of a group identity
Definition of values and collective intention to act in the Amazon
Agreement on the criteria for intervention to put shared vision into practice.
While continuing to grow and challenge one another on the journey to concrete collective action, the group is currently assessing which initiatives to support.
Expanding reach through regional connections
Between 2019 and 2020, the Brazilian team also leveraged learning journeys to bring together leading philanthropists from across Latin America who might otherwise never meet, and simultaneously expand Synergos' reach across the region. Blending formal presentations with local experiences and structured exercises with personal reflection and informal bonding, learning journeys offered singular opportunities to connect with foundation leaders and sector experts; visit local community programs; witness firsthand the impact the most pressing issues are having upon society; and bond collectively as Latin Americans. Local philanthropists in Mexico, Cuba, Colombia, and Chile hosted participants, shared stories of personal successes and failures, and provided unique regional insights. All of which contributed to the development of innovative ideas for participants' local practices.
Poised for the future
With a theme of intergenerational legacies and developing more agile and strategic solutions, Synergos continues to strengthen philanthropic practices across Latin America. And as thought leaders and experts in philanthropy, the Brazilian team now operates with its own programs and products and provides tailor made solutions for family and corporate philanthropy.
You can hear next generation participants thoughts on Synergos Brazil's bridging leadership programs here.