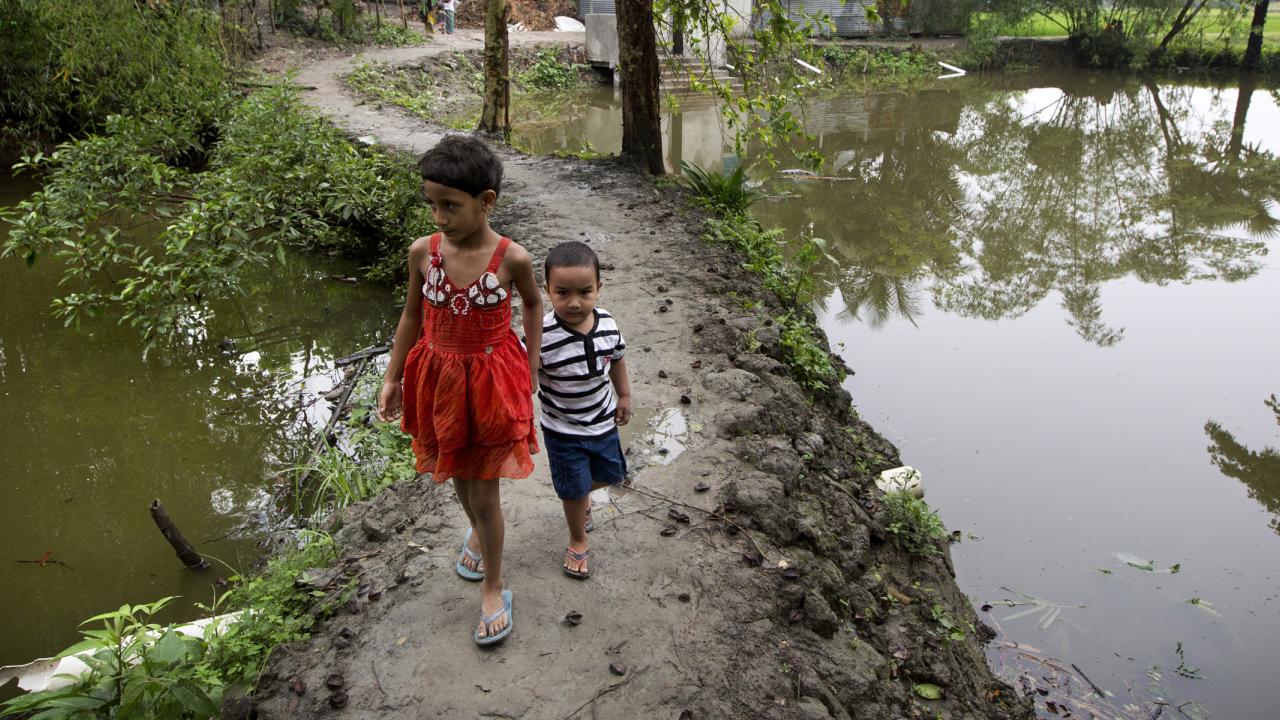 Child drowning is the leading cause of death among children under five in Bangladesh. The Drowning Prevention Partnership (DPP), funded by Bloomberg Philanthropies and facilitated by Synergos, brings together partners working across a multitude of early childhood care and development issues and requisite government agencies to elevate awareness, drive action, and boost investment in preventing child drowning. Last year, the DPP reached a pivotal milestone. Thanks to collaborative advocacy, a proposed scaling program for integrated child-care and safety was included in the priority approval list of the Government's Annual Development Plan for consideration in 2020.
Ninety percent of Bangladesh lies on a floodplain. The country's unique geographical and sociocultural factors make its children more vulnerable to drowning than children elsewhere. Every day, 30 children between the ages of one and four die, most often in small bodies of water 20 meters or less from their homes, while their parents are working during morning and early afternoon hours. Synergos saw the need for a coordinated effort to address the systemic causes of child drowning-one that engages government agencies, political endorsement, and non-government actors.
Drowning is preventable
Daycare is proven to be a highly effective tool for preventing child drowning at the systemic level. In 2014, the Global Report on Drowning, published by the World Health Organization (WHO), called for three essential prevention strategies:
Providing safe, affordable childcare opportunities, such as crèches, for children under five
Increasing access to swimming instruction for children ages six through ten, with an emphasis on water safety and safe rescue skills
Raising public and parental awareness of child safety risks and methods for reducing them.
Since 2012, Bloomberg has been funding community creches to provide safe spaces with supervision when children one to five years old would otherwise be at home unsupervised. The centers have an added benefit of teaching play-based learning that contributes to the children's cognitive and psycho-social growth. Aminur Rahman, Director of the Centre for Injury Prevention and Research in Bangladesh, has stated that drowning fell by 70 percent in the areas where community creches had been opened. And more recent research study published by Johns Hopkins University reveals that such incidences of drowning can be reduced by as much as 88 percent.
Broadening support for a sustainable solution
Seeking insights into how to develop a long-term, sustainable solution, Bloomberg Philanthropies engaged Synergos in 2017. Through a series of systems mapping exercises the Synergos team uncovered that:
It is essential to broaden the frame to include comprehensive child-care and protection services.
A multi-stakeholder effort and inter-ministerial coordination are needed to achieve drowning reduction at scale
Community ownership is essential to sustaining creches
Raising awareness and educating the government, parents, and the general public on the urgency of the issue will influence leadership to prioritize child drowning prevention and fund solutions.
The team further recognized that a successful drowning prevention effort is dependent on community engagement and an integrated approach for service provision. Historically, child drowning had been seen as a niche issue with solutions being siloed and thereby judged as a low spending priority. Reframing the strategy for engagement, Synergos widened this perspective, demonstrating how child drowning is not an isolated problem, and rather part of the larger issue of caring for child safety and development.
While childcare centers help minimize the number of child deaths, a broader base of leadership, co-ownership, and partnership is crucial for scaling the program and effecting lasting benefits for children and for families. Research conducted by the Centre for Injury Prevention and Research and the International Centre for Diarrhoeal Disease Research – with Johns Hopkins University and the World Health Organization supports this learning. Bloomberg Philanthropies looked to Synergos to establish a coalition and the advocacy necessary to do this.
A coordinated effort
Today, the DPP is a coalition engaging government agencies, community groups and NGOs. Led by Synergos, it has maximized its impact by widening its frame of reference – engaging organizations across early childhood development (ECD) and the child health and welfare sectors alongside those focused on the niche of drowning prevention. Through forging an alliance with Bangladesh ECD Network, Synergos has aided the DPP to cultivate cross-sector partnerships and develop a plan for childcare centers with integrated services. The DPP has further increased awareness and action among policymakers at multiple government agencies by engaging in collaborative advocacy with drowning prevention partners, building on the ECCD Policy 2013 and Day Care Act as potential pathways for scaling childcare centers.
Towards transitioning to a sustainable locally owned solution, Synergos has designed the Nurturing Care Project to promote comprehensive development and care outcomes for young children across Bangladesh, alleviating their vulnerability to critical injuries, especially drowning. Identified as the potential government agency for funding scaling, the Ministry of Women and Child Affairs (MoWCA) has prioritized and earmarked resources for the centers, two essential first steps for government funding as a Development Project. While the government has been reviewing the proposal, momentum for approval has been growing. And we're increasingly confident that the strength of support from leading child-focused agencies will help make community-based childcare services a reality.