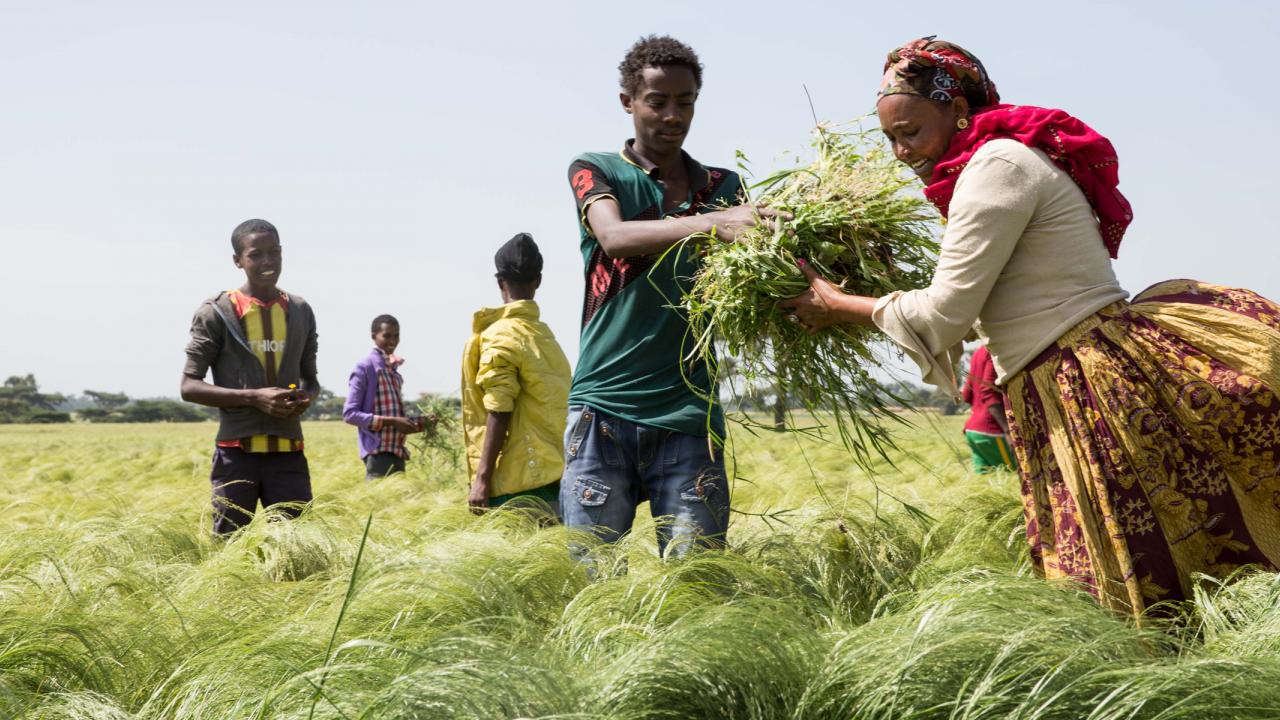 Synergos helps improve the lives of smallholder farmers by taking a systems approach for collaboration and trust building among government, businesses, and farmers.
By supporting the transformation of agricultural systems, we are contributing to reduced hunger and poverty and creating economic opportunities for women and youth.
The Challenge
In Sub-Saharan Africa, smallholder farmers account for 90% of food production, and 70% of the population depends on agriculture for their livelihood. The majority manage small plots of land, frequently struggling with limited information about best practices. Access to reliable markets for their products and information about pricing and improved inputs, farming techniques, and technologies is often limited. Too often farmers' interests are poorly understood and underserved by government policies and programs, and are not well matched with market dynamics and actors. These factors put millions of smallholder farmer families at risk of poverty, hunger, and malnutrition.
Transformation of the agricultural system requires collaborative leadership from individuals to drive desired improvements, both within their organizations and with others.
What We Do
Synergos works in Africa's two most populous countries – Nigeria and Ethiopia – to improve livelihoods of smallholder farmers. Our programs recognize the importance of agriculture's linkages with markets, nutrition, gender, and employment.
We work to strengthen capacity among leaders in the agricultural sector and create collaborative opportunities for those in government, business, investors, philanthropists and farmers' organizations. By connecting these groups to their core values and passion for livelihoods and agriculture, we enable them to be more open-minded and open-hearted, and inspire trust that makes transformation possible. Synergos helps these leaders shift mindsets for innovation and results.
We've worked in Ethiopia since 2011 with the Ethiopian Agricultural Transformation Agency (ATA), the Ministry of Agriculture and Rural Development, Ministry of Livestock and Fisheries, Regional Bureaus of Agriculture and other partners at the national and regional levels, increasing individual and institutional capacity for collaboration, innovation, and service delivery. Together with the ATA, Synergos is supporting the Government of Ethiopia's Agricultural Commercialization Clusters initiative to effectively link smallholder farmers to markets and strengthen agricultural value chains. The government has asked Synergos to lead support on strengthening institutional capacity for improved implementation of strategies, one of the pillars of its current five-year Growth and Transformation Plan (GTP2).
In Nigeria, we are using a systems change and innovation approach in our work with partners in three states – Kogi, Kaduna, and Benue – under the State Partnership for Agriculture (SPA). SPA is a partnership between the Federal Ministry of Agriculture and Rural Development and various state governments in Nigeria, with Synergos as the implementing partner. SPA is creating a shift from subsistence farming to the business of agriculture, with an initial focus on cassava and rice, two major staples.
Synergos Consulting Services' work in agriculture supports global companies in sustainable sourcing and production, and improved smallholder livelihoods.